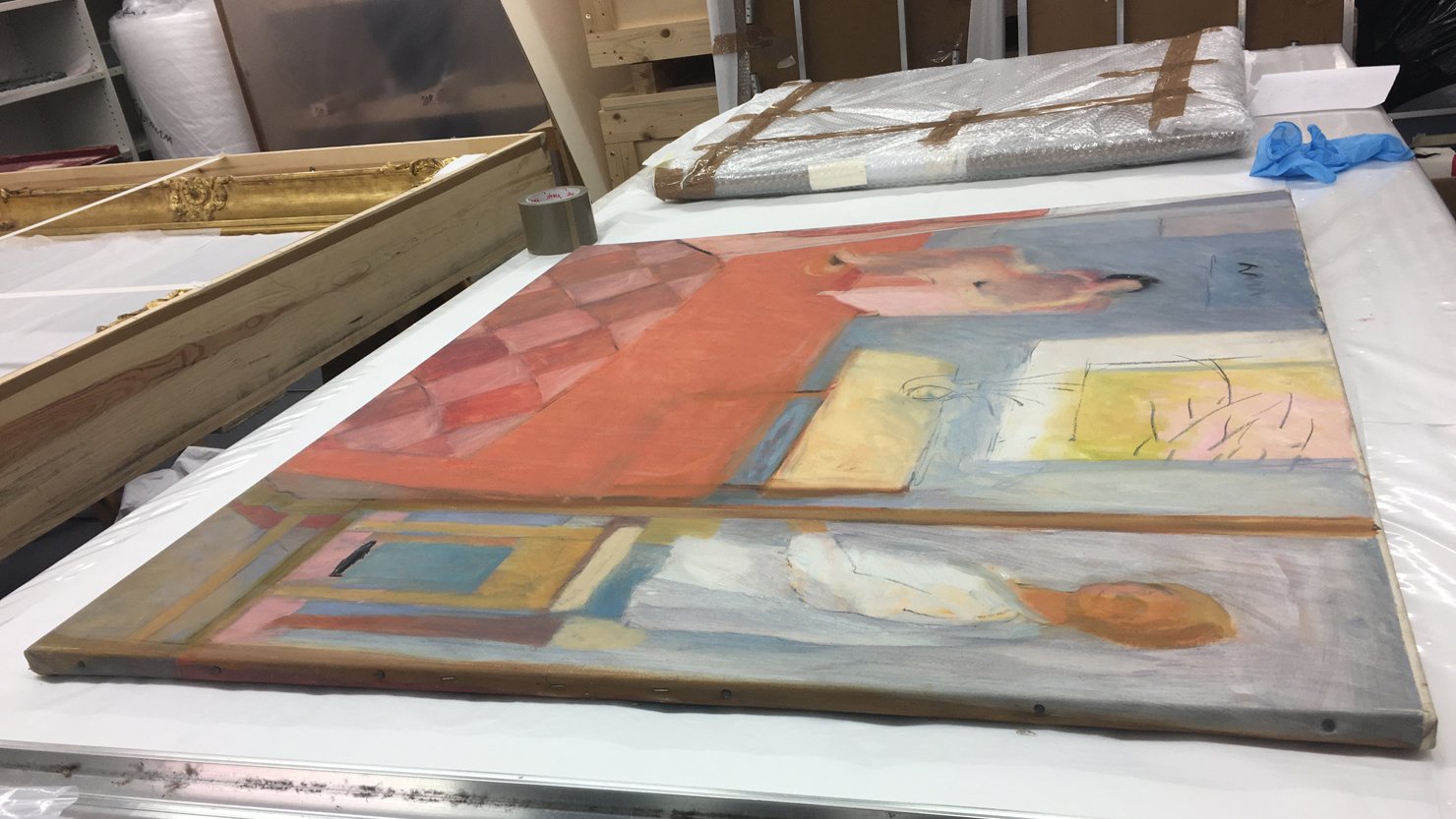 How many times have you looked at an exhibition without noticing the frames or how much they add to the overall display? Frames not only provide support and protection for an artwork, they also affect how we view a painting. When we were developing the 'Our Art' gallery at The Box we had to devise a range of framing solutions for some of our most important works of art. Here are some key examples.
When they're selecting a new frame, curators and conservators consider the time period of painting, the original settings for which it was made, and/or a style that offers a greater degree of protection and support. They choose glazing (glass or a conservation-grade acrylic) for works on paper and those that are displayed often or fragile. When it's safe to do so, they always prefer to leave works unglazed though as it means people can enjoy an uninterrupted appreciation of the artwork.
Rose Hilton
This was the case for a work by Rose Hilton, one of the first she completed on her return to painting after a long hiatus during her marriage to Roger Hilton, who discouraged her from pursing her practice. This work's thin chrome frame, though likely original, was beginning to damage the painted edges. We also didn't feel it did justice to the large-scale, colourful scene that includes one of Hilton's few self-portraits. This work was a proud return to painting for Hilton and deserved a frame to match.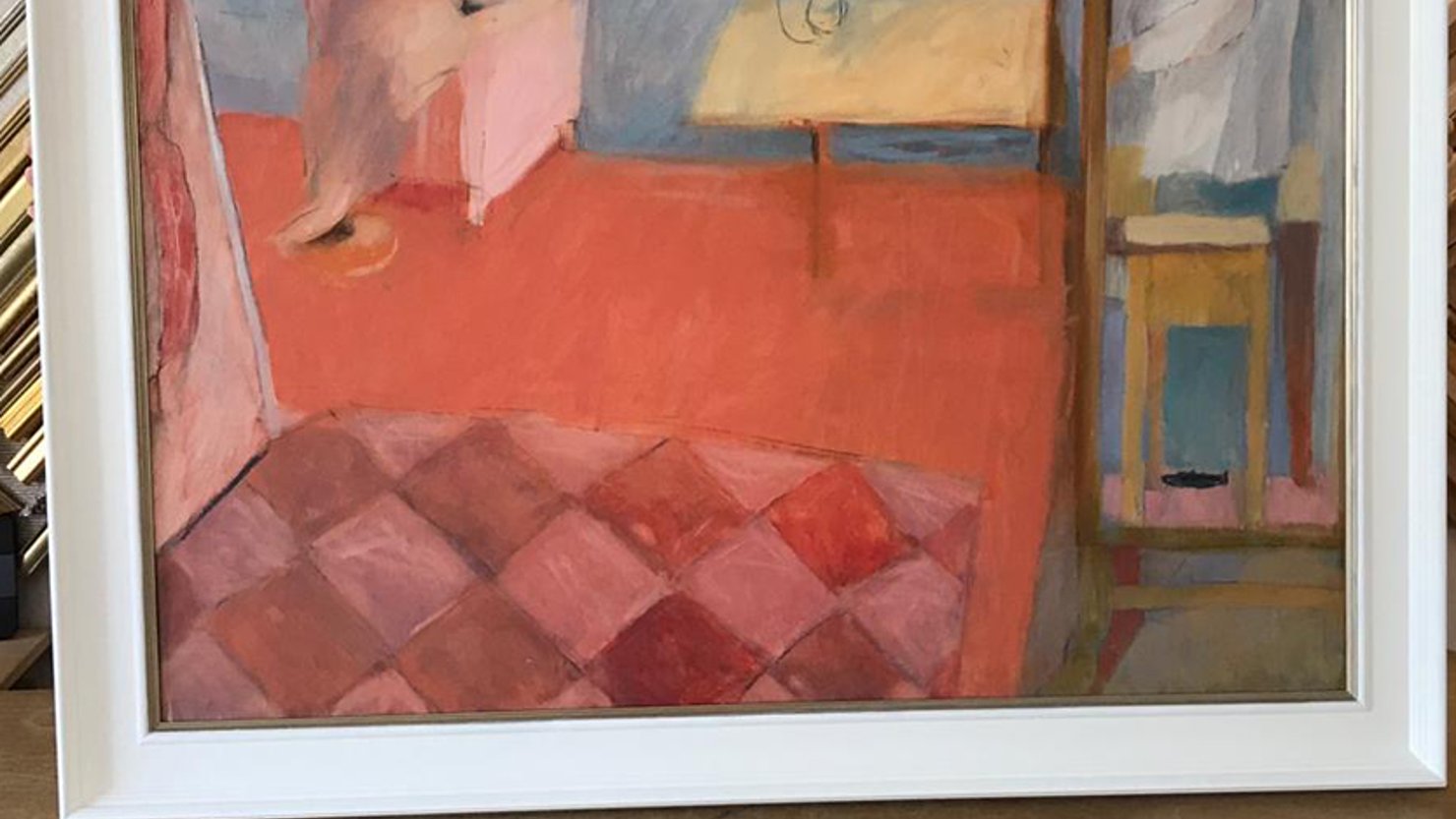 Dorothy Ward
This beloved work of art shows Plymouth before much of it was destroyed in the air raids of World War II. It was painted in 1933 by Plymouth-born Dorothy Ward who submitted it as her masterpiece for her degree from the Royal College of Art. It is gouache (a water-based paint) on paper pasted to a large board.
Being a large work, it's always proved difficult to frame and display. Several decades ago, a pine frame was built around it, but over time the board needed greater support and the painted surface was becoming damaged from being so close to the glazing. So, we sent this monumental work to a conservator (it's no small feat to transport a 6 foot/almost 2 metre artwork!). They gave its surface a gentle clean and carried out some repairs.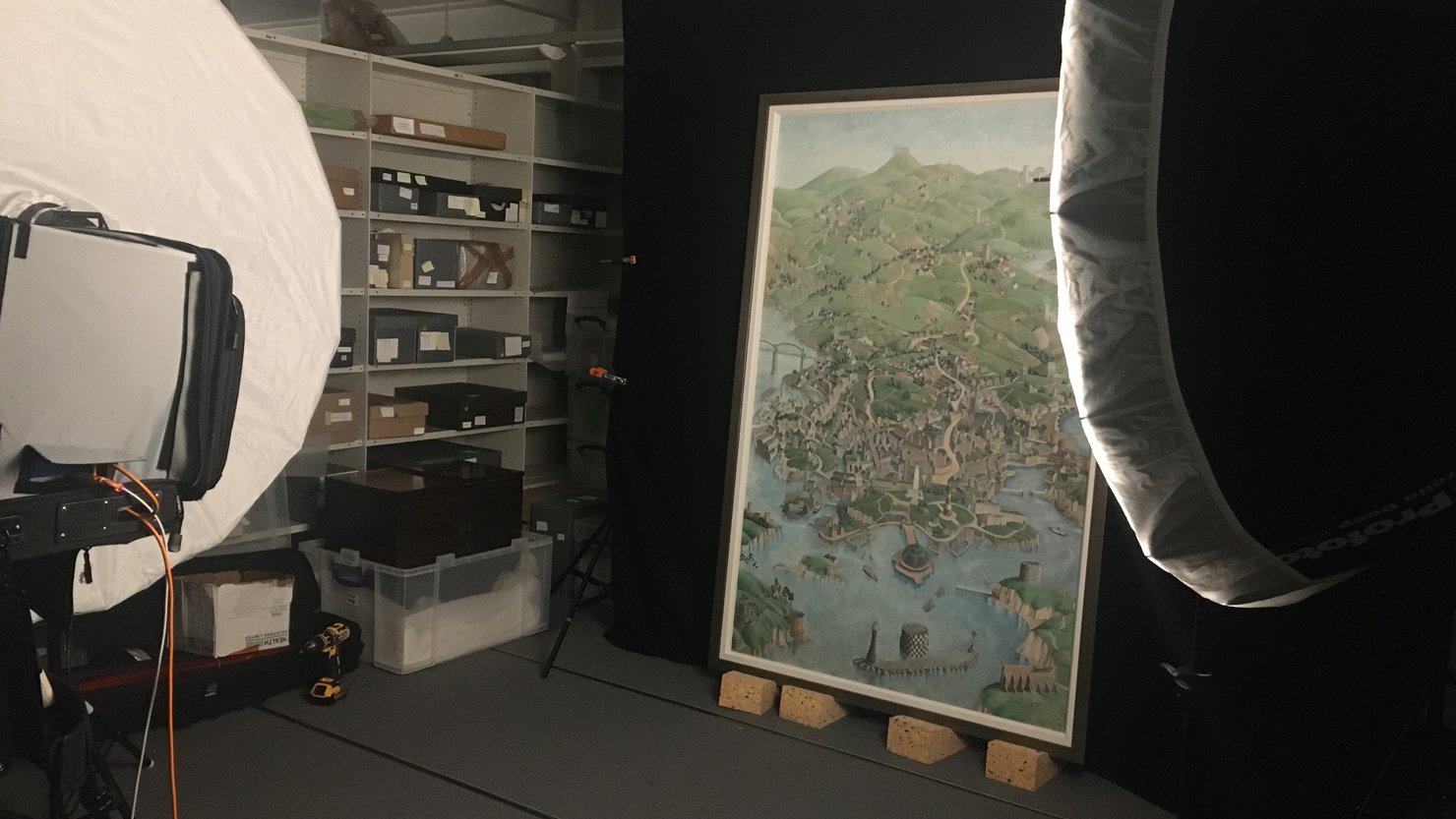 Next, a framer built a custom frame with a supportive backing and spacers that lifted the glazing away from the painted surface. We opted for bright silverleaf, a popular style from the 1920s to 1950s. Having a darker frame makes the bold, graphic quality of the work really pop. We are amazed at the results!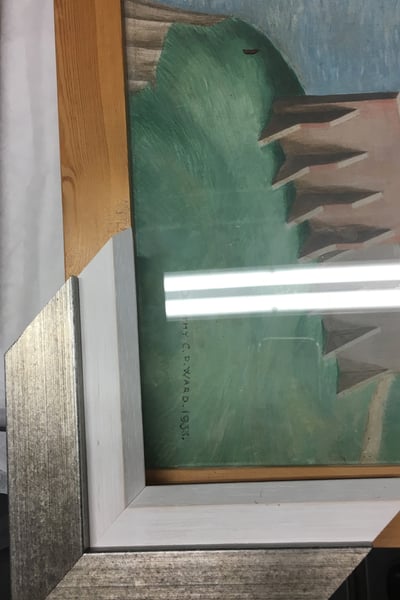 Barbara Hepworth
Sometimes we decide to keep as much of the original framing as possible. In the case of three lithographs by Barbara Hepworth it was because the time period in which they came to us was significant. Hepworth, known for her sculptures, also used printmaking in her exploration of abstract forms. In 1970, for the 350th anniversary of the sailing of the Mayflower, Plymouth City Museum and Art Gallery held a retrospective of Hepworth's works. The museum acquired a series of Hepworth's prints the year they were made (1969 and 1970) for that ground-breaking exhibition.
The prints were mounted onto hessian fabric with a silverleaf frame. The hessian was in good condition but the frames hadn't fared as well, so a specialist applied new silverleaf to bring them back to their mid-century glow.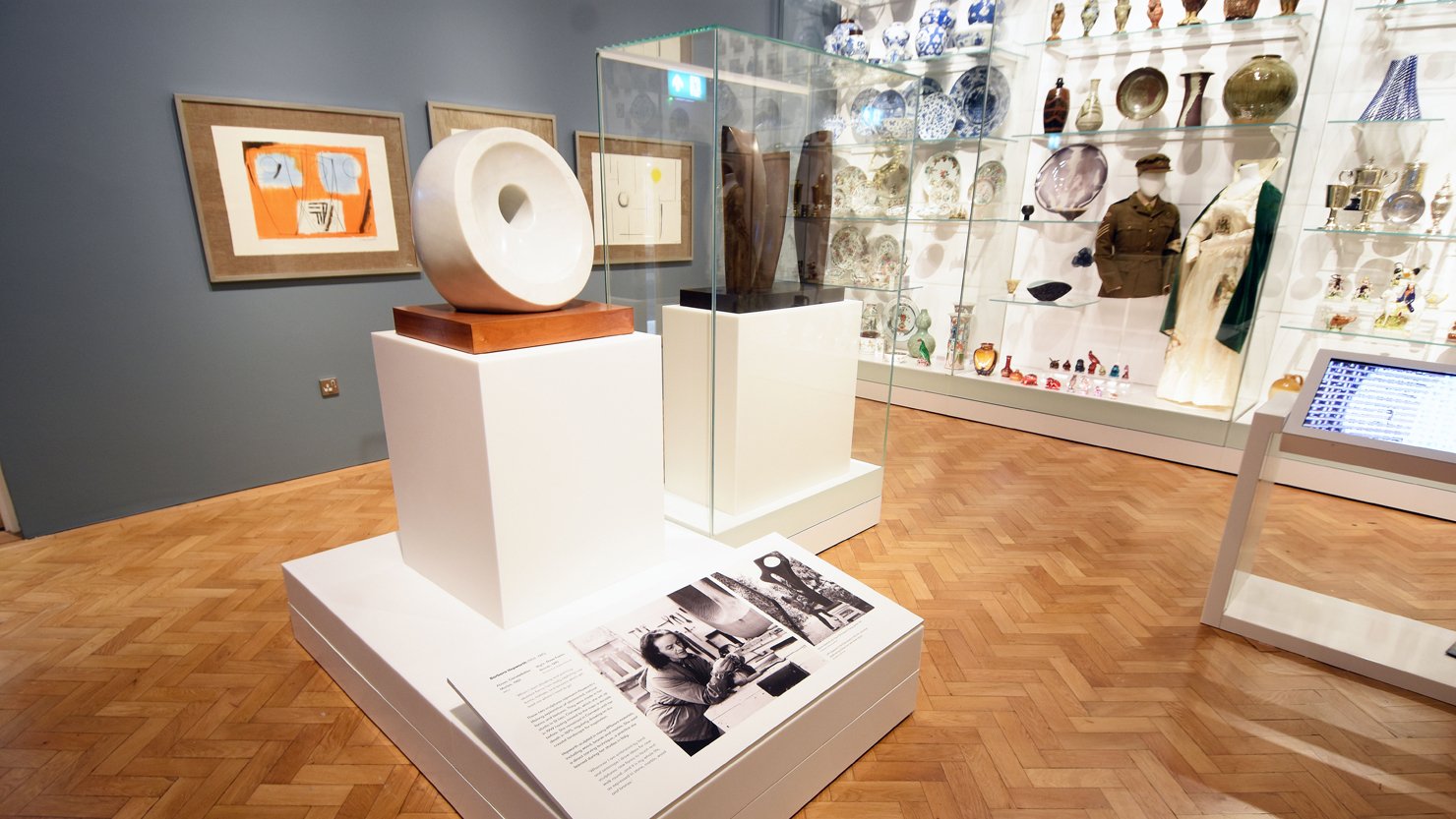 Alfred Wallis
In other instances, we have to say goodbye to period frames as in the case with a rare painting by Alfred Wallis. Wallis was a self-taught painter born in Devonport who earned a living as a fisherman in Cornwall. His works were often made using materials he had at hand but were much admired by Hepworth and other giants of the St Ives artists. The previous frame crowded the work, obscured key features and didn't offer much support. Our framer created a custom set of acrylic mounts that 'float' this oblong painting, drawing attention to its unique shape and exposing the characteristic edges.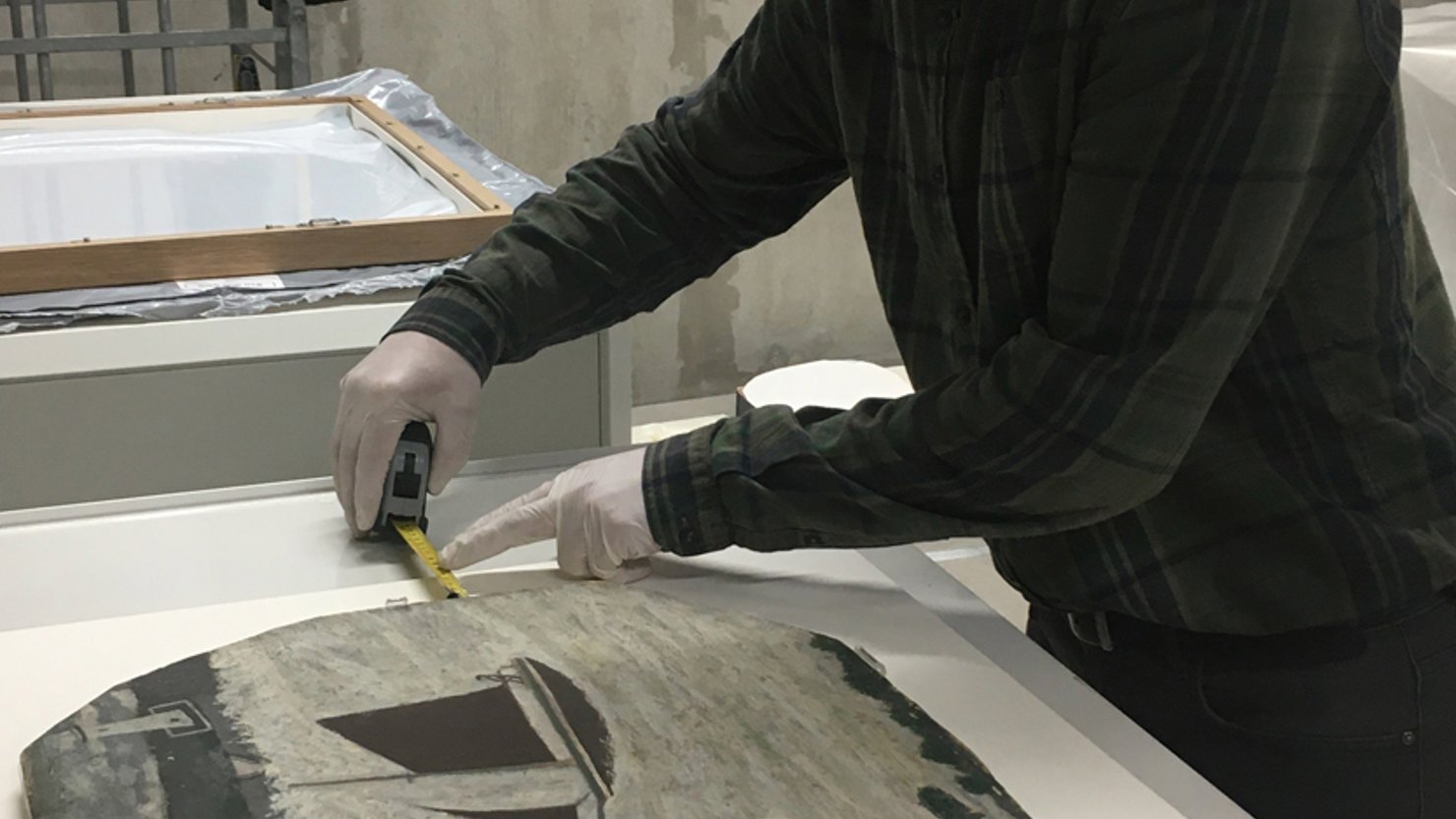 Beryl Cook
We also needed an innovative framing solution for another unique work in our collections. Beryl Cook, like Wallis, was a self-taught painter who used everyday materials early in her career. This iconic work was first exhibited in 1975 for her first public exhibition at Plymouth Arts Centre, after which the museum acquired it. It's been painted on a roller blind and hung using a chain attached to the top bar. This wasn't a good long-term solution – over time, the weight of the work would begin to stress the painted surface. Now it has a new frame with hidden supports, it can be stored and exhibited safely. In the left of the image below you can see how great it looks on our gallery wall.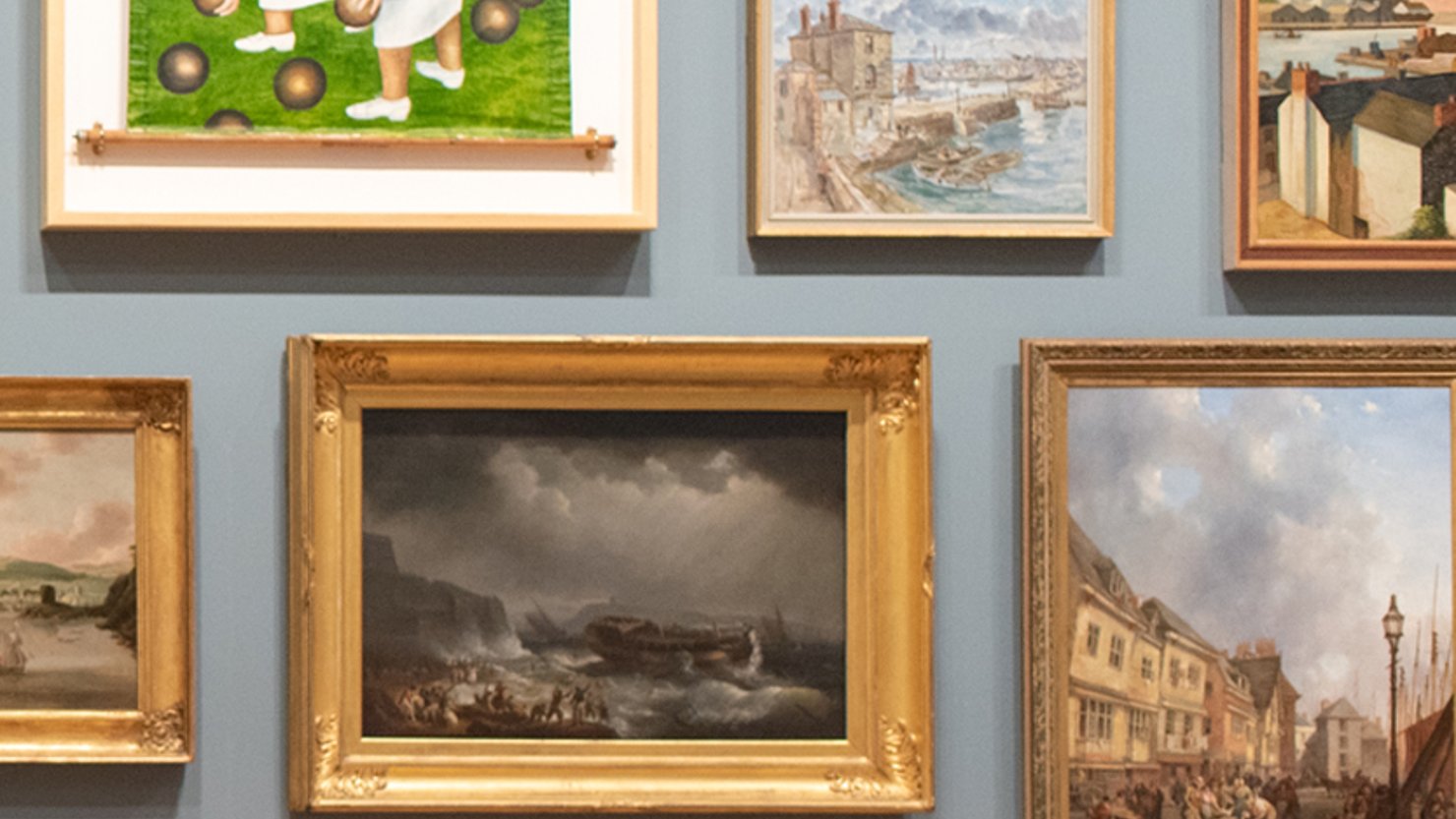 Though made for the opening display in our fine art gallery, these framing decisions will provide long-lasting support for decades to come to these important works of art!
Thanks to Terah Walkup, Art Curator