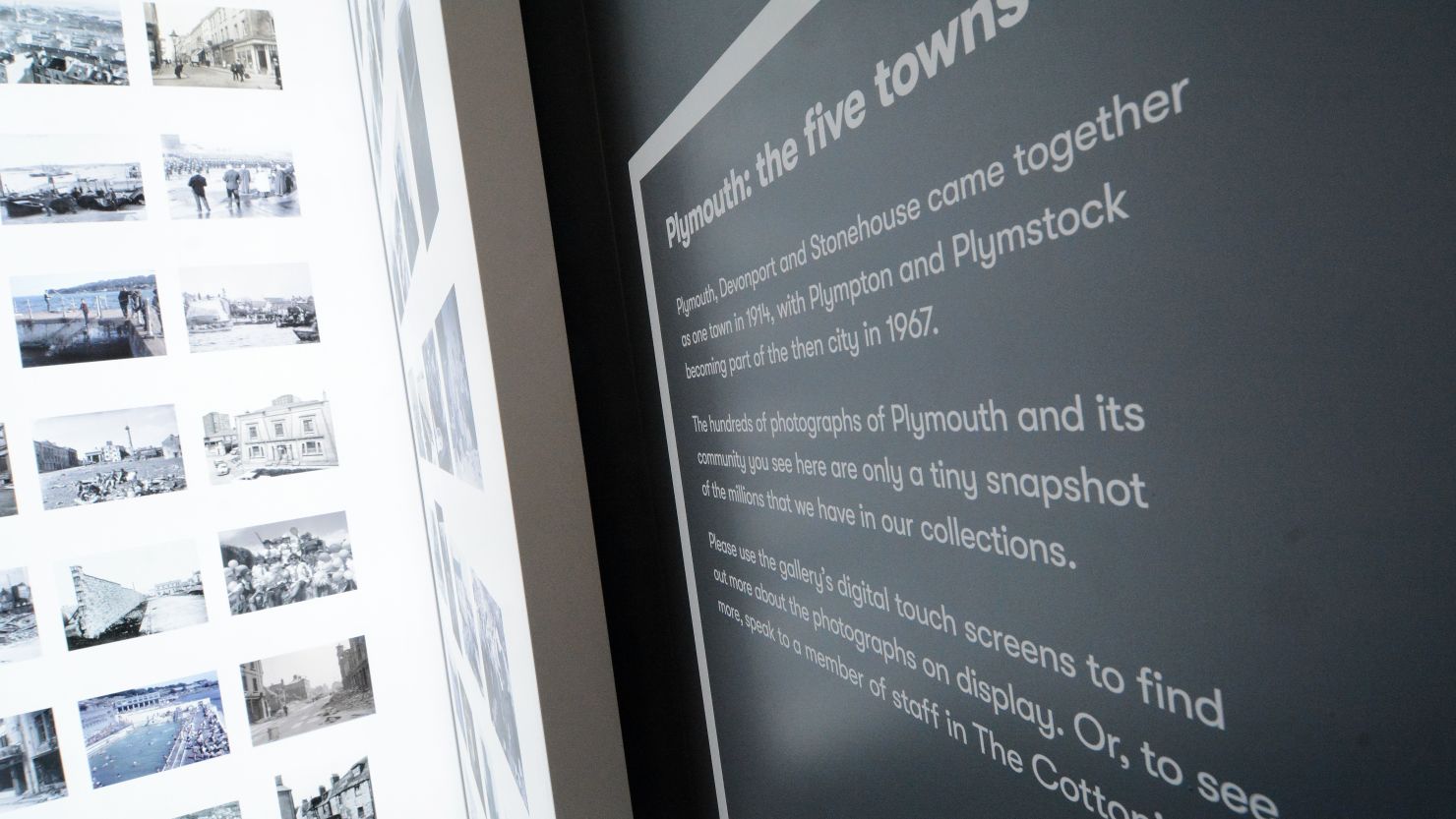 The Box is committed to maximising access for everyone, regardless of ability, age, gender, cultural or social background, sexual orientation, faith, language, location or wealth.
We do so by minimising or removing barriers that can prevent people from engaging with our buildings, collections, and programmes.
As both a provisionally accredited Museum and Archive we do everything that we can, within the limitations of our buildings and other resources, to offer the widest, richest, most engaging access for all our users.
Our work in this area is ongoing and responsive to our audiences changing needs.
Our access information has been updated in line with government guidance on social distancing and safety. You can find more about the measures in place to help you feel as comfortable as possible in our FAQs page.
Before you visit
General admission to The Box is free and there's no need to book in advance. Some temporary exhibitions have an admission charge and may need to be booked in advance. Our Mayflower: Legend and Legacy exhibition, which is open until 2 January 2022, is £5 for non-residents 18+. If you're a Plymouth resident you're entitled to up to four free tickets on your first booking!
Charges are made for some activities, events, reproduction of images or moving image material. This helps us to support our future work.
From time to time, we may have to close galleries for maintenance and exhibition changeovers. We'll give advance notice on our website wherever possible.
Enquiries about The Box site or services can be made in person, by email or telephone. We will respond to all enquiries, comments and complaints received in writing or by email within 20 working days. Find out more from our Contact us page.
Making the most of your visit
Entrance and Exit
The Box is accessible by wheelchair and mobility scooter, and for buggies and prams. Accessible entrances and exits are clearly identified. Visit Plan Your Visit to find out about our current entries and exits in place.
Accessing our spaces
We are monitoring our capacity and inside we encourage two-metre distancing where possible. Due to the size and nature of our spaces, you can explore the galleries freely but we have some one-way restrictions around our buildings. Visit our Plan Your Visit page for further details.
All internal public spaces are accessible by wheelchair and mobility scooter, and for buggies and prams with:
A limited number of buggy parking spaces available (buggies are left at the owner's risk.)
Four wheelchairs and one electric scooter available on site. If you'd like to book one, please get in touch with us (with details of your booking if you have them) so that we can check availability for you
Two lifts providing access between floors and across the museum and gallery space (available for visitors with access needs only)
Lifts that are able to accommodate regular wheelchairs and, in some, flatbed wheelchairs too. Ability for larger wheelchair access - please contact us for detailed information
Wheelchair accessible toilets
A fully accessible Changing Places toilet (which includes a hoist, height adjustable changing bench, shower and height adjustable sink)
Baby change facilities.
We have an enhanced cleaning programme in place and these facilities are checked by our team. Touchpoints in lifts are wiped by a member of our team after use. Styluses are available to purchase in the shop if you would prefer to access interactives in this way.
There is seating within galleries, where appropriate, and foldable stools are available on request from members of staff across the site.
Visitors booking events and other activities are asked to leave any details of access needs during their booking so that staff can be on hand to support access to the building and events and take all reasonable steps to accommodate visitors' needs.
Information for visitors with autism
We want all our visitors to have a great time at The Box. With so much to see and do, you may find the following information helpful in planning your visit.
One of the first things visitors encounter when they arrive at The Box is our friendly team stationed at our Welcome Desk. They are on hand to provide you with advice and information so you can tailor your visit to suit your needs and interests. To get to our galleries you will pass under our large figureheads which are suspended from the ceiling, moving past the Kitchen & Bar and through our shop. The Kitchen & Bar can be busy and noisy at peak times. If you prefer a quieter experience you could choose to visit early in the morning or later in the afternoon.
We have lots of galleries for you to explore. Some of our permanent galleries will appear similar each time you visit (although do look closely – we often change the collections on display for conservation reasons!) Other spaces could look very different each time. Our changing programme may mean you encounter a large piece of contemporary art in our North Hall or in the spaces between our galleries.
Our main entrance area and Active Archives gallery are large spaces with lots of natural light.
Some of our galleries are darker. They include:
You'll also find that we've used lots of film in many of these spaces to help bring our stories to life.
The 'Songlines: Tracking the Seven Sisters' exhibition has some projections, especially in the North Hall and the Dome on Tavistock Place that may be challenging for visitors with neurodiverse conditions. The exhibition is displayed in multiple spaces around The Box and The Levinsky Gallery at the University of Plymouth. The sections with the best light and fewest amount of screens can be found in our large first floor gallery and in St Luke's.
Here are images of some of the areas that could be challenging to help you prepare.
Getting closer to our collections
Galleries and exhibitions
Our signage conforms to access standards including the finish, information hierarchy, text sizes, contrasts and viewing distances.
The glass in the display cases has been carefully chosen to avoid glare and reflection.
The interpretive text is located at recommended heights and in appropriate font sizes using clear accessible language.
Large print family trails are available free of charge and new trails are produced each year.
There are interactives in each of the eight permanent galleries, which allow visitors to interact with, and learn more about, the objects on display. Projections and moving image displays have subtitles. We are ensuring that interactives can be used in a safe way within government guidelines for COVID-19. See our FAQs for details.
There is adjustable lighting in the galleries to help us with our collections' care requirements and in the learning rooms.
Some galleries can be dark or noisy. If you would like to avoid these galleries during your visit please speak to a member of the team who can advise you.
Audio loops are installed in the learning room, Cottonian Research Room and at our welcome desk. We do not currently offer audio guides.
Accessing collections and support
Our Cottonian Research Room provides access to stored collections on request. Advance booking is required so that we can meet any access requirements.
Unfortunately some of our collections cannot be brought out due to fragility or for health and safety reasons.
Part of our collection can be viewed online for those who are unable to visit in person. Please see our Collections pages for further information. Access to some of the most heavily-used family history records (such as baptism, marriage and burials registers) are available via FindMyPast.co.uk.
Our curatorial staff can also support people with vision impairment to get closer to the collections and we have a number of objects within our handling collections that can be specially requested to help people with sensory impairments get closer to our objects as part of their visit. Please contact us for information.
We offer a range of schools sessions for children with special educational needs. We also offer orientation visits to teachers where we can discuss your requirements and help you plan your visit.
Getting it right
The presentation and language used in our displays respects a diversity of backgrounds. In many cases we have worked with communities to interpret our collections and their cultural significance. If you feel that we haven't got something quite right please let us know at [email protected].
We tailor the text used in galleries, exhibitions, publications and social media platforms to the needs of our audiences and have an agreed set of style guidelines that help us do this.
A private room can be provided for viewing objects or documents of a sensitive nature.
During the development of The Box we thought carefully about the different barriers people can face in visiting a cultural attraction. As a result we consulted many different people and groups across the city who helped us to consider how we could improve access for everyone. There are lots of access needs to consider and we won't have managed to resolve all of them. If you have a suggestion for how we can improve your visit please let us know at [email protected].
Our staff and volunteers
All staff and volunteers receive disability awareness training as part of their induction and throughout their customer experience training. All staff are trained in health and safety, lone working, risk assessment and for those with regular contact with children or vulnerable adults have DBS checks.
We are an equal opportunities employer and monitor our diversity statistics carefully. Our work experience scheme targets young people who are underrepresented in the heritage sector. More information on this scheme will be available from spring 2022.