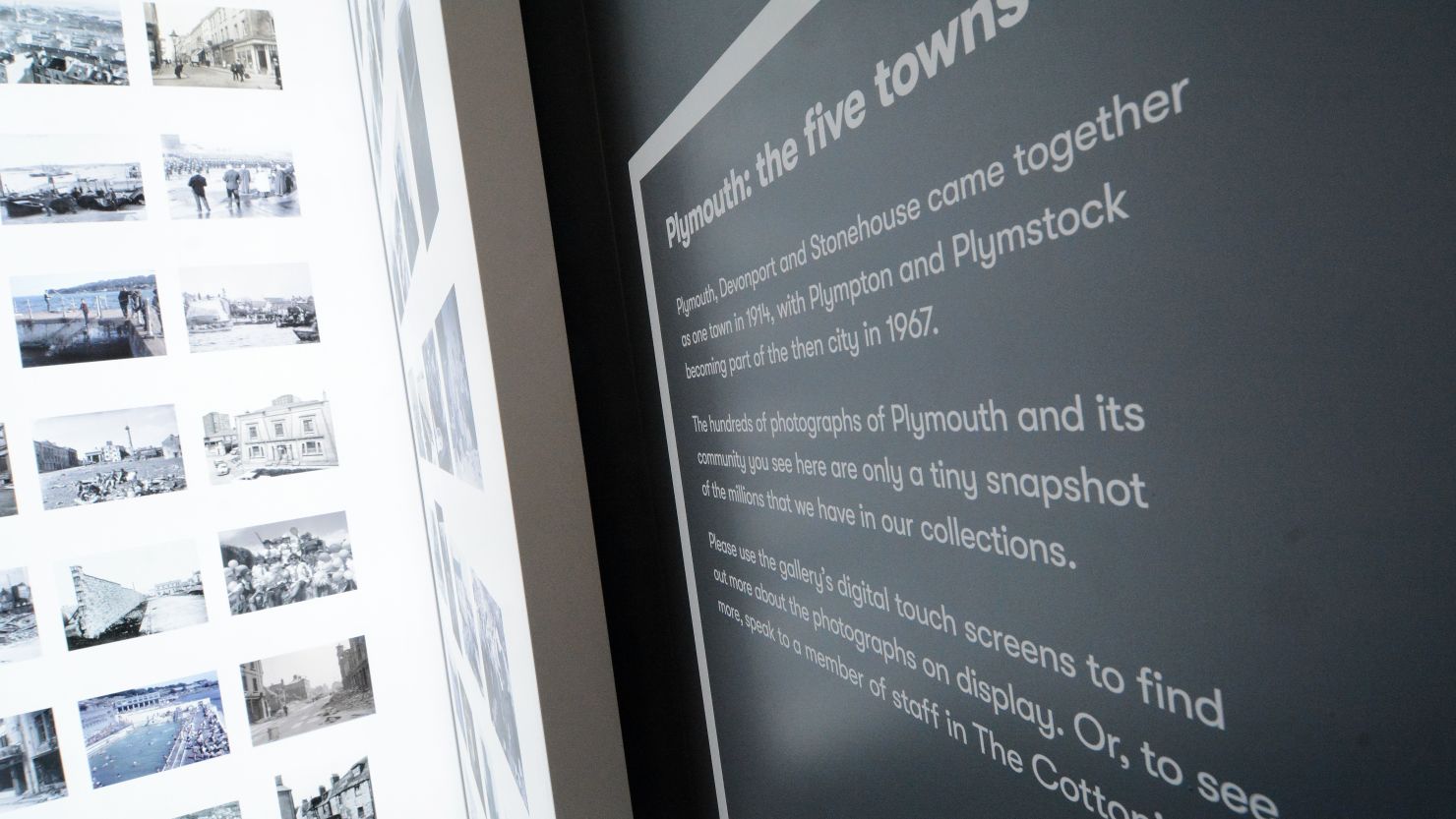 The Box is committed to equality, diversity and inclusion.
In order to become more accessible to more people, we are working to remove barriers which might prevent people from engaging with our building, collections or programmes, within the limitations of our building and resources available.
A range of people have been involved in helping us to create The Box, and we've thought carefully about the different barriers people may face in visiting us. There are lots of access needs to consider and we have more to do to get this right. If you have a suggestion for how we can improve your visit please let us know at [email protected]
Enquiries
Enquiries about The Box can be made in person at our Welcome Desk, via phone on 01752 304774, email at [email protected] or through social media. During busy periods our team may be helping visitors on site, but we will respond to your enquiry as soon as we can.
Visiting The Box
The Box is open 6 days per week from 10am – 5pm and closed to visitors on Mondays. From time to time we may have to close galleries or restrict access due to maintenance or for private hire events.
The Box has free entry to the permanent galleries. Some of The Box's temporary exhibitions may incur an admission charge. We work with communities across the city to remove financial barriers by delivering targeted projects and initiatives and some ticketed exhibitions are free to Plymouth City Council taxpayers. We provide free entry for ticketed exhibitions for all young people in and/or leaving care and free entry for all carers.
Charges are made for some activities, events, reproductions of images or moving image material which helps us to support the future work of The Box.
Getting here
The Box is easy to find with plenty of signposting both in and around Plymouth. Our signage conforms to access standards including the finish, information hierarchy, text sizes, contrasts and viewing distances.
Further information about travelling to The Box is on our Getting here page.
Making the most of your visit
There's lots of information about The Box and what you can expect to experience ahead of your visit available on our website, which conforms to web accessibility guidelines level AA and on our social media. For neuro-diverse visitors, there are two guides available from our website which include pre-visit information for parents and carers as well as a social story.
Entrance and Exit
Step free access to The Box is available at the main entrance on Tavistock Place. There are two wheelchairs and motorised scooters available to borrow for free on request. These are available from the main desk in the South Hall and can also be reserved in advance of your visit by e-mailing [email protected].
Visit Plan Your Visit to find out about our current entries and exits in place.
Accessing our spaces
Guide and assistance dogs are welcome in our building, please let our Welcome Desk know if a guide or assistance dog is accompanying you.
Two lifts are available providing access between floors and across the gallery spaces. The lifts can accommodate both regular and flatbed wheelchairs.
There are a number of toilets available including wheelchair accessible and disabled toilets, a changing places toilet (which includes a hoist, height adjustable changing bench, shower and height adjustable sink) accessible with a radar key, gender neutral toilets, male and female toilets as well as baby change facilities. Forgotten something? Emergency supplies of eco-friendly nappies, wipes and sanitary products are available from our Welcome Desk.
The Box was shortlisted for the Kids in Museums Family Friendly Award in 2021. We welcome breastfeeding and we are accredited by Plymouth Latch On. Families wishing to warm milk or baby food can speak to a member of the Kitchen staff who will be happy to assist. A limited number of buggy parking spaces are available on the Ground Floor, which are left at the owner's risk.
The shop and Kitchen & Bar offer a range of products which caters for many budgets and tastes. The Kitchen & Bar caters for a range of dietary requirements including vegan, gluten free, soy free and wheat allergies. Please ask a member of our Kitchen staff for more information.
Coin operated lockers are available throughout the building to secure personal belongings whilst visiting. Power points are provided for laptop computers and mobile phones in our Active Archives gallery and there is free WiFi across The Box.
Please let us know of any access needs when booking events or activities with us so that we can best accommodate your needs.
Some of our collection can be viewed online for those who are unable to visit in person. Please see our collections page for further information. Access to some of the most heavily-used family history records (such as baptism, marriage and burials registers) are available via FindMyPast.co.uk.
Information for visitors with epilepsy
We want all our visitors to have a great time at The Box. With so much to see and do, you may find the following information helpful in planning your visit.
Our Port of Plymouth and Media Lab galleries are spaces with low light levels and large screen projections which may not be safe for some people with epilepsy. If you have any concerns before entering either of these spaces, please don't hesitate to speak to a member of staff.
Information for visitors with autism
One of the first things visitors encounter when they arrive at The Box is our friendly team stationed at our Welcome Desk. They are on hand to provide you with advice and information so you can tailor your visit to suit your needs and interests. To get to our galleries you will pass under our large figureheads which are suspended from the ceiling, moving past the Kitchen & Bar and through our shop. The Kitchen & Bar can be busy and noisy at peak times. If you prefer a quieter experience you could choose to visit early in the morning or later in the afternoon.
We have lots of galleries for you to explore. Some of our permanent galleries will appear similar each time you visit (although do look closely – we often change the collections on display for conservation reasons!) Other spaces could look very different each time. Our changing programme may mean you encounter a large piece of contemporary art in our North Hall or in the spaces between our galleries.
Our main entrance area and Active Archives gallery are large spaces with lots of natural light.
Some of our galleries are darker. They include:
You'll also find that we've used lots of film in many of these spaces to help bring our stories to life.
Images by Andrew Meredith, courtesy of Event Communications.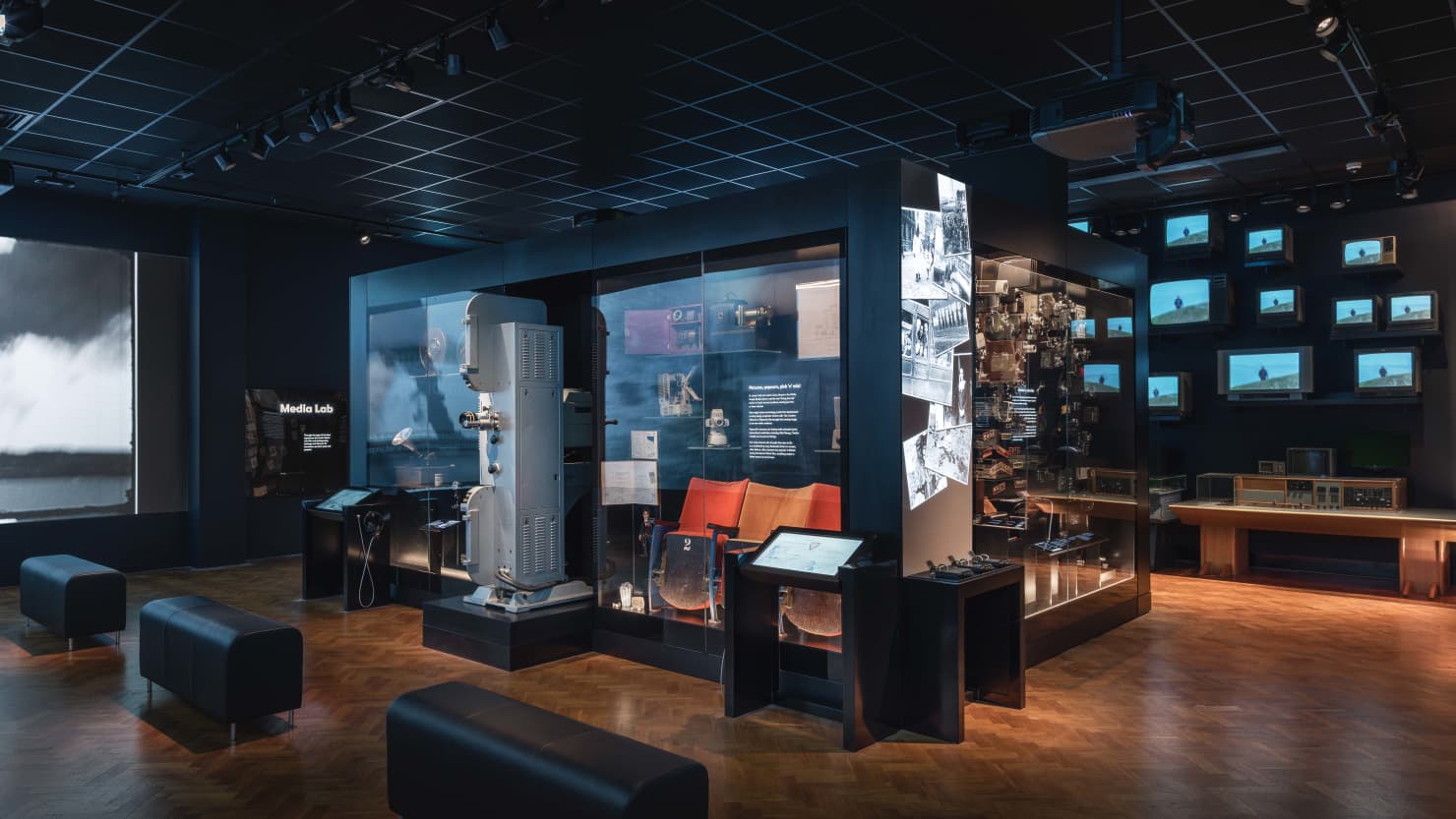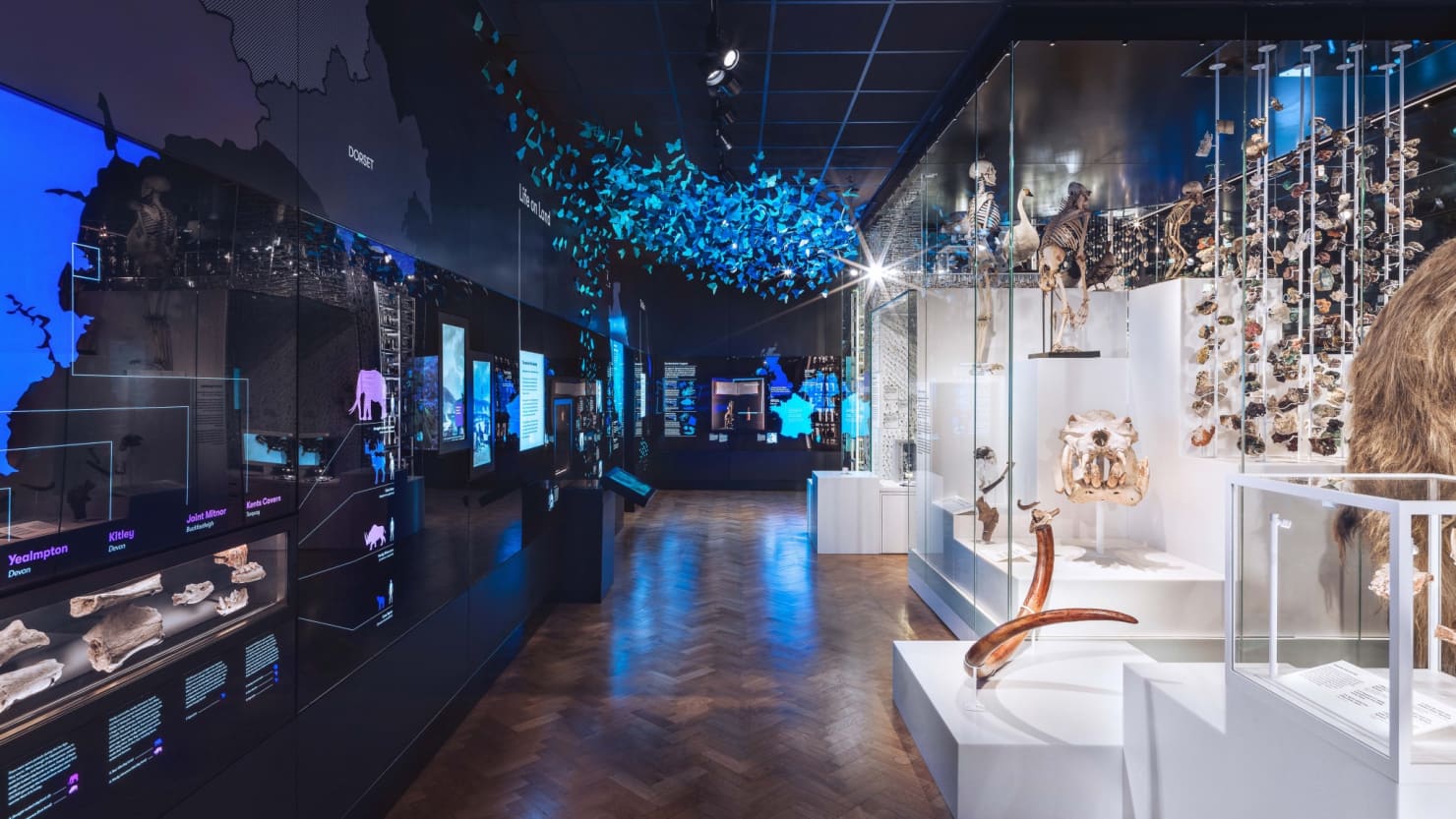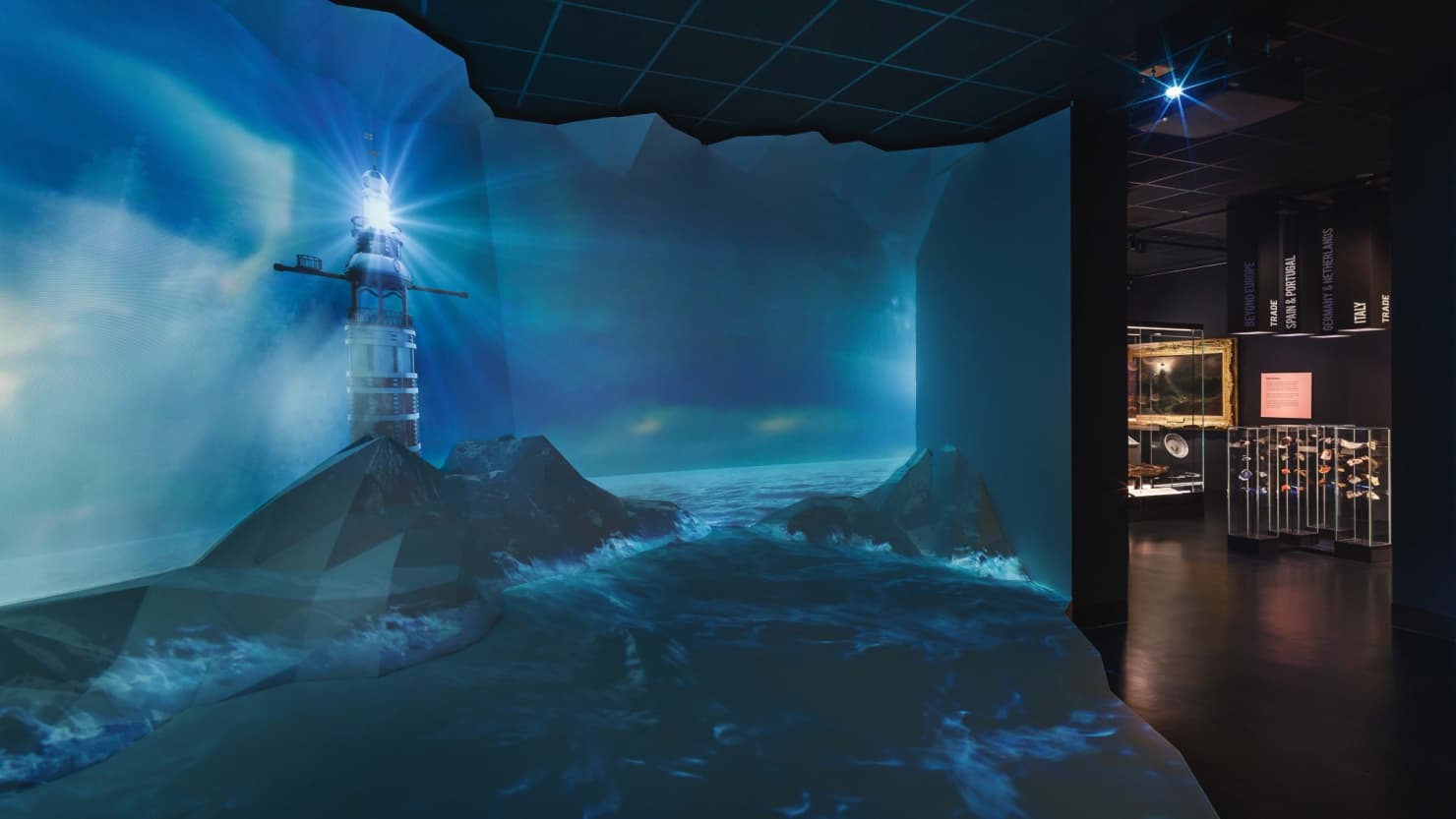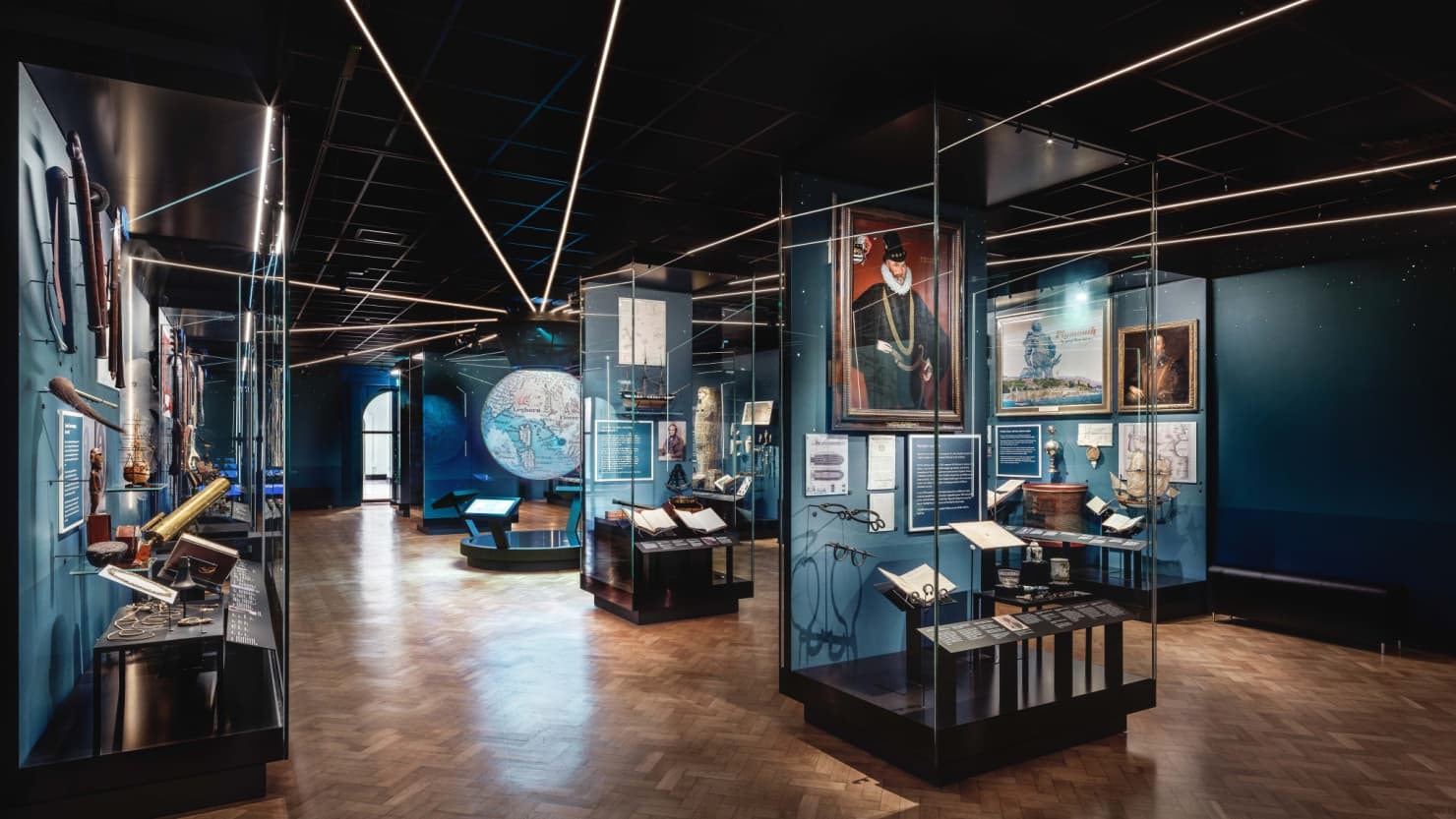 Getting closer to our collections
Galleries and exhibitions
The glass in the display cases has been carefully chosen to avoid glare and reflection and interpretive text is located at recommended heights and in appropriate font sizes using clear accessible language.
There is some seating available in our galleries, however foldable stools can also be borrowed from our Welcome Desk.
Family trails are available free of charge to help families make the most of their visit and new trails are produced each year. All of our family drop in activities, designed for families to experience together, are fully accessible and designed with families in mind.
There is adjustable lighting in the galleries to help us with our collections care requirements and in the learning rooms, however some visitors may find gallery spaces quite dark or light.
There are interactives across our permanent galleries which allow visitors to interact with and learn more about the objects on display. Projections and moving image displays have subtitles. Steps are located near to some of our interactives, such as the Periscope in the Port gallery, to assist children's experience.
Audio loops are installed in the learning room, Cottonian reading room and at our welcome desk. We do not currently offer audio guides.
Some galleries can be dark or noisy. If you would like to avoid these galleries during your visit please speak to a member of the team who can advise you.
We make every effort to welcome all of our visitors and you'll often hear the sounds of families or school trips having fun during their visit. At peak periods such as weekends and in school holidays you may find the building busier and noisier than at other times.
We offer a range of schools sessions for children with special educational needs. We also offer orientation visits to teachers where we can discuss your requirements and help you plan your visit.
Accessing collections
Our Cottonian Research Room exists to provide access to stored collections on request. Advance booking for research is required and we invite visitors to let us know of any specific access requirements. Unfortunately some of our collections cannot be brought out due to fragility or for health and safety reasons.
Part of our collection can be viewed online for those who are unable to visit in person. Please see our Collections pages for further information. Access to some of the most heavily-used family history records (such as baptism, marriage and burials registers) are available via FindMyPast.co.uk.
Our curatorial staff can support people with vision impairment to get closer to the collections in our Cottonian Research Room and we have a number of objects within our handling collections that can be specially requested to help people with sensory impairments get closer to our objects as part of their visit. Please contact us for information.
Getting it right
We have a flexible designated quiet space which can accommodate a range of visitors' needs, and is often used for prayer or breastfeeding. For researchers, a private room can be provided for viewing objects or archive documents of a sensitive nature.
We tailor the text used in galleries, exhibitions, publications and social media platforms to the needs of our audiences and have an agreed set of style guidelines that help us do this.
We carefully consider the presentation and language used in our displays and in many cases we have worked with communities to interpret our collections and their cultural significance. If you don't feel we've got something quite right please email us with your feedback.
Our staff and volunteers
All staff and volunteers receive disability awareness training as part of their induction and throughout their customer experience training. All staff are trained in health and safety, lone working, risk assessment and for those with regular contact with children or vulnerable adults have DBS checks. Accessibility training takes place each year for staff to help improve our offer. We are an equal opportunities employer and monitor our diversity statistics carefully.