'Hoe Garden Nursery' by Stanley Spencer
This much loved work of art from our collection was painted by one of the greatest British artists of the 20th century.
Stanley Spencer was born in 1891 in the village of Cookham, Berkshire and studied at the prestigious Slade School of Fine Art. When the First World War began, he enlisted in the Royal Army Medical Corps. He was posted to Bristol and then to Macedonia. He then applied for a transfer and was sent to the front line. Like many other artists who saw active service, his wartime experiences had a profound effect on him.
Women also had a major impact on his life. He married fellow artist Hilda Carline in 1925 and they went on to have two daughters. He then became infatuated with aspiring artist Patricia Preece. She modelled for a number of his paintings. They married four days after his divorce from Hilda but the union was doomed and continued to cost Spencer financially for the rest of his life. It made him realise that Hilda was the love of his life and he wrote letters to her regularly, even after she passed away.
During the Second World War, Spencer was an official war artist and painted a series of long panels of shipbuilding at Lithgrow's shipyard on the Clyde. He was elected to the Royal Academy in 1950 and awarded the CBE. In 1959, the year he died, he was knighted. He was described by those who knew him as sociable and eccentric.
Spencer's early paintings were mystical scenes, but as the intensity of these early visionary years diminished he often turned to landscape painting.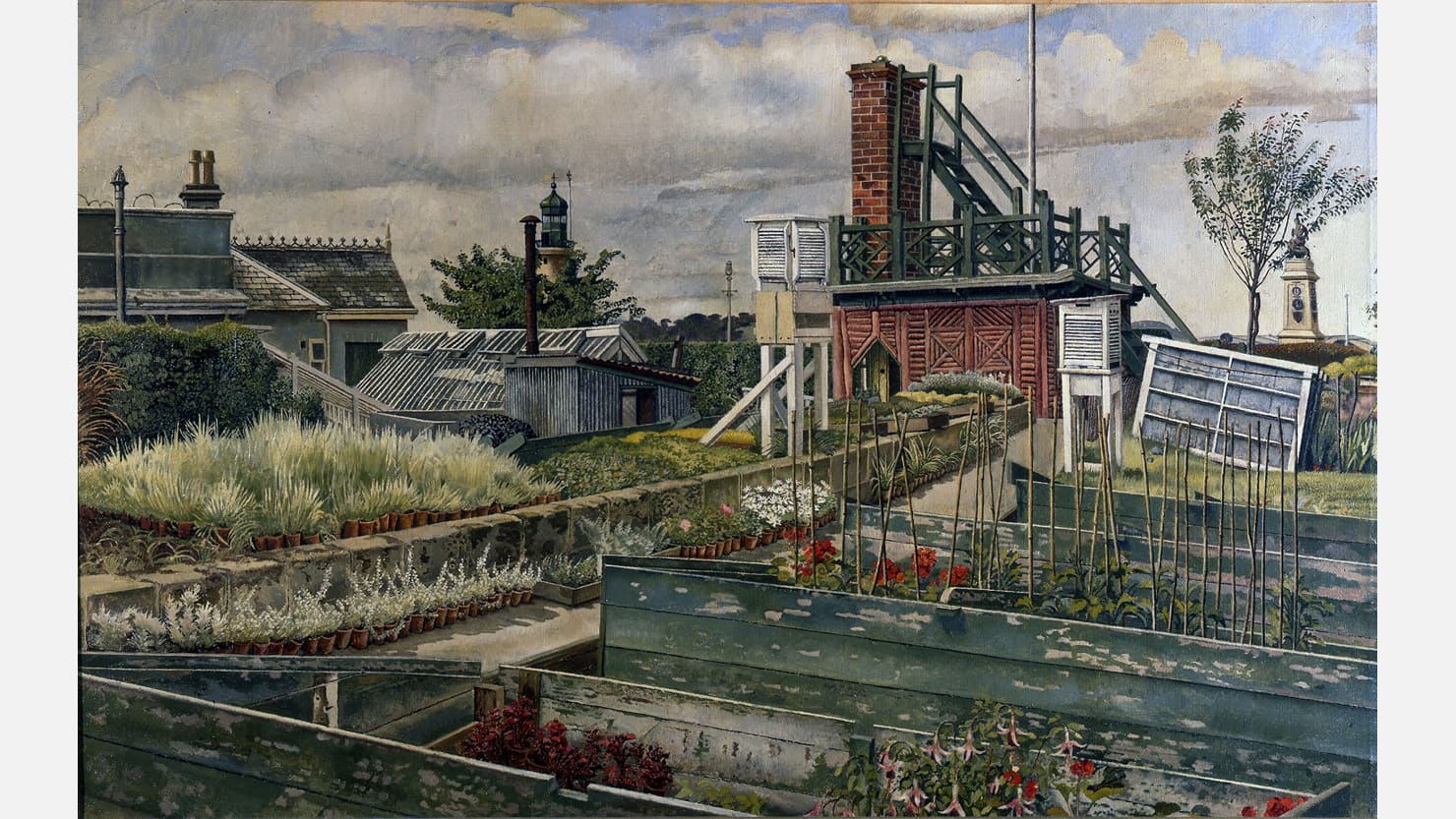 He painted views of English gardens throughout his life, and it's this body of work that this unusual painting entitled 'Hoe Nursery Garden' belongs to.
Spencer was commissioned to create it by Plymouth City Council in 1955. Plymouth was emerging from the devastation of the Blitz at the time. No doubt the Council was expecting a scene of hope or regeneration and were quite surprised to receive this instead.
Look closely beyond the peeling wood and lopsided fencing though. Look at how precise the buildings are. Look at how vibrant the colours of the plants and flowers are.
In his 2011 article in The Independent titled 'This green and pleasant land', Adrian Hamilton stated that Spencer's garden paintings celebrate 'the order, the gentleness and the fondness that the English feel for their gardens' and how he 'saw the garden as a very English way….. of taking part in its goodness.'
While unassuming on first sight, there is warmth in this garden. It's a survivor – a space that war could not destroy.
Jo Clarke, Marketing and Communications Officer
Information sourced from www.stanleyspencer.org.uk and www.independent.co.uk