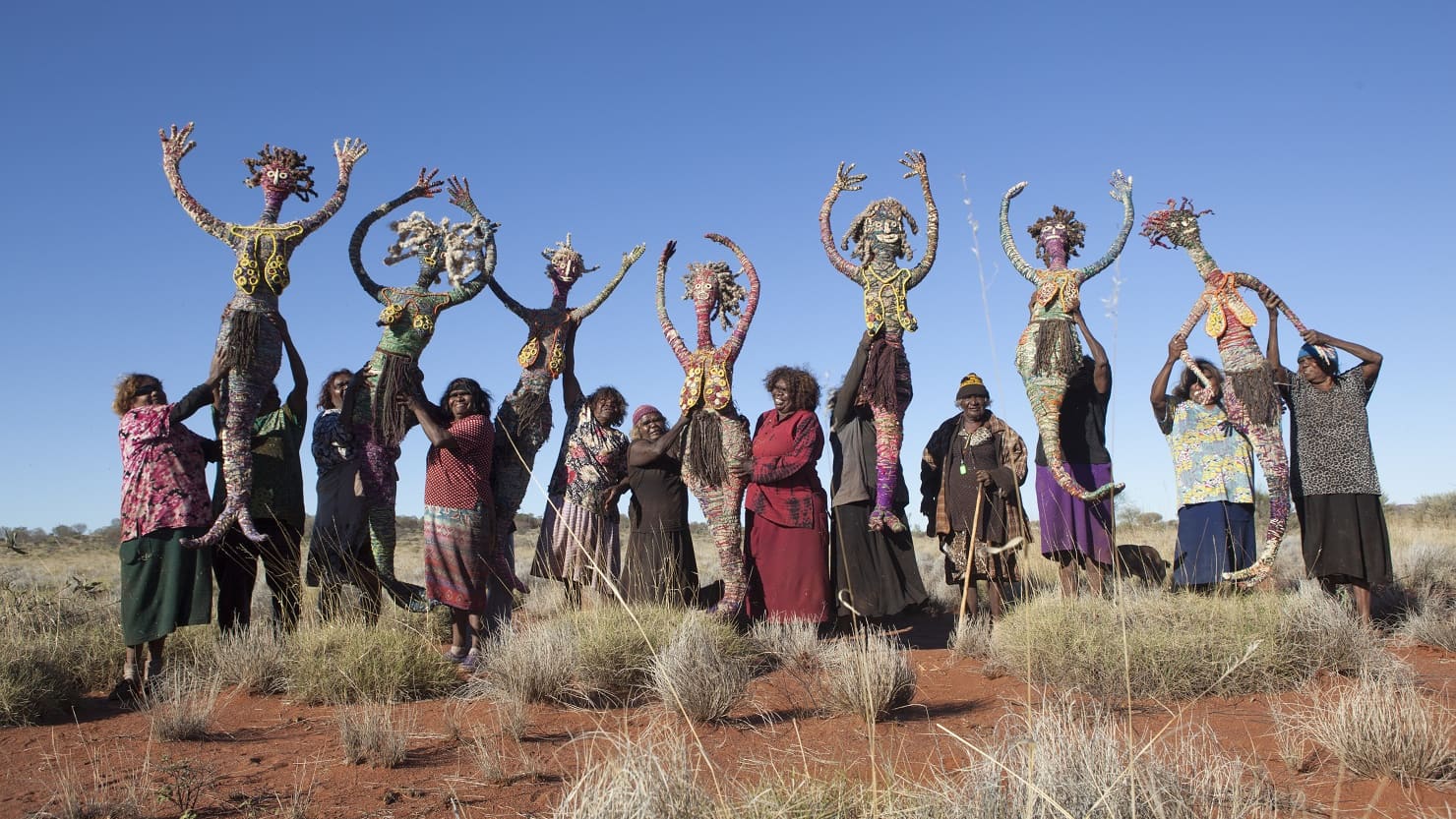 Immerse yourself in the world of 'Songlines: Tracking The Seven Sisters' by learning some of the terms used by the First Peoples who curated and created this magnificent exhibition.
Claypan: An area where there is a hard impermeable layer of clay, which can hold water after rain. As the claypan forms a hard surface, if it is large enough, it can be used for dance and ceremony.
Coolamon: Used mostly by women, it is a container made from a piece of carved, hollowed wood. It is used for collecting and carrying food or water, for scraping ashes, and as a vessel for winnowing grain. It can also be used for carrying a baby. They vary in shape and size and can be decorated with adze marks or ochre.
Country: Often used with a capital C – the area of land with which an Aboriginal person and their community has a spiritual and personal connection, to which they belong, of which they are a part. It is one of the most important concepts in Aboriginal culture.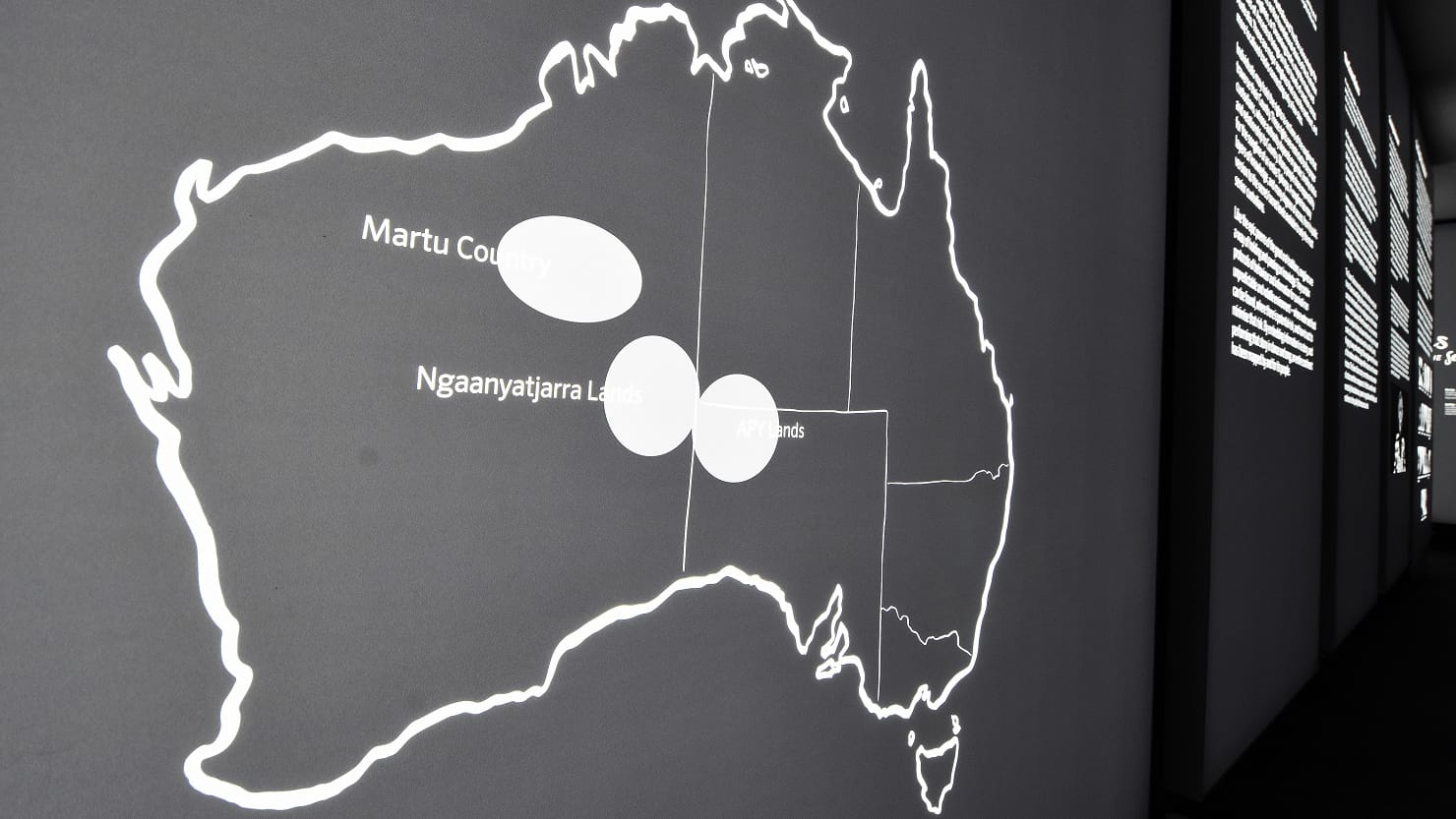 Digging stick: A hard pointed stick, usually about 2m long, used mostly by women for digging out animal foods such as lizards and witchetty grubs or plant foods such as tubers. People now commonly use a crowbar for the same use.
… an all-embracing concept that provides rules for living, a moral code, as well as rules for interacting with the natural environment … The Dreaming isn't something that has been consigned to the past but is a lived daily reality.

Jeannie Herbert Nungarray, 2002
The concept of the Dreaming has different names around Australia. In the region covered in this exhibition, it is called the Tjukurpa.
The 'Dreaming' is First Nations peoples' understanding of the world and its creation. Passed from generation to generation through storytelling, the Dreaming shares beliefs that are connected to Country and the natural world. These stories incorporate creation, rules for living, social regulations, ethics and morality. They often feature characters who demonstrate undesirable behaviours, and face consequences because of it.

Commonground.org
Dreaming tracks: The paths made by the Ancestral Beings that created the world.
Elder: A person with cultural authority within an Aboriginal group. This person may not necessarily be chronologically old.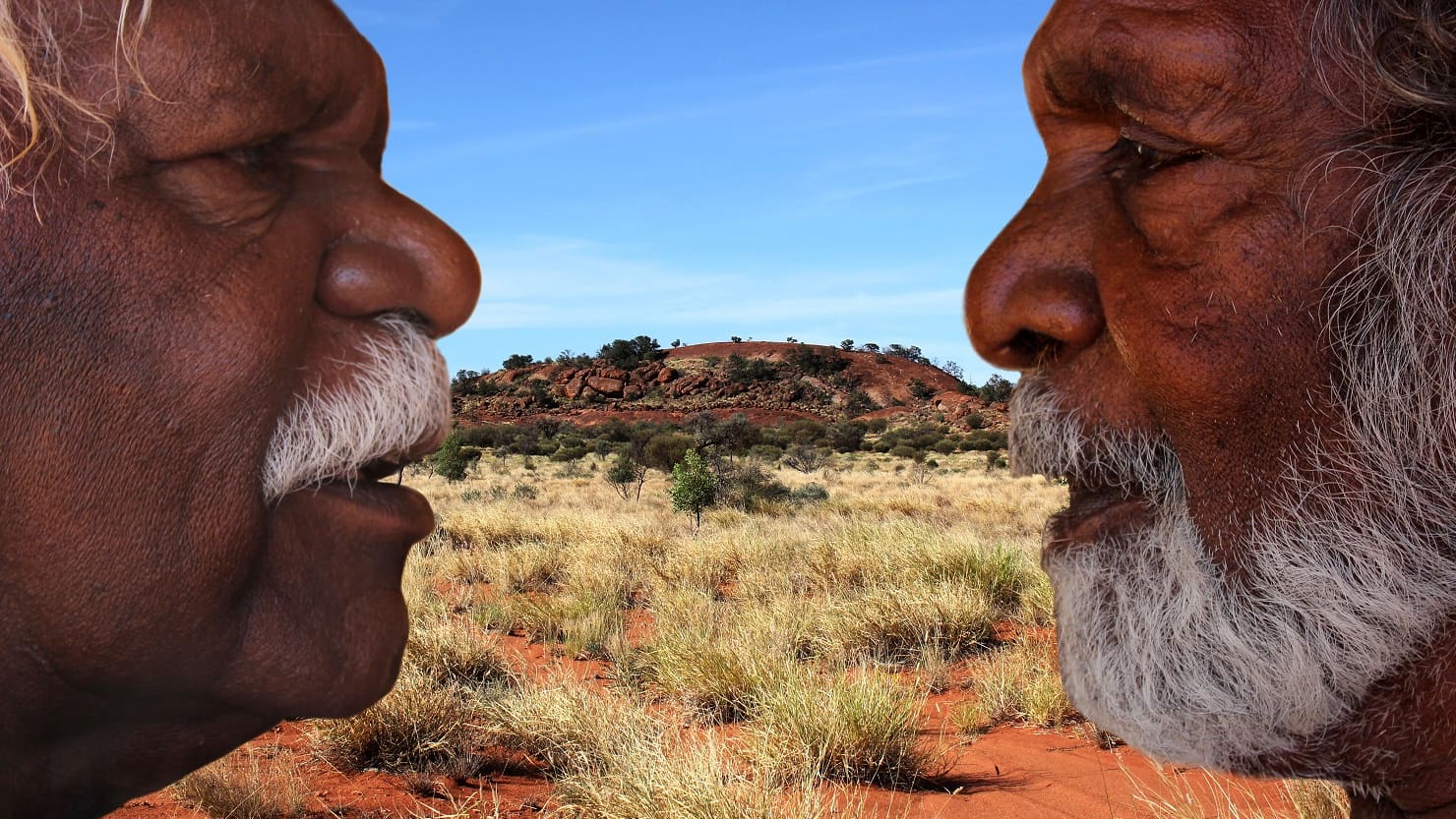 Honey ant: A species of ant found in these desert regions. Some ants in the colony collect nectar in their abdomens, to be fed to the colony if there is a food shortage. This nectar is a food source specially prized by local Aboriginal people.
Land council: Aboriginal land councils represent Aboriginal affairs at state or territory level. They aim to protect the interests and further the aspirations of Aboriginal communities.
Lands: As in 'APY Lands'. Land where that community traditionally belongs.
Language group: A way to describe a group of people speaking the same language and sharing the same culture. A group that in earlier times may have been called a 'tribe'.
Lawman: A man, usually an older man, learned in the culture of his community and thus able to act and speak with authority within and without that community.
Law woman: A woman, usually an older woman, learned in the culture of her community and thus able to act and speak with authority within and without that community.
Marku: Witchetty grub (translated as 'grub').
Rock hole: A hole in the landscape that can be small or many metres across. Often the site of permanent or more reliable water.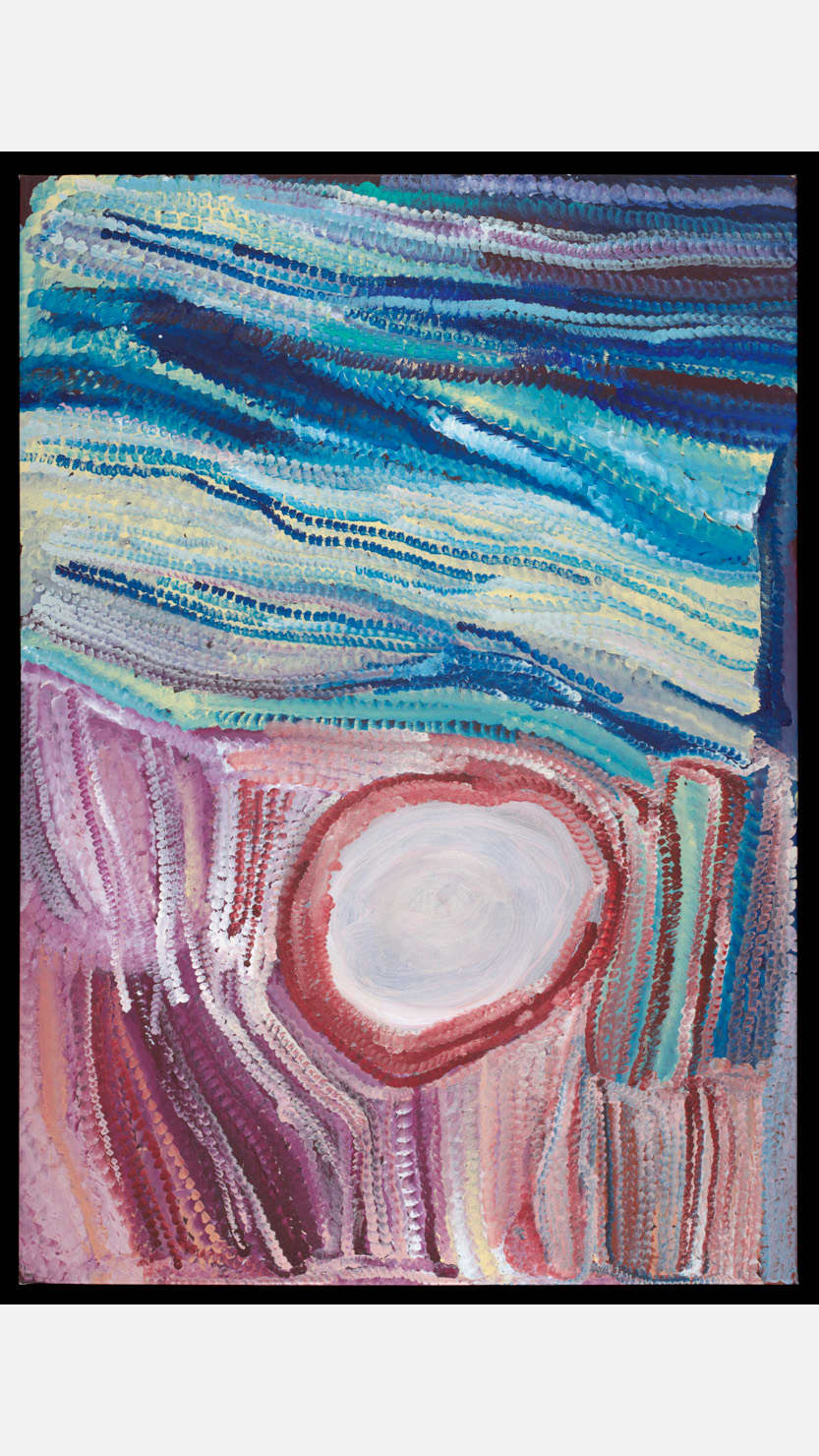 Stock route: A designated way through the land, legislated as a route for the movement of cattle or sheep. They can be hundreds of kilometres long. The Canning Stock Route is the world's longest at 1850km.
Traditional owner: An Aboriginal person who has rights and responsibilities in relation to an area of land, derived from a traditional association with that Country.
Whitlam Government: The government of Gough Whitlam (in office 1972-1975), which was responsible for the first Commonwealth legislation enabling Aboriginal people to be granted land rights.
Header image:
Artists from Tjanpi Desert Weavers let their tjanpi sisters fly, Papulankutja, Western Australia, 2015. Image: Annieka Skinner, Tjanpi Desert Weavers
Elders image:
Traditional Owners of Cave Hill (Seven Sisters) 2017 by Brenda Douglas, Tjala Arts National Museum of Australia © the artist/Copyright Agency 2020. Image: Brenda Douglas
Rock Hole image:
Parnngurr Rock Hole 2015 by Bugai Whyoulter, Martumili Artists © the artist/Copyright Agency 2020. Image: National Museum of Australia