Musical Passage: supporting jazz education and performance in the South-West.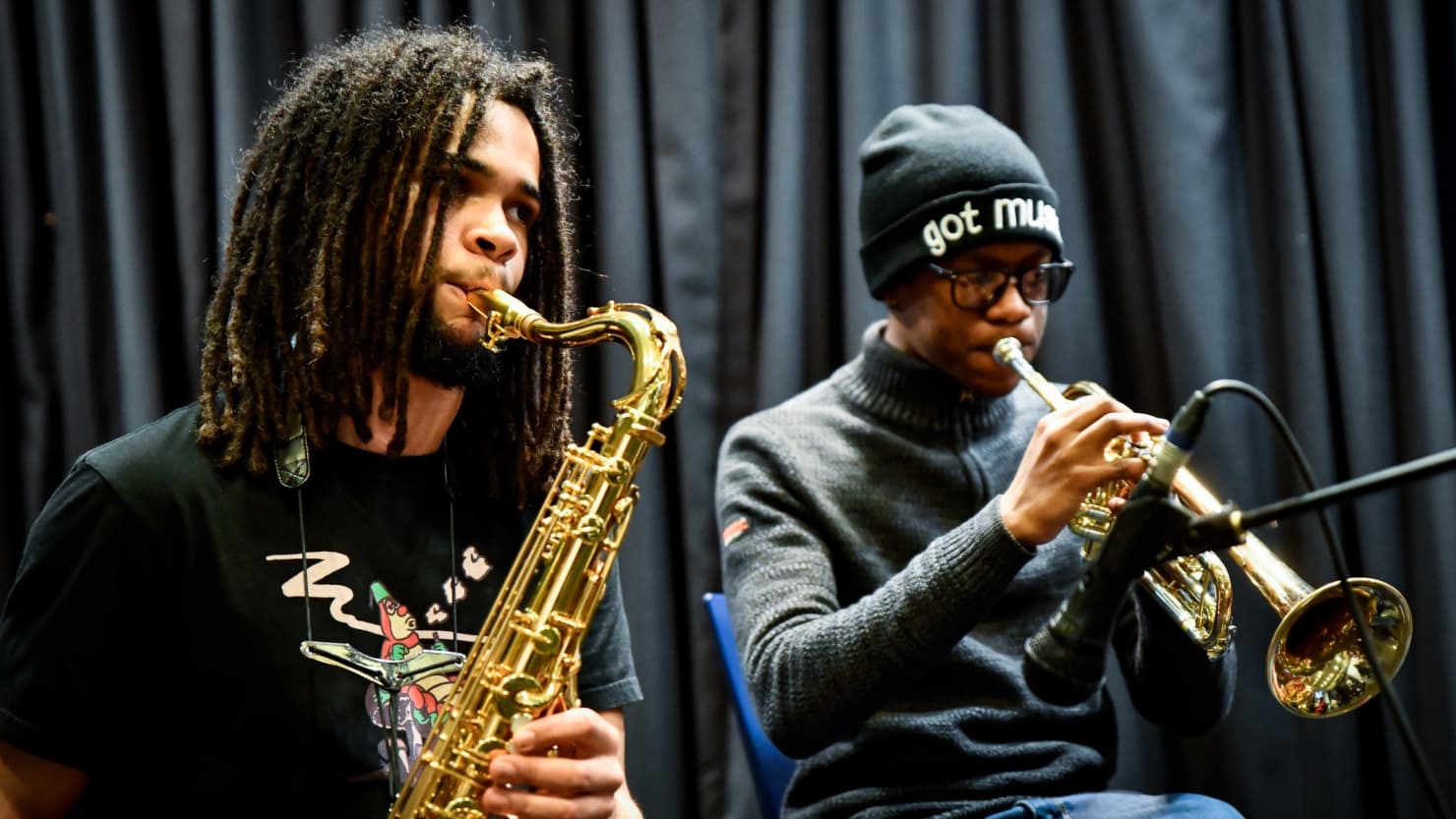 The Box is delighted to host jazz educators Tomorrow's Warriors and Radical Ecology for two days of jazz workshops and performances in June. Musical Passage is a collaboration between partners in Devon and Cornwall that aims to support the long-term development of infrastructure for anti-racist jazz education across the area.
The partnership includes Tomorrow's Warriors, Radical Ecology, University of Exeter Arts and Culture, Eden, The Box, Asone Perform, Plymouth Youth Music Service, Devon & Torbay Music Education Hubs and Leskyn Kernow and includes:
continuous Professional Development (CPD) for music teachers
jazz workshops in schools for students
the establishment of a regular jam session for jazz enthusiasts of different ages and levels
the consolidation of a live performance touring network of venues across the region
Through the initial programme and a relationship with London-based Tomorrow's Warriors, the partnership will develop into an active network in and across the region, whilst also connected to the leading edge of the UK youth jazz scene.
What is Tomorrow's Warriors?
Tomorrow's Warriors is a pioneering talent development organisation, creative producer, learning and training provider, charity and consultancy specialising in jazz. Founded in 1991 by Queen's Medal for Music recipient Gary Crosby OBE and Janine Irons MBE, Tomorrow's Warriors helps aspiring young artists from diverse backgrounds discover their magic and achieve creative ambitions.
Tomorrow's Warriors have changed the musical landscape of Britain. It's as simple as that.

Cerys Matthews, artist and broadcaster
Tomorrow's Warriors nurture emerging talent and build engaged, culturally diverse audiences. They are recognised both nationally and internationally, receiving over fifty awards, including the 2021 Impact Award from Jazz FM.
Their award-winning alumni include: Moses Boyd, Nubya Garcia, Sheila Maurice-Grey, Cassie Kinoshi and Nerija, Femi Koleoso and Ezra Collective, Binker Golding, Shabaka Hutchings and Sons of Kemet, ESKA, Denys Baptiste, Soweto Kinch, Ben Burrell, Zara McFarlane, Camilla George, CHERISE, Nathaniel Facey and Empirical, Peter Edwards... the list goes on and on.
We're incredibly excited to work on this important and necessary project with Radical Ecology, The Box and partners in Plymouth, Cornwall, Devon, Exeter and Torbay. Through supporting teachers, students and musicians in the region, we aim that the project will help to sow the seeds for lasting anti-racist, community-led jazz education and performance infrastructure in the South-West.

Gabriel Starkey, Learning, Outreach and Engagement Coordinator for Tomorrow's Warriors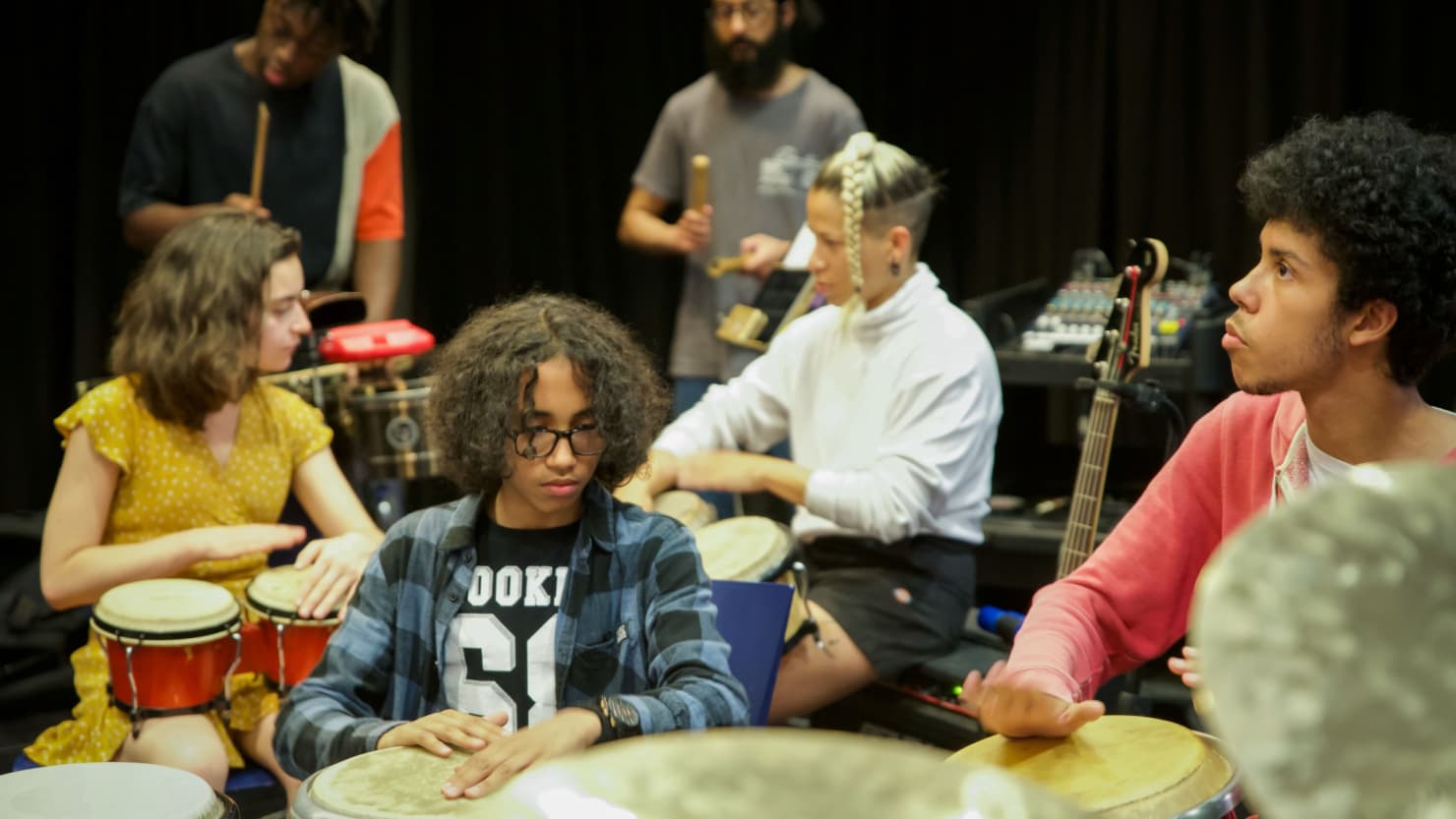 Muscial Passage programme across the South West
A free teachers CPD session for music teachers across the South West will support them in developing their knowledge and skills in anti-racist jazz education. Alongside this, a workshop for young people from the South West will put this learning into practice, with talented pupils working with and learning from some of the best jazz musicians in the UK. These sessions have been made possible with the support of Asone Perform, Plymouth Youth Music Service, Devon & Torbay Music Education Hubs and Leskyn Kernow.
Performance and jam session at The Box
Tomorrow's Warriors will be performing on Friday 9 June 2023, with a great line-up of amazing musicians, including Ruben Fox, Jai Patel, Emily Tran and Michael Amosu for an evening of jazz with a contemporary vibe. Be sure to get your tickets for this event – you won't want to miss out!
On Saturday 10 June 2023, join us again for a free high-energy jam session with musicians from Tomorrow's Warriors joined by young people from the South West – if you're feeling it, why not bring along your acoustic instrument and join in?
Radical Ecology works across art, research and policy to nurture imagination for environmental transformation and is involved in this collaboration. Ashish Ghadiali, filmmaker and activist says,
"Tomorrow's Warriors have been leading the national conversation on jazz education for decades now so it's great to have them here supporting our work with teachers and young players as well as all 3 music hubs, University of Exeter Arts & Culture and of course The Box to strengthen the existing infrastructure here for jazz education and performance across Devon and Cornwall."