Behind The Scenes: Uncovering past lives at Mount Folly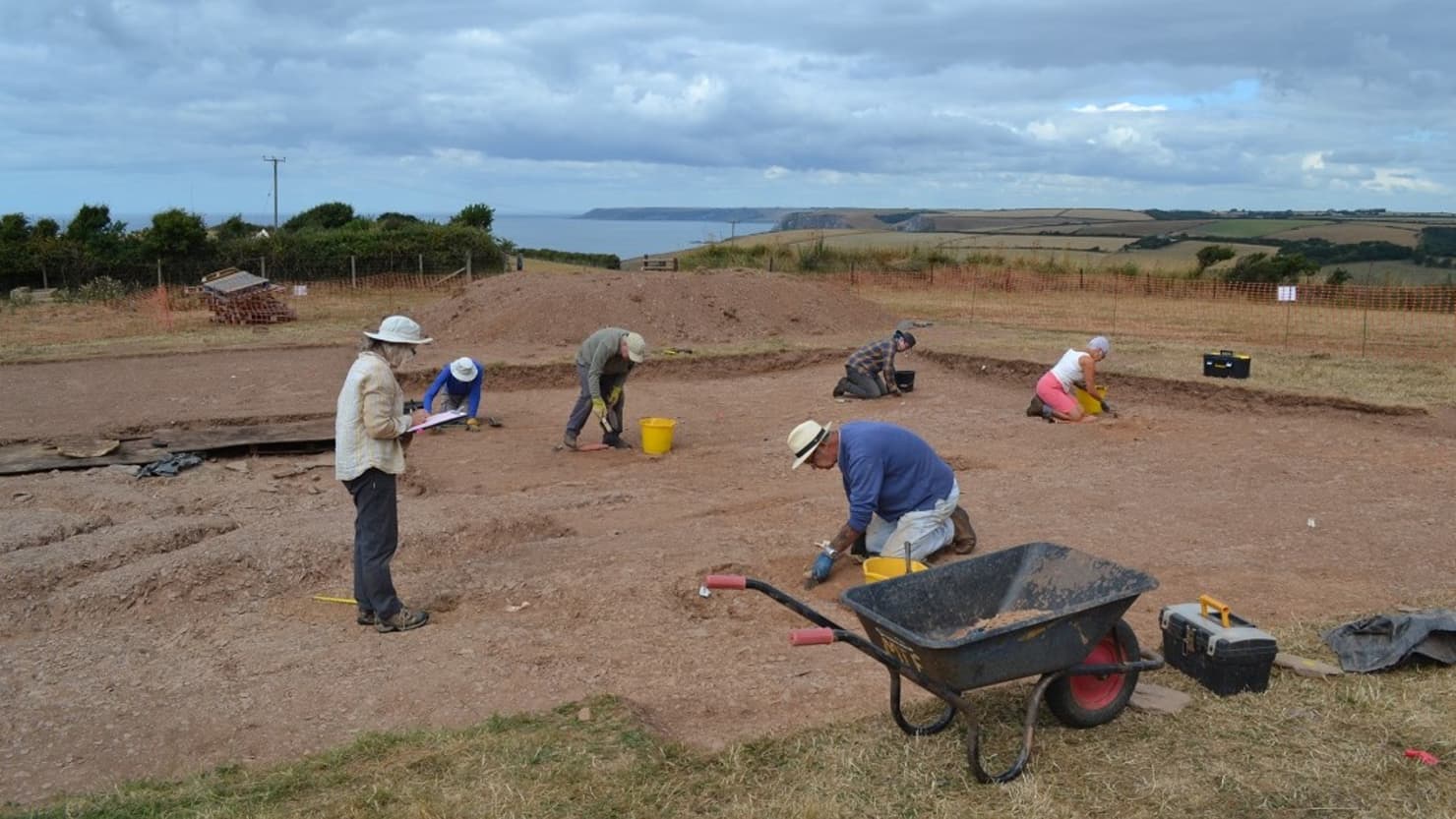 Since 2003, the 'Mount Folly Enclosures Project' near Bigbury-on-Sea has been uncovering evidence of past lives. The project is one of the largest community excavations in southern England, and a variety of artefacts have been discovered.
On a sunny day, the location of Mount Folly is stunning. Situated on the hillside above Bigbury, there are sweeping views along the coast, both to the east and west. In the opposite direction, the hills of Dartmoor are clearly visible. Undoubtedly, the advantages of this geographical location must have been well understood by the people who lived and worked here in past.
The long-running project to investigate the archaeology of the site is headed by Dr Eileen Wilkes of Bournemouth University. Dr Wilkes' research was originally prompted by evidence from aerial reconnaissance, carried out in 1989 by Frances Griffith, Devon County Archaeologist. This revealed the presence of two enclosures.
The aim of the project has been to investigate the construction, date and function of these enclosures, and understand what relationship they may have had with later prehistoric and Roman maritime networks. Geophysical survey in 2007 discovered a third enclosure. Excavations have revealed at least two roundhouses as well as other structures. Radiocarbon dates from residues on pot sherds suggest possible continuous occupation from the Bronze Age to the third century AD. However, overall the evidence points to a concentration of activity during the late Iron Age and early Romano-British periods, around 100 BC-AD 100.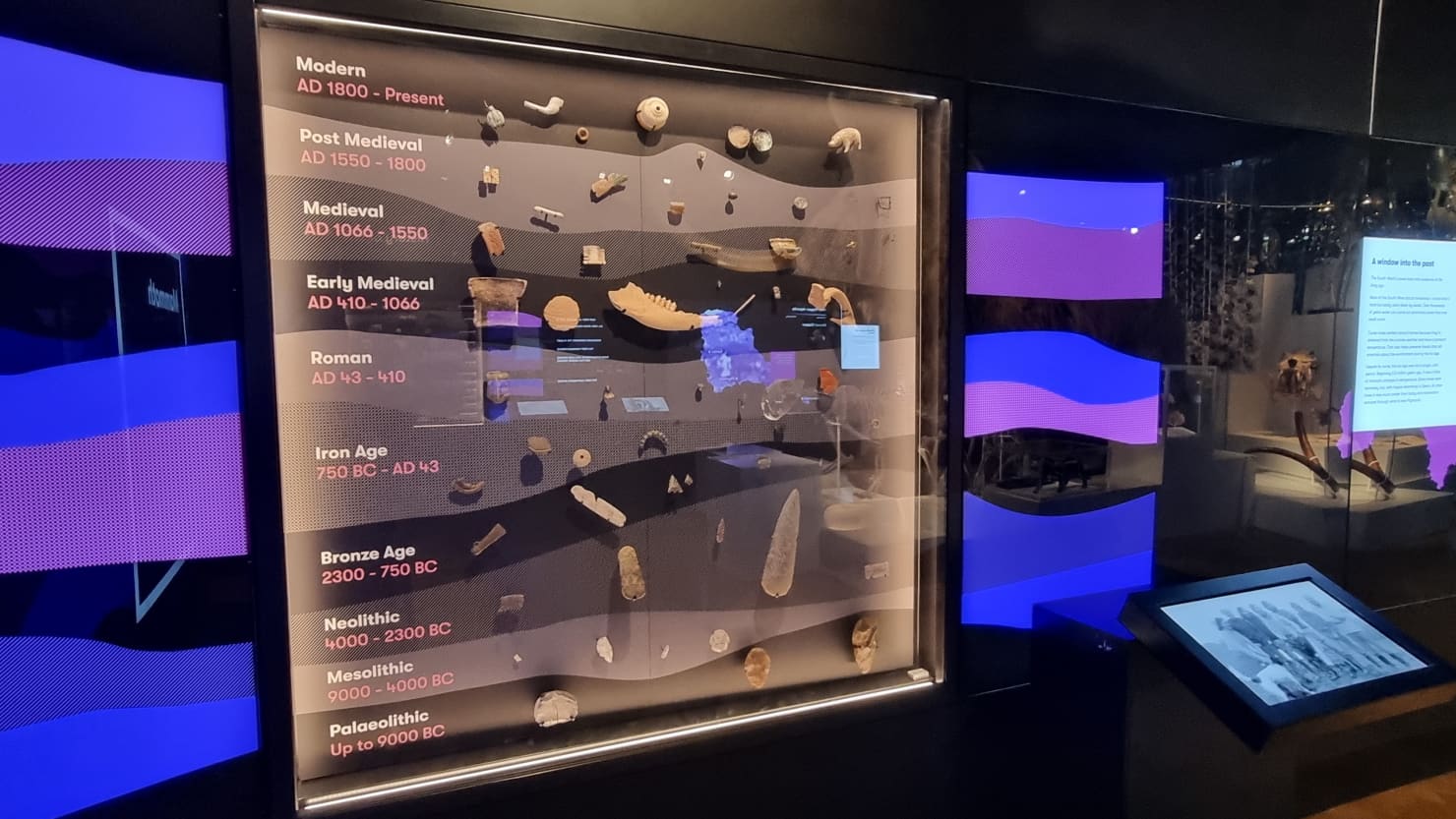 The pottery that has been discovered at Mount Folly has been of particular importance and shows that ceramics were coming to the site from other areas of south west Britain as well as from southern central Britain. Also of interest, is the imported pottery from north-west and southern France, Germany and Italy.
Since 2020, The Box has been lucky to have a piece of ceramic found at Mount Folly on display, kindly on loan from the landowner. The pottery is of a type generally known as Samian, or more formally as Terra Sigillata. Genuine Samian was produced in Roman occupied France, then known as Gaul.
The piece on loan is from a decorated Samian ware bowl and is displayed as part of the Layers of Our Past interactive in the Mammoth Gallery. Its bright red smooth polished surface would have been a complete contrast to traditional earthenware pottery. Usually, Samian was used as high quality tableware. Its distinctive appearance and the fact it was imported probably means it was a high status object. As such, it could have been owned by a leading member of the local community.
Braving the soaring temperatures, volunteers, many from local archaeological societies, have again been on hand to complete another excavation season this year. This has further expanded existing understanding of the site and its place in the local landscape. Over the years Mount Folly has provided opportunities for well over 100 people to work on an archaeological site, some of whom have gone on to take degrees and become professional archaeologists.
Fiona Pitt, Curator of Archaeology