Blitz 80: Insights from the archives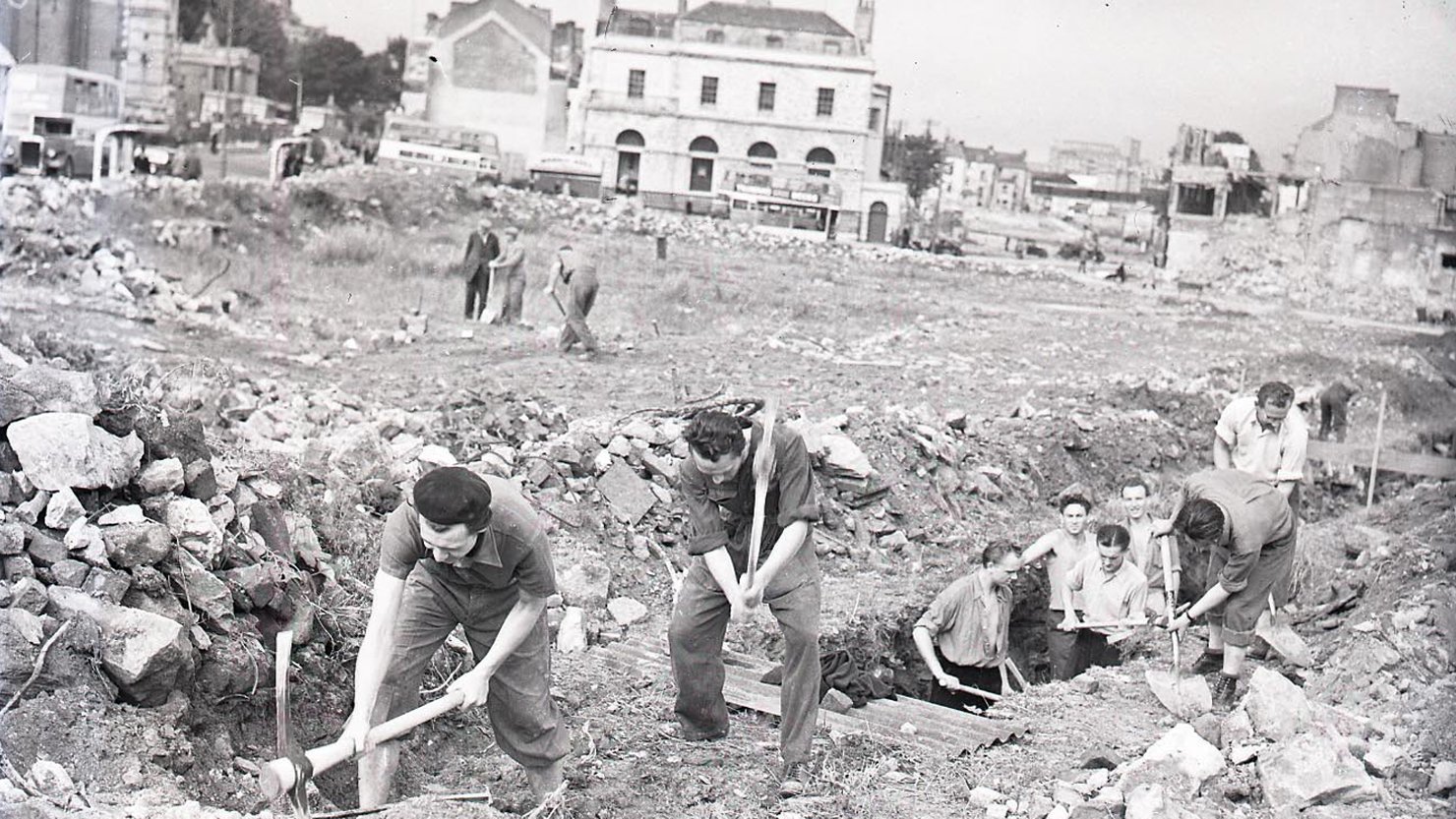 We'll be continuing to mark the 80th anniversary of the Blitz throughout April. Here, thanks to documents held within the city's archives, we highlight two lesser-known stories about Plymouth during the Second World War.
Volunteer builders from Czechoslovakia
In 2015, whilst re-cataloguing a large collection of Plymouth City Council papers relating to the post-war period, The Box's Archivists discovered a report about a small group of students from Czechoslovakia who had volunteered to come and help, along with some photographs, paperwork and newspaper reports.
The story begins with a letter from Ljubomir Valis, Secretary of the Anglo-American Club (Student Section) in Beno, dated 12 June 1946. He had seen an article in a National Geographic magazine about the bombing in Plymouth and referred to Plymouth as a 'heroic' town. Beno was the most destroyed town in Czechoslovakia 'but we all here see that there's nothing to compare with your suffering during the whole war-time' and 'the heroic people who refused to die'.
Valis was a student of Economics and Law at Masaryk University in Beno and he and his fellows were offering their help during their vacation. A later letter from him stated that the students were happy to work for food and accommodation and were not expecting to be paid.
Red tape and bureaucracy initially prevented the students coming to help. Isaac Foot, Lord Mayor at the time, appears to have intervened, writing to the Ministry of Labour and National Service.
A letter from City Engineer, James Paton Watson to the Ministry of Labour, dated 2 July 1946, states that the students would be engaged in road construction work - an area where there was an acute shortage of labour. They would be paid the normal rate of wages so they could fund their lodging and travel expenses. Billeting arrangements would be made by the Council.
18 students came to Plymouth in the end and were informally entertained and welcomed by the Lord Mayor on 31 July 1947. They were given a farewell party at St Matthias Hall at the end of August.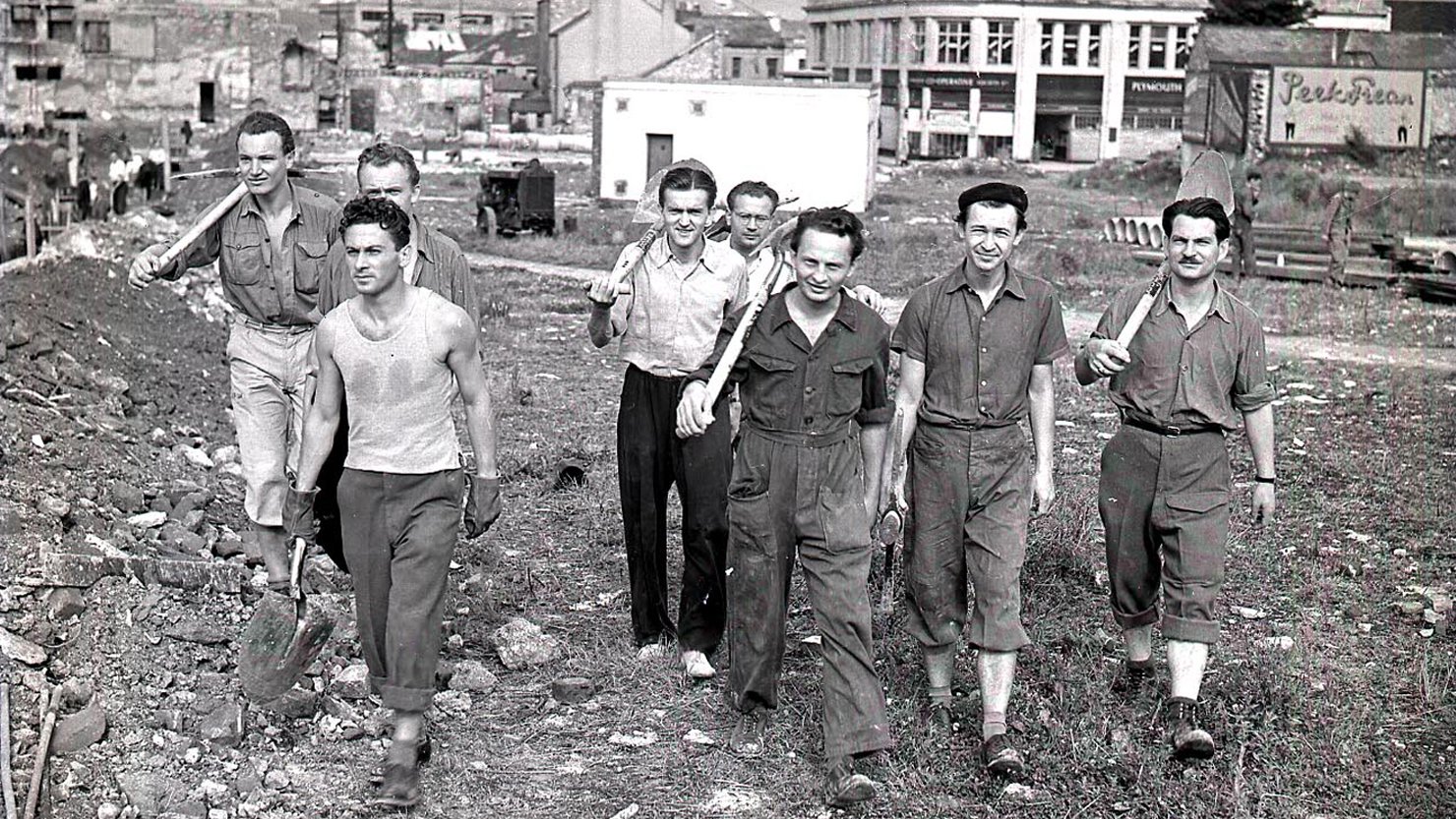 Plymstock in the Blitz
Apart from some newspaper reports there is little information available about the bombing raids that took place in Plymstock during World War II. However, thanks to Mr Ted Dixon (a member of the Plymstock Home Guard) and Mr Henry J Hurrell, both of whom supplied copies of their diaries to the city archives, we do have some accounts.
On 2 June 1940, French and other troops arrived at Turnchapel Station from Dunkirk. On 26 August, 13 high explosive bombs and 15 incendiaries were dropped in Hooe causing damage to buildings and leaving craters in fields.
Just a month before Christmas on 27 November 1940 an eight hour raid took place which hit the oil tanks at Turnchapel. The following day a number of people were evacuated from the area due to the danger. One tank exploded during the night and Hooe Lake caught fire. The tanks were eventually extinguished on 1 December after 90 hours. Our images from the Plymouth Local Studies Library Collection illustrate how ferociously they burned.
On 23 March 1941 the diaries record time bombs at Plymstock and the nearby area. On 16 April hundreds of incendiaries were dropped in the district too.