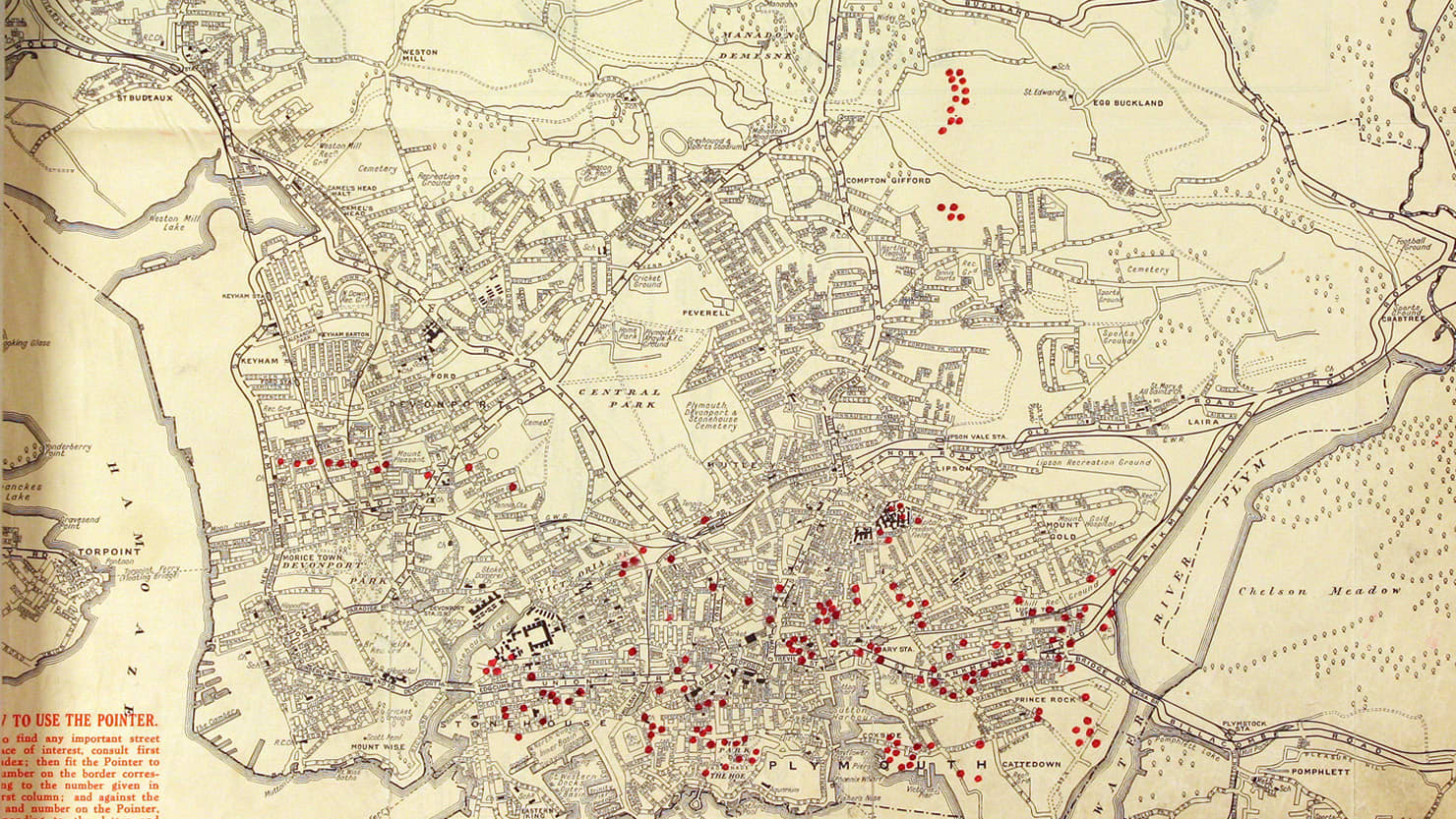 We continue our commemorations for the 80th anniversary of the Plymouth Blitz with a document, well-known to many as the 'bomb book'. It was compiled during World War II by the Town Clerk's Department, which was based at Pounds House. It and can be seen on display in our 'Active Archives' gallery when we re-open from 18 May.
The bomb book records where and when the various devices were dropped on Plymouth by the German air forces during the air raids. Although fairly comprehensive, it doesn't include Devonport Dockyard, Plympton and Plymstock. In fact, the index page at the front is entitled 'Air Raids where damage ensued'.
59 raids are listed, with a map for each one. Each page is dated, the first being 6 July 1940 and the last 30 April 1944. You can see from the coverage of the red dots and other symbols on each page the size of the raid on each day.
Some of the earlier maps only show one explosive. The first two pages show unexploded bombs dealt with by the BDS (Bomb Disposal Squad) and time bombs that have exploded. Types of explosive shown include high explosives, time bombs, paramines and phosphorus incendiary bombs (PIs).
Paramines and PIs appear later in the war. Apparently, bombs containing phosphorus had a distinctive appearance. Once the contents were exposed to the air they emitted a green glow and the smoke had a characteristic, acrid smell.
Paramines were also pretty nasty. They were, according to an account in one of our other collections, 5 foot 8 inches long. They had a green parachute attached, were highly magnetised and very sensitive. They were particularly damaging, as they exploded on the surface (due to the parachute) and therefore their impact covered a much wider area.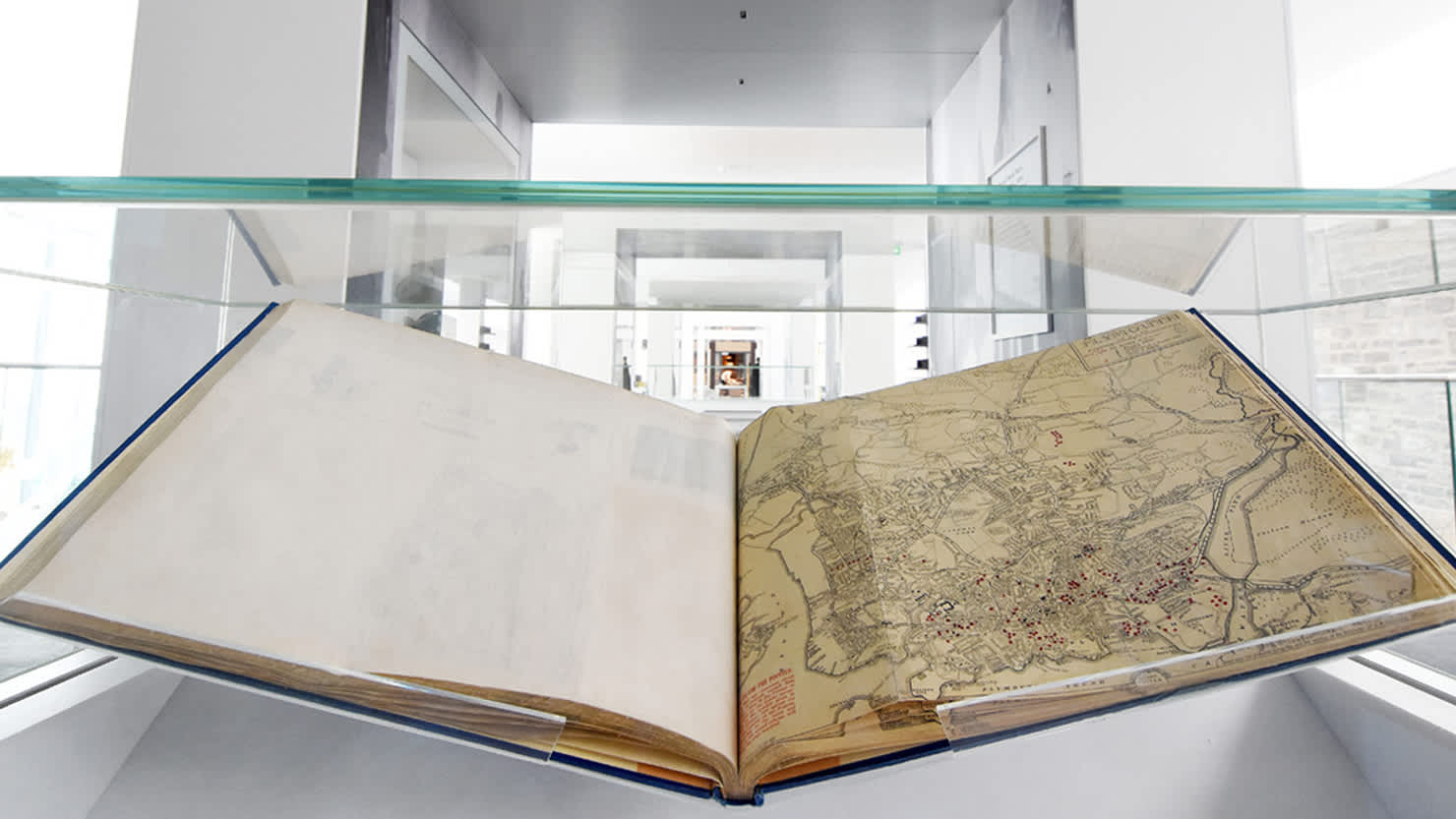 As we know, the most intensive blitz raids of 20 to 22 March 1941 and 21 to 23 and 29 to 30 April 1941, were when the most sustained damage was caused. To get more detailed information about each raid (including the most intensive ones noted above), there is also a written account which gives the date, type of bomb and position (road and or building). This volume also contains lists of unexploded bombs and whether they were removed or discredited.
The Emergency Committee minutes, which are mainly bound volumes, also are a rich source of how the City Council dealt with all aspects of life in Plymouth during World War II. They include some hastily typed up minutes compiled by a Mrs Fittall covering the period 24 March to 9 April 1941. They are thought to be the only copy in existence.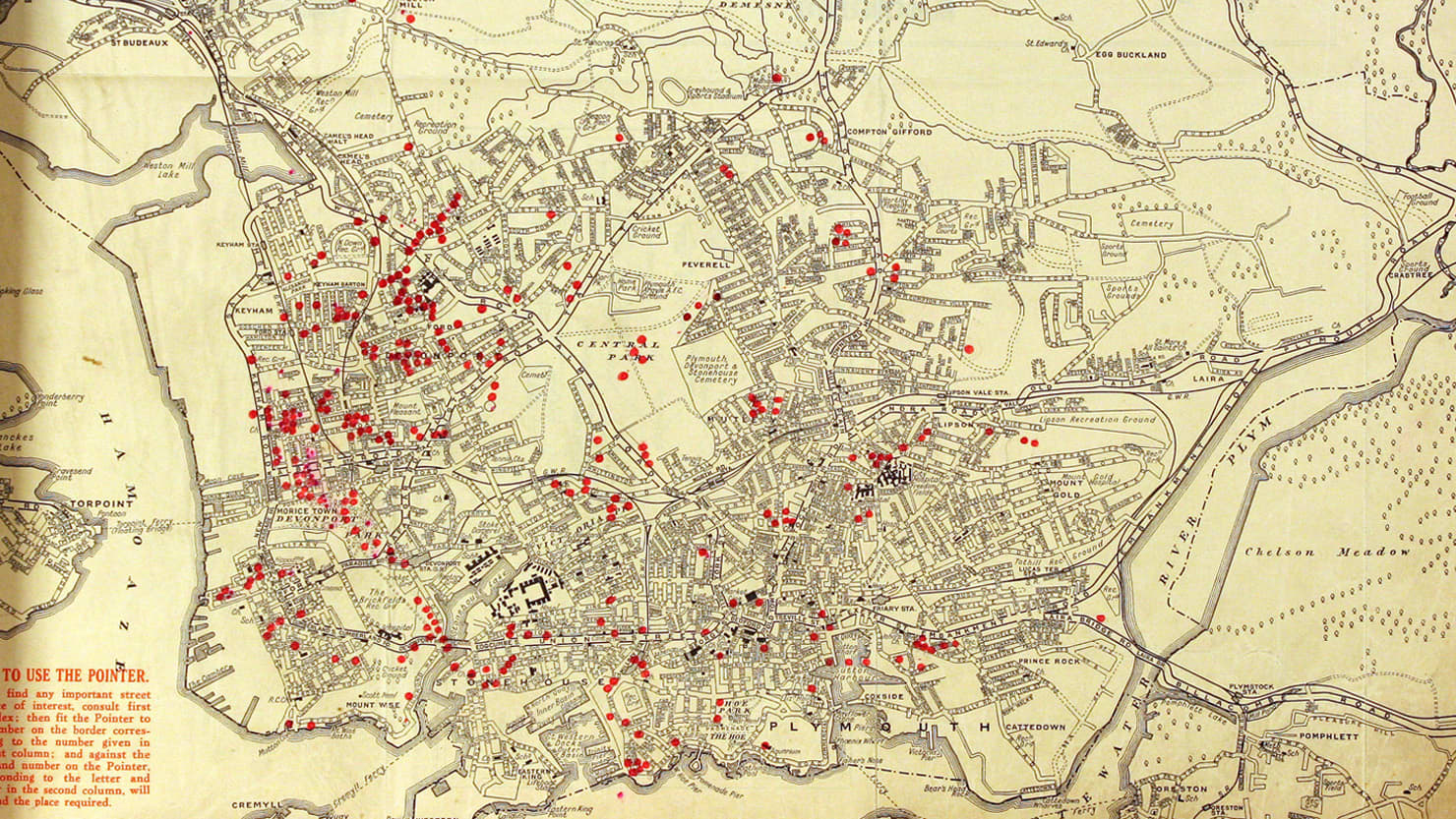 All the maps in the bomb book, complete with descriptions, can be viewed in our online search catalogue using the search term 'bomb book'.
Find out more about Plymouth's Blitz 80 commmemorations.
Thanks to Debbie Watson, former Archivist