Blue plaque unveiled in honour of Plymouth air raid shelter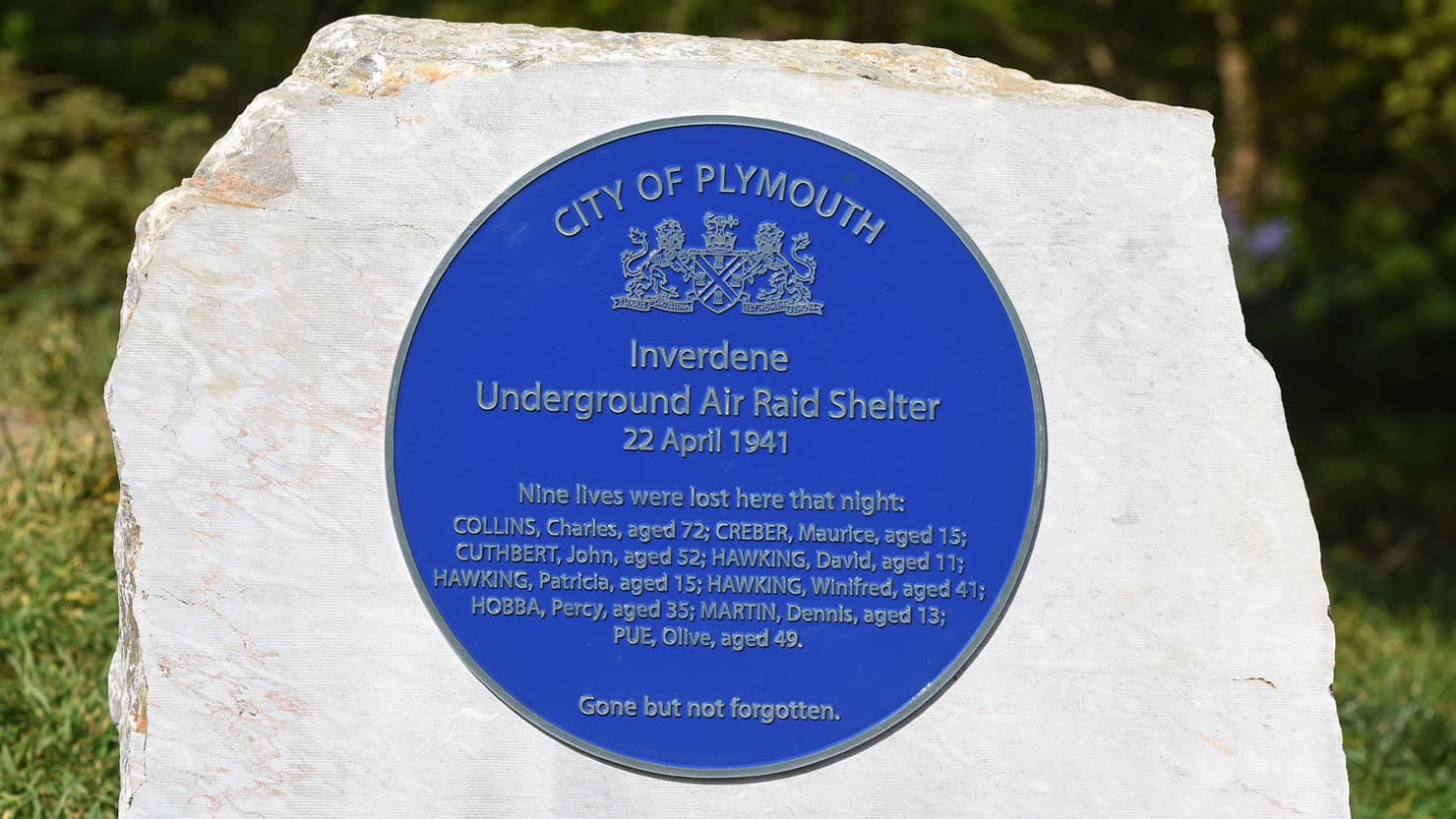 A new plaque marking the site of an air raid shelter where nine people tragically lost their lives during the Blitz has been unveiled today.
The plaque is located on the site of the former Inverdene Underground Air Raid Shelter in Central Park. It lists all those who were sadly killed after the shelter took a direct hit on the night of April 21/22, 1941. They were:
Charles Alfred Collins, aged 72
Maurice Arthur Creber, aged 15
John William Cuthbert, aged 52
David Charles Hawking, aged 11
Patricia Margaret Hawking, aged 15
Winifred May Hawking, aged 41
Percy Morcam Hobba, aged 35
Dennis Martin, aged 13
Olive Eliza Pue, aged 49
All nine were local Peverell residents. The campaign to create a permanent memorial to them has been led by current Peverell resident and Blitz survivor Shirley Stapley. She was moved to get the plaque installed after the story of the site was shared with her by Brian Searle.
Brian, who was aged six at the time, was also in the shelter that night with his mum and granddad. Sadly, his granddad was killed along with a neighbour, her two children and five others when the shelter was hit by a bomb.
Collections Manager at The Box, Louisa Blight said:
Over the last few weeks we've been humbled by Brian's story and the many other stories people have been sharing with us about their Blitz experiences. Unveiling this plaque is a very fitting way to round off the city's commemorations for the 80th anniversary of this significant event in Plymouth's recent past. We hope it will provide a permanent way to honour the people who lost their lives in the Inverdene shelter, and help shed even more light on the events of 1941 which have had such an enduring impact on the city.
The Inverdene air raid shelter was located just inside Central Park, not far from where Durban Road meets Inverdene. The plaque site is best accessed via the Barn Park entrance to the park or by using shop.games.punch on the what3words app.