Falklands 40: Thanksgiving Service Photo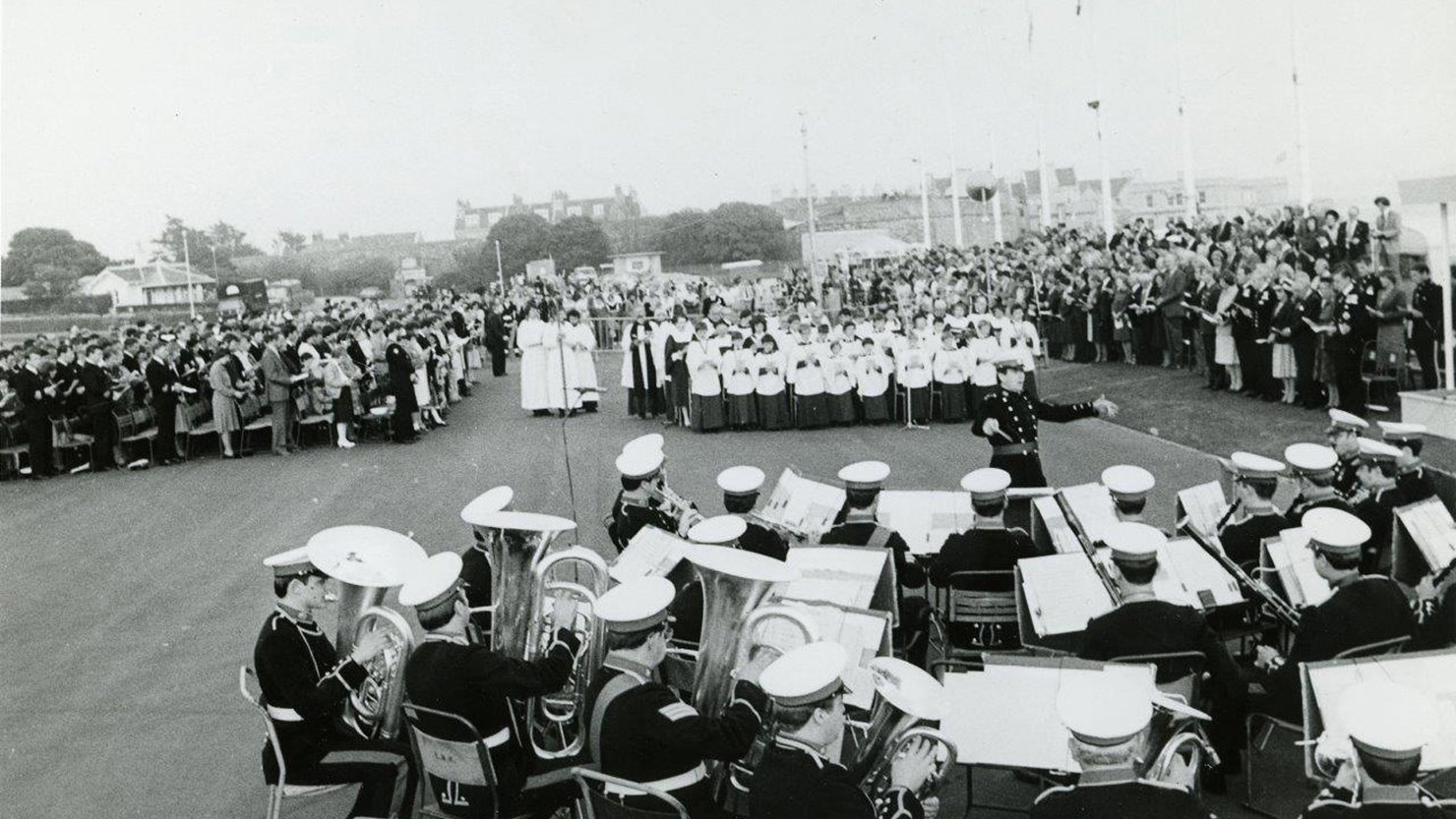 40 years ago, on 2 April 1982, Argentinian forces invaded the Falkland Islands. Located in the South Atlantic, the islands are just 300 miles from the Argentinian mainland where they are known as the 'Islas Malvinas'. They'd been a source of dispute between Britain and Argentina since the British first settled there in 1833.
There are two main islands called West Falkland and East Falkland, with over seven hundred smaller uninhabited islands scattered around them. In 1982 the population was about 1,800. The majority of these people were descended from the British settlers who'd arrived in the previous century. Many of them were involved in agriculture which is a major part of the Falkland Islands' economy and is dominated by sheep farming.
Although they're eight thousand miles away from Britain, the Falkland Islands were and still are, a British overseas territory – but by late April 1982 Argentina had stationed thousands of troops there. The British Government took action and a war zone was declared for 200 miles around the Falklands.
A large task force of warships and merchant ships was quickly assembled and sent to the South Atlantic. On 2 May, British submarine HMS Conqueror torpedoed and sank the Argentinian cruiser General Belgrano outside the war zone. More than 300 crew were lost.
Argentinia's ships remained in port after this controversial incident but its aircraft were armed with missiles and remained a threat to the British Navy, sinking two destroyers (HMS Sheffield and HMS Coventry), two frigates (HMS Ardent and HMS Antelope), a container ship carrying transport helicopters (SS Atlantic Conveyor) and a landing ship disembarking troops (RFA Sir Galahad). They also damaged several other frigates and destroyers.
British forces eventually landed on the islands on 21 May. After a series of engagements against a well-established but poorly-trained Argentinian Army, they began the battle for Stanley, the capital on 11 June.
The Argentinian forces surrendered on 14 June, bringing the 74-day conflict to an end. It remains the largest air-naval combat operation between modern forces since the end of World War II.
In total, 255 British military and merchant Navy personnel, 3 Falkland Islanders and an estimated 649 Argentinian soldiers lost their lives.
Like me, I expect many people who read this will remember this period in our recent history well. My dad was in the Royal Navy for over 30 years and served on HMS Sirius, a Leander-class frigate that was deployed to the Falklands on a patrol mission in the tense aftermath of the conflict in September 1982. Watching him walk up our garden path to the car on the day he left while my mum, sister and I stood on our doorstep waving to him is one of the most vivid memories of my early childhood.
Maybe you're even in the image at the top of this page, or know one of the people who is? Part of our archive collections, and taken in 1982, it shows a busy Falklands Islands Thanksgiving Service on Plymouth Hoe.
Find out more about The Box's Falklands 40 commemorations.
Thanks to Jo Clarke, Marketing and Communications Officer