International Women's Day 2021: Capturing a moment in time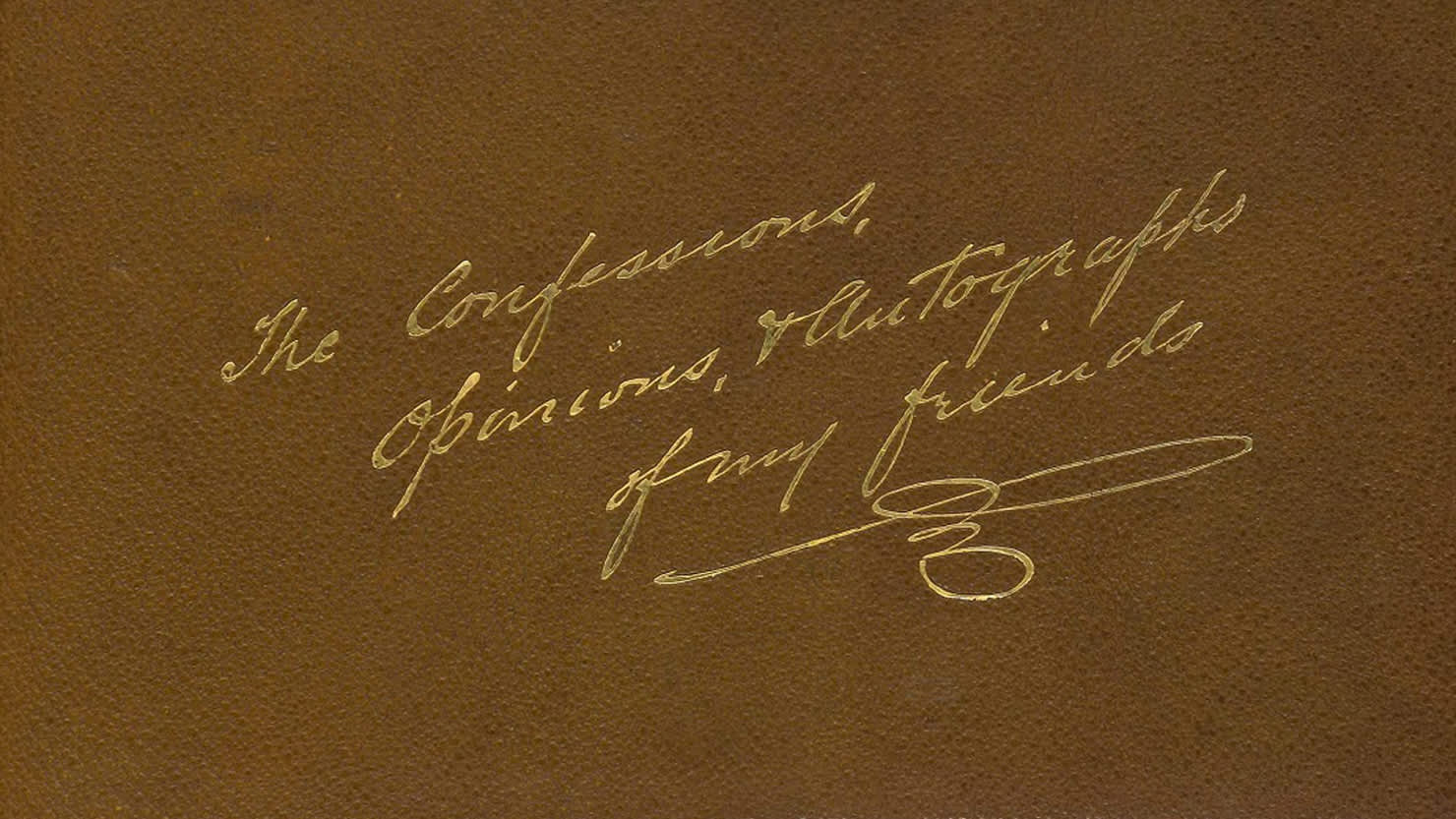 For 2021's International Women's Day, we take a look at an unusual gem from our archives - an autograph book that dates from an important year in women's history and which reveals some surprising attitudes.
Amongst the papers we hold at The Box relating to the Parker family of Saltram, there's small but beautiful leather-bound volume, embossed in gold lettering. It's an unusual gem. In almost 30 years as an archivist, I've never come across such an item before!
It's an autograph book kept by Marjory Katherine Elizabeth St Aubyn (1893-1987), daughter of the 2nd Baron St Levan when she was a teenager. She went on to marry John Parker of Saltram, 6th Earl of Morley.
It's titled 'The confessions, opinions and autographs of my friends'. The majority of the opinions and autographs date from 1909, when Marjory was sixteen. Three other records date from 1925.
The book acts like an opinion poll from the early 1900s, giving an amazing insight into the young people's views on topics like favourite pastimes, authors, artists and musicians. You can just imagine the girls passing it around, giggling at each other's answers. Some are clearly tongue in cheek, such as selecting 'Three Blind Mice' as a favourite poem, in contrast to those by Tennyson or Longfellow picked by others!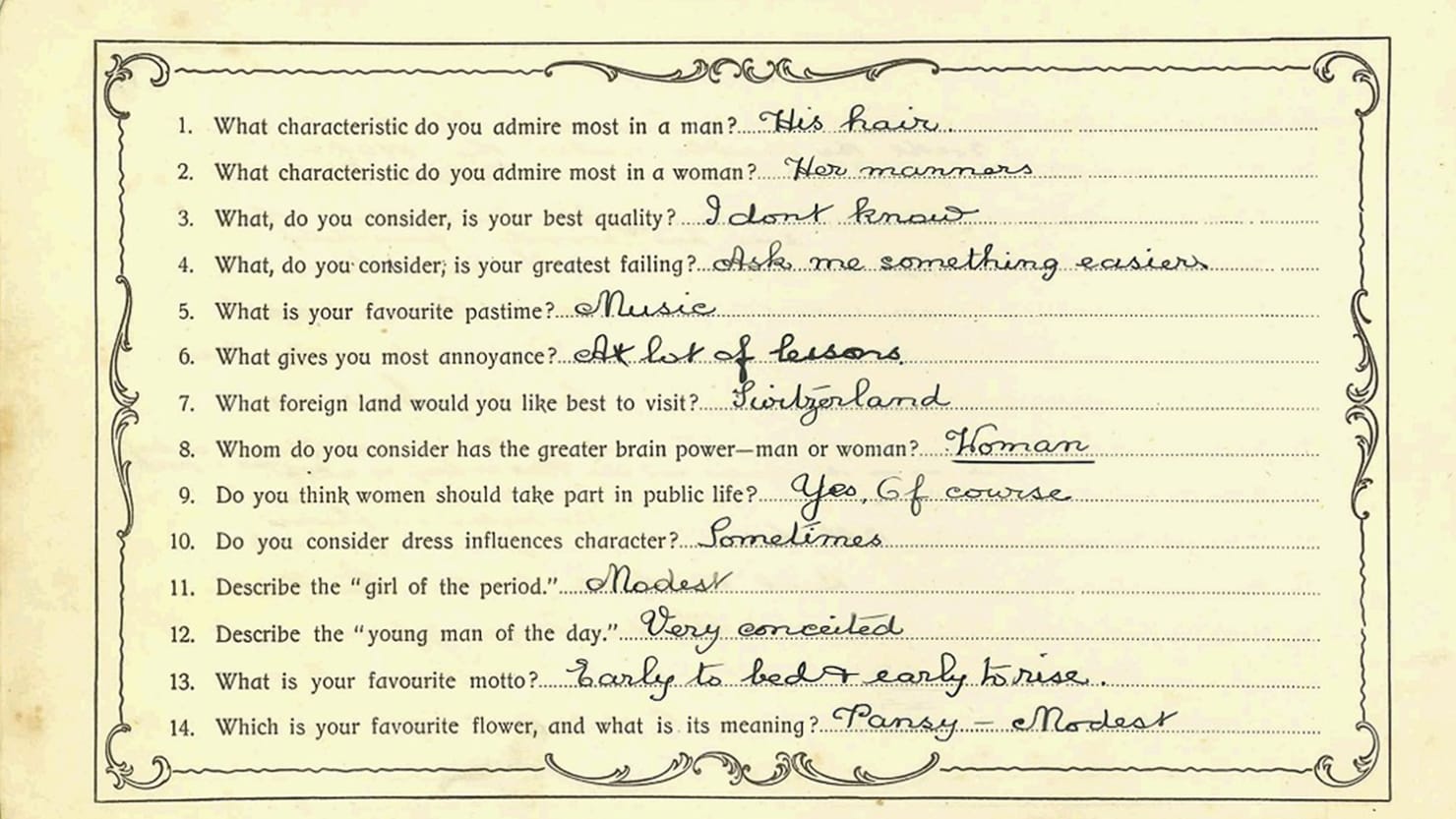 What makes the book even more interesting are the questions (and answers) relating to more controversial areas like politics and the roles of men and women.
1909 was an important year in women's history, with the beginning of hunger strikes and forced feeding for suffragettes. It would almost be another decade before some women achieved the vote.
In answer to the question: 'Whom do you consider has the greater brain power – man or woman? Two thirds of Marjory's friends say 'woman' and a few follow this with 'of course!' Only a couple say 'man' while another three say 'equal'.
When asked to describe the 'girl of the period', several of the contributors say: 'Suffragette'.
The next question provides the biggest surprise though – 'Do you think women should take part in public life?' Only two contributors agree. Two are more ambivalent – Dorothy Easton says: 'a little'; C H S says 'yes when no men are left'. The rest are resoundingly opposed. Even those who think women have superior brain-power still answer 'no' to women's involvement in public life!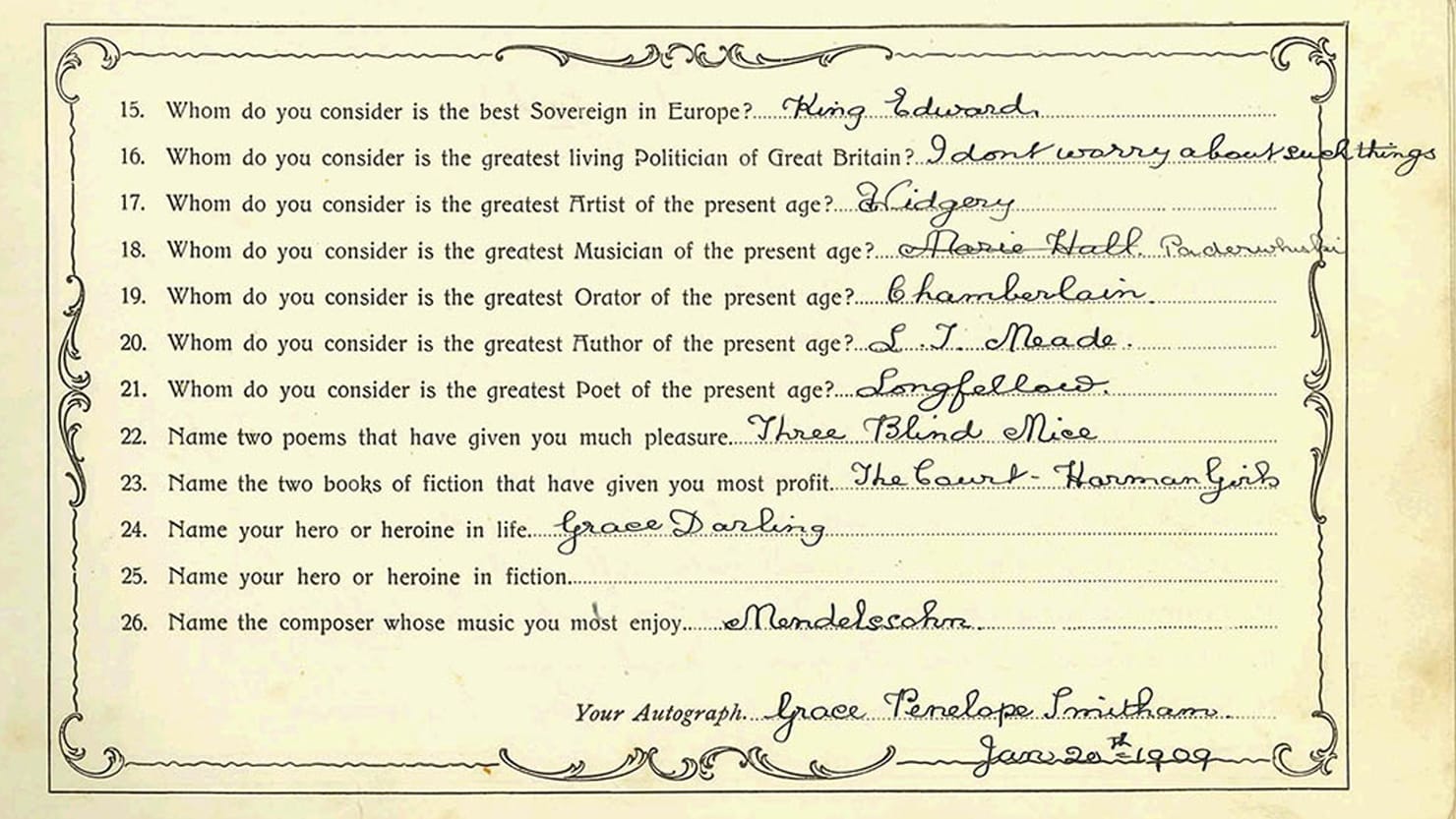 Although many women (and men) fought for the vote as pacifist suffragists and militant suffragettes, there were people who opposed women's suffrage. It's possible the majority of Marjory's friends fell into this camp. In 1908 a Plymouth branch of the Anti-Suffrage League had opened, led by a Mrs Spender and Mrs Roland Yonge. Marjory and her friends came from a social elite that might naturally be more conservative in their political and social views.
The rigid binary questions (and some of the responses to them) may sit uneasily with our modern views, but as with any historical record they need to be seen and understood in context. We'll never know for sure what Marjory and her friends' opinions about women's suffrage were, but this little 1909 autograph book captures a moment in time perfectly.
You can search for further papers relating to the Parker family of Saltram in our online catalogue using 3102. If you'd like to undertake any research visit our Cottonian Research Room page for more information or email us if you have an enquiry.
You can find more information about suffrage in Plymouth on the University of Plymouth's website and in the book Struggle and Suffrage in Plymouth by Tracey Glasspool (published 2019).
With thanks to Claire Skinner, Archivist