New exhibition offers fresh responses to the Mayflower anniversary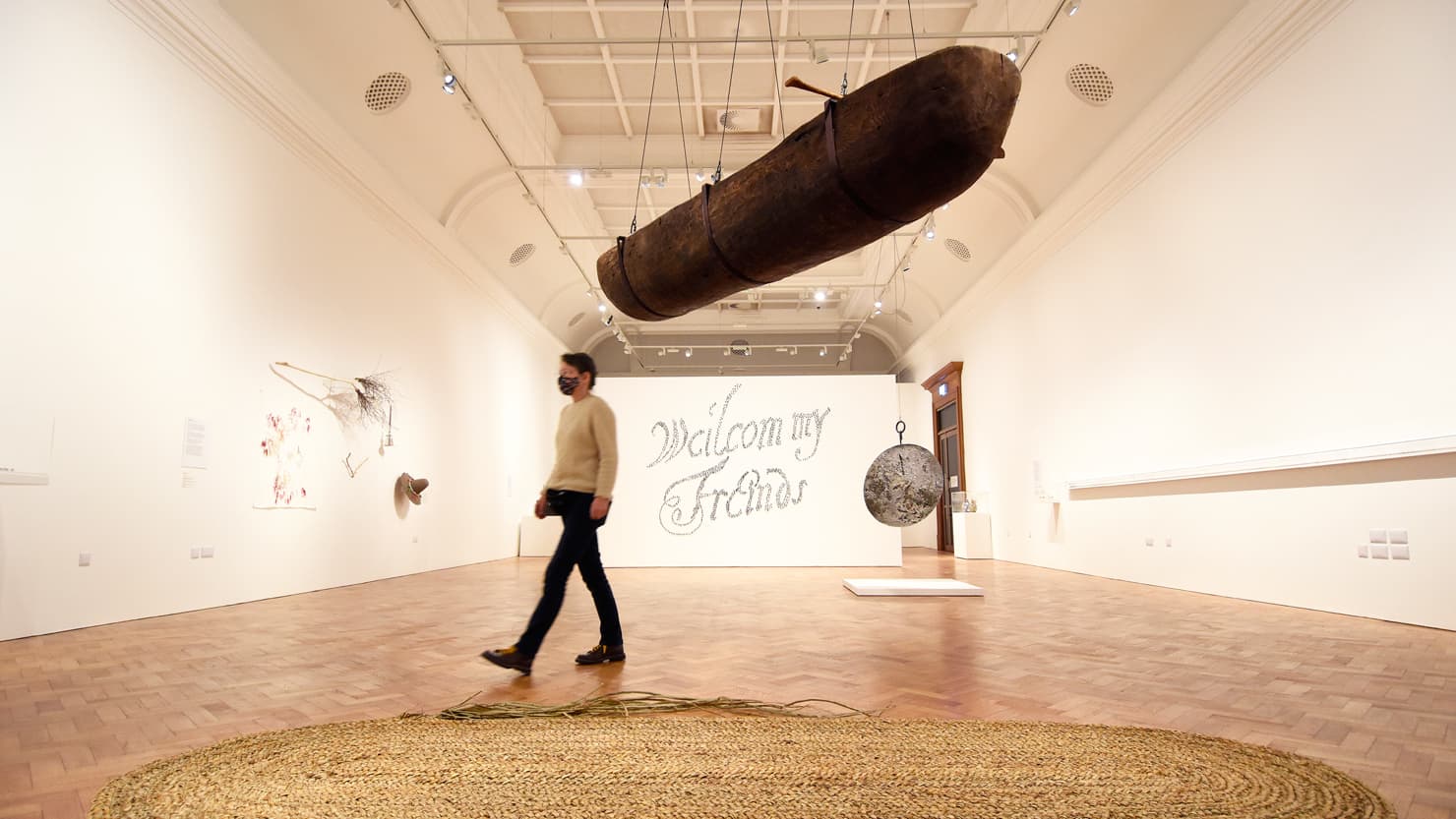 A new exhibition, now on display here at The Box, showcases new responses to the Mayflower story and highlights how some of our most historic craft practices have endured across the centuries.
'Another Crossing – Artists Revisit the Mayflower Voyage' is a transatlantic collaboration between Plymouth College of Art, The Box and the Fuller Craft Museum in Massachusetts. This will be its only showing in the UK.
The exhibition brings ten different artists from the UK, USA, the Wampanoag nation and Holland together. Each artist has created new work that responds to the far-reaching consequences of the Mayflower's sailing using only tools, materials and processes that existed in 1620. Works on display include beadwork, joinery, metalsmithing, leatherwork and pottery.
Victoria Pomery, CEO at The Box said:
We're delighted to be able to present one more Mayflower-inspired show at The Box, hot on the heels of our award-winning 'Mayflower 400: Legend and Legacy' exhibition – especially one that offers a completely different take on the events that happened just over 400 years ago.
As part of the development of the exhibition the artists travelled to both Plymouth and Massachusetts to meet historians, curators and academics and gain a better understanding of each key location. Being involved proved to be a challenging and thought provoking experience for them all.
Judith Robinson, Arts Programmes Manager at The Box said:
Although we've been exploring the Mayflower story for a while, its implications can still be hard to fully comprehend. The works in 'Another Crossing' reflect this and are thoughtful, outraged, sad and surprising in turn. Participating in the exhibition has definitely taken each of the artists on a journey.
The curator responsible for bringing the artists together and setting them the challenge of working with the processes and materials from four centuries ago, is internationally renowned crafts specialist, Glenn Adamson. The US-based curator and writer has previously worked for the V&A and developed exhibitions in a number of prestigious venues, including the Design Museum.
Ian Hutchinson, Head of Development at Plymouth College of Art, said:
Conversations leading to 'Another Crossing' began as part of the Mayflower 400 cultural exchanges and progressed in 2017 when Glenn Adamson appeared as a keynote speaker at Making Futures, Plymouth College of Art's international research platform exploring contemporary crafts. After such a long inception, we're thrilled those initial ideas have resulted in this transatlantic collaboration, a partnership between two of Plymouth's leading art institutions and one of the world's best known museums of contemporary craft.
Our BA (Hons) Painting, Drawing & Printmaking students have also embraced this as a unique opportunity to respond to the artists' work and learn traditional print and bookbinding processes, which they've used to produce a handmade limited edition catalogue available to view alongside the exhibition.
'Another Crossing – Artists Revisit the Mayflower Voyage' is on display until Sunday 5 June. Exhibition opening hours are 10am-5pm Tuesday to Sunday and Bank Holidays. Admission is free and there is no need to book in advance.
Leading craft academics and students from Plymouth College of Art will lead a dedicated Study Day on Wednesday 4 May. Full details will be available soonm.