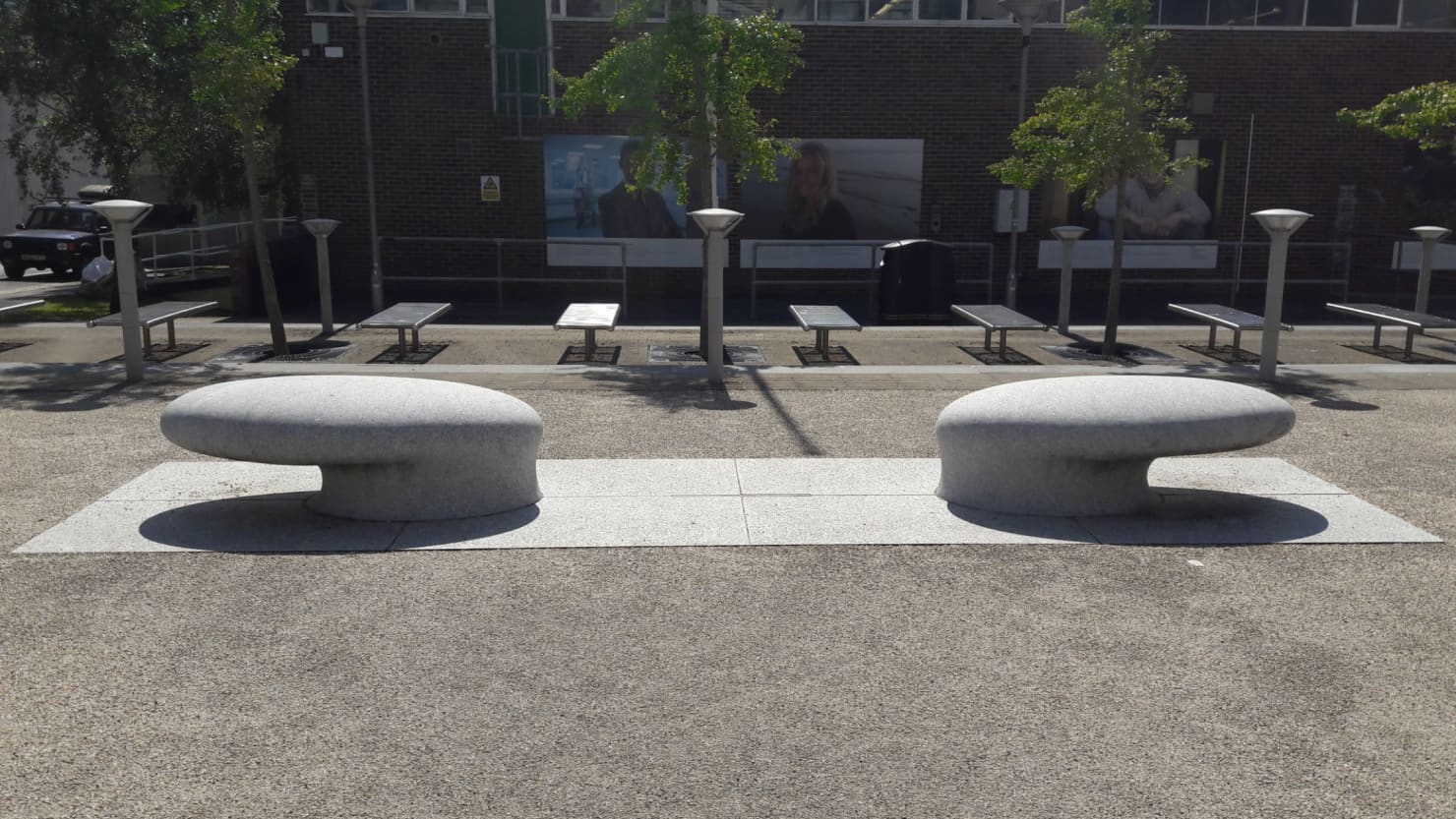 Arrival and Departure was commissioned by University of Plymouth in 2012 as part of their 150th anniversary celebrations. Artist Ian McChesney created two opposing sculptural forms hand carved from solid granite, designed to resemble nautical bollards.
Project Description Ian McChesney's sculptures are a tribute to Plymouth's maritime heritage and the many historic voyages that are part of Plymouth's history as well as our own personal journeys. Each part is a two-tonne piece of granite from De Lank quarry (in nearby Bodmin), carved smoothly with a tactile appeal.
McChesney was awarded the commission following an open brief competition led by Peninsula Arts, the arts and culture public programming organisation for University of Plymouth. The university started as a School of Navigation in 1862 and 2012 marked their 150th anniversary. The work was unveiled as part of the programme of year long celebrations in which more than 50,000 people took part.
This launch is part of a series of events running throughout 2012 that celebrates University of Plymouth's 150 year history, and it is perhaps fitting that the sculpture 'Arrival and Departure', expresses so aptly this sense of being part of a continuum – of past and present – comings and goings – taking time to reflect whilst constant pressing forward. These ideals we felt represent what shapes and makes a University and indeed reflects the city within which we are located – Plymouth – with its rich maritime history and global reach.

Sarah Chapman, Director of Peninsula Arts, 2012
About the Artist
Ian McChesney is the founder of McChesney Architects who specialise in projects set in sensitive spaces which are engaging and enjoyable to use. The company is widely recognised for its cross-disciplinary works combining architecture, urban design and public art. McChesney studied at the Royal Academy of Arts and is actively involved in formal design reviews such as Design SouthEast.
Related Links