Beatles sculpture for Plymouth Hoe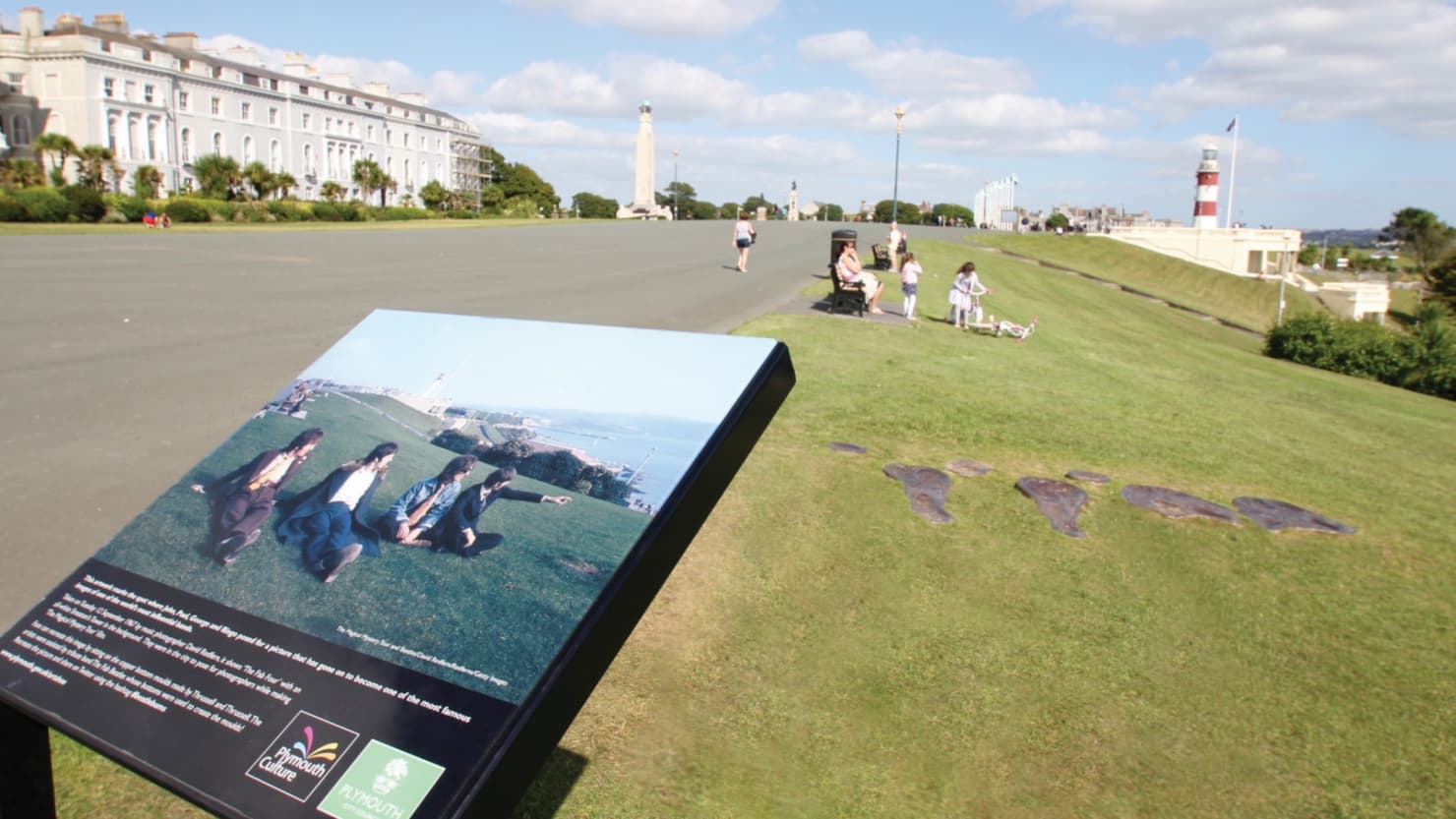 The public artwork on Plymouth Hoe marks the spot where one of the world's most influential bands sat in the late 1960s. The copper artwork was created by Thrussell and Thrussell, a duo of artist metalsmiths based on Bodmin Moor.
Project Description
On 12 September 1967, the Beatles posed for a photograph taken by music photographer David Redfern (1936-2014). This famous photograph on Plymouth Hoe shows 'The Fab Four' with an all-white Smeaton's Tower, the Belvedere and Tinside Lido in the background. The band had stopped off in Plymouth to pose for photographers while they were making 'The Magical Mystery Tour' film.
Copper casts were created to mark the spot where the Beatles sat on their visit, to show people how to sit in exactly the same positions as John Lennon, Paul McCartney, George Harrison and Ringo Starr.
The artwork is made of a galvanized steel framework, coated in repoussé copper and depicts psychedelic imagery from the 1960's when the band was at its peak.
Thrussell and Thrussell were ably assisted by top UK tribute band The Fab Beatles, whose bottoms were used to create a set of moulds.
'The Fab Beatles' were formed in 1991 and have become one of the most sought after Beatles tribute bands in the world. They were the perfect choice to recreate the shot when the original photograph was used to locate the exact spot where the Beatles sat on their Plymouth visit. To celebrate the unveiling of our new artwork 'The Fab Beatles' performed at a special concert at Plymouth Athenaeum.
David Quantick, a music journalist who helped unveil the sculpture stated: "What Plymouth has done is brilliant. It has brought a bit of fun, a bit of affection, a bit of art to the Hoe."
About the Artist
Thrussell & Thrussell create bespoke public artworks that aim to inspire a sense of ownership in the community where the artwork is sited. With a background in engineering and metal work, this father and son collaboration decided to take their skills to a new, creative level. Inspired by nature and cultural heritage their work can be found nationwide in public spaces, museums and stately homes.
Related links