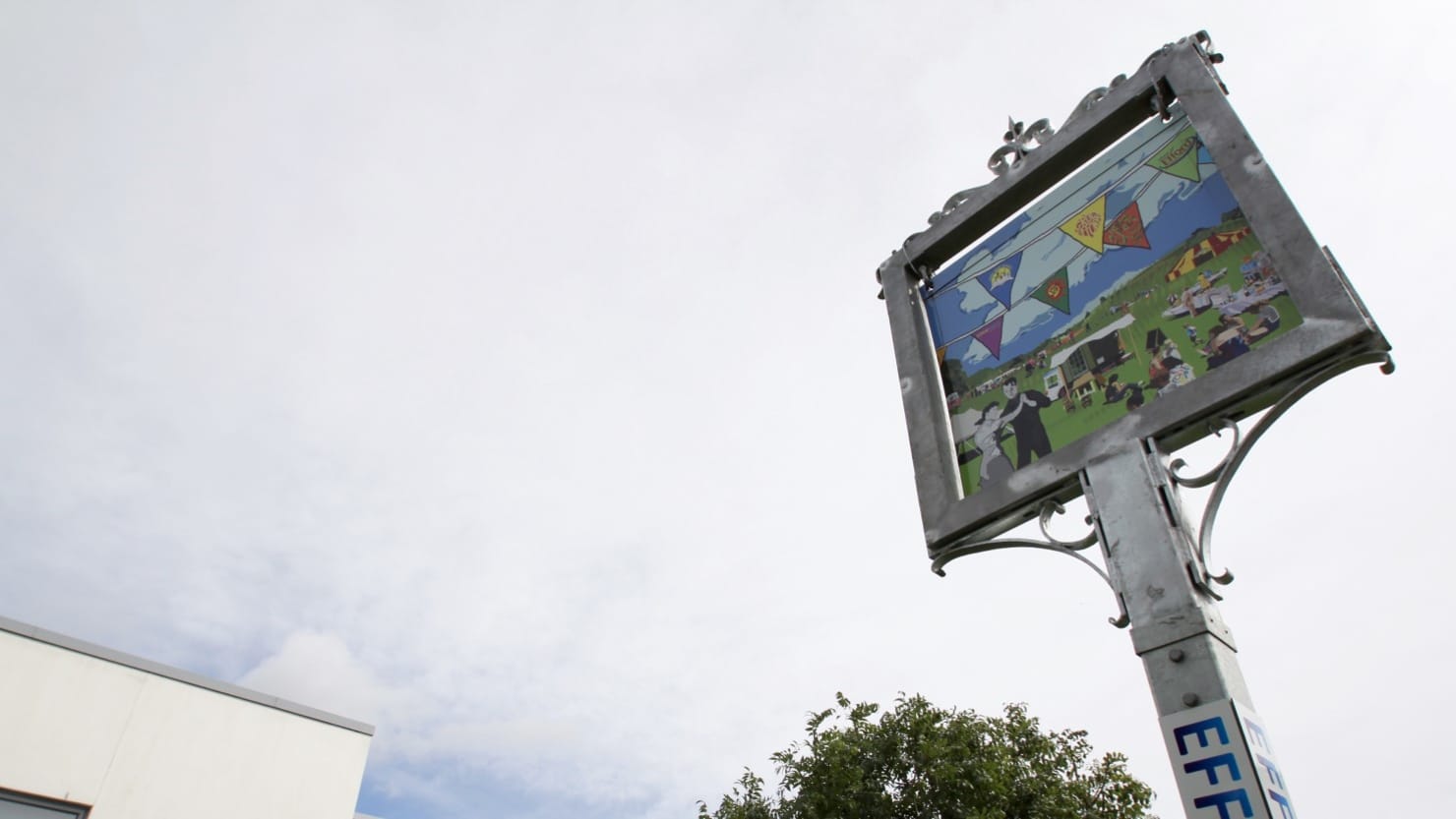 A pub sign, on the site of the old Royal Marine pub on Torridge Way, was re-erected with changeable, seasonal signs to represent Efford's heritage and identity. The pub was demolished in the 1990s but the sign remained as a symbol for the community. The artist worked with the local residents and school to refurbish the sign with a new design inspired by memories of the pub and its landlord.
Artist: Thomas Goddard
Category: Permanent
Date: June 2016 to present
Location: View on our Public Art Map (desktop and tablet; requires Google sign-in) Find the location on a mobile
Commissioner: Take A Part CIC
Produced by: Take A Part CIC
Partners: High View School
Supporters: National Lottery Heritage Fund
Project Description
Thomas Goddard worked with the students of High View School to develop investigative ways of uncovering the area's past. Students interviewed leading community members and people who had grown up in the area. They also held pop up events on Torridge Way to invite people to bring images and share their stories and histories of the area.
The students initiated ECTV (Efford Community Television) to create films and share news stories around the information they had gathered. Working with Goddard they also created four signs reflecting Efford's history and seasons to hang in the newly erected Royal Marine pub sign. One example includes 'Toffee Apples for Autumn' in memory of the lady who sold toffee apples out of her window on Efford Lane.
The project culminated in Efford Mash, a one day event where the community celebrated Efford's history with the local choir, ukelele band, poems, screening of the film and a toffee apple tasting event.
The sign is maintained by High View School and changes with the seasons.
Tom Goddard is an artist and educationalist based in Cardiff. He is interested in the relationships between individuals and society.
Related Links