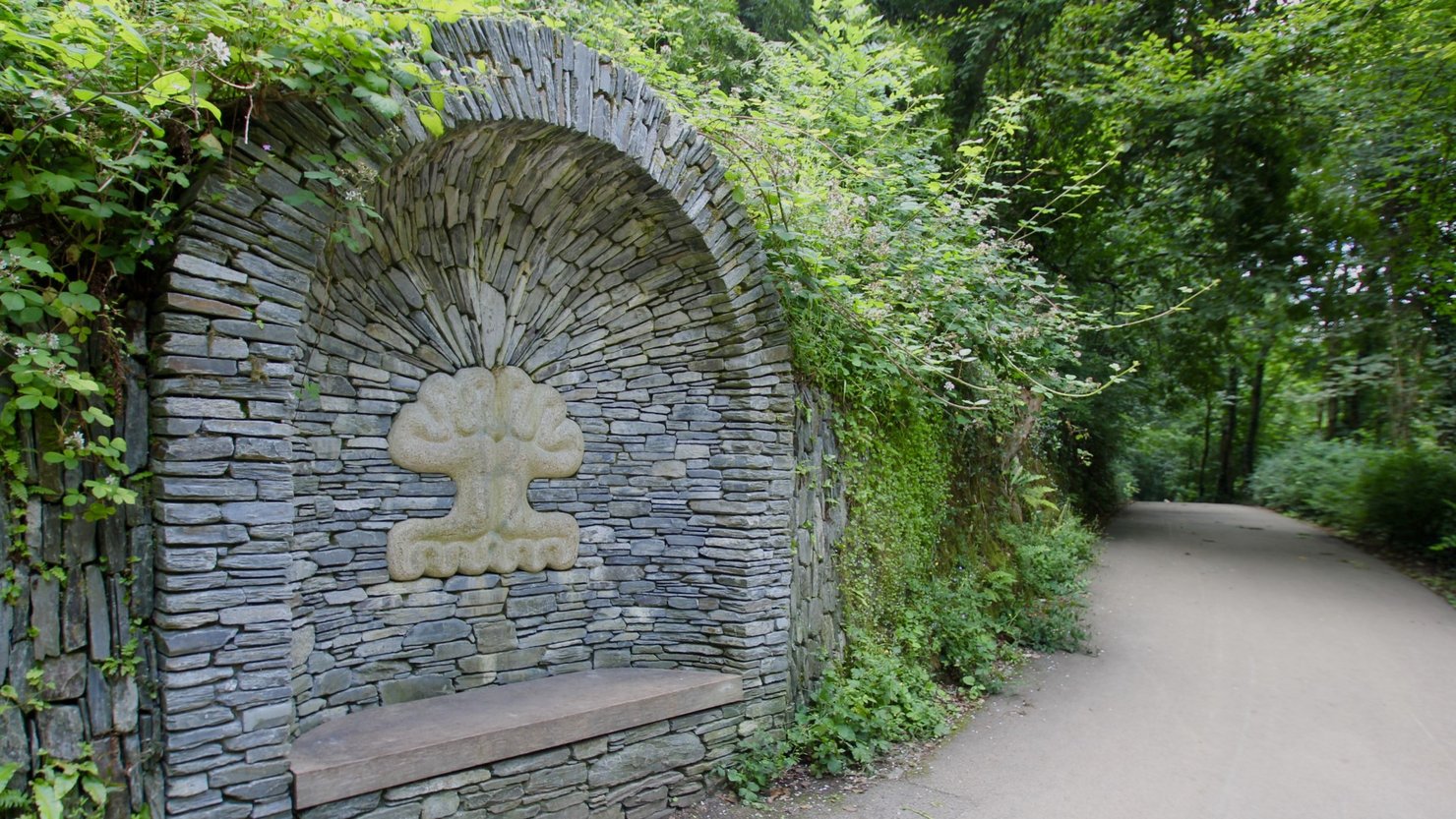 'In Praise of Trees' is a stone seating sculpture inspired by a fallen tree which left a large hole in an ancient stone wall in Ham Woods. Carved from local Dartmoor granite and surrounded by an archway built from the salvaged slate, the sculpture has an oak seat and is built into the existing wall.
Project Description
As part of wider regeneration work for the area, Stepping Stones to Nature partnered with local arts organisation Take a Part to look at public art in Ham Woods. The local community group Friends of Ham Woods were involved in the commissioning process for a sculpture. A trip to the Centre for Contemporary Art in the Natural World helped inspire the group. After helping to create a brief and interview potential artists on site, internationally renowned artist Peter Randall-Page was chosen.
The community felt that Peter understood and appreciated their local woodland. Over time, Peter and the community built a relationship through regular site visits and a trip to his studios. Here, they viewed work in progress and learned about the development process and techniques Peter used to create the piece.
The final art work 'In Praise of Trees' is a seating sculpture inspired by a fallen tree which left a large hole in a stone wall. The art work has provided an iconic destination point within the woods as well as a functional seat.
Artist Statement
'Ham Woods is a very special place, a steep sided valley, it has been saved from development and it is an enchanting peaceful natural woodland within the bustle of Plymouth. Having spent some time exploring the woods and wandering the paths I kept revisiting the site of the sculpture; I feel that this place is a natural focal point, right in the centre of the park. After a storm brought down an old oak tree destroying an ancient wall, I decided that this was the place for my sculpture and that it would be ideal to rebuild the existing stone wall and to include a sculpture incorporating an oak seat. The work would be both a memorial to the fallen oak and a celebration of trees and woods in general; a focal point and a place to sit and contemplate the beauty of ham woods'.
Peter Randall-Page, September 2012
About the Artist
During the past 30 years Peter Randall-Page has gained an international reputation through his sculpture drawings and prints. He has undertaken many large scale commissions and exhibited widely across the world. His sculptures can be found in many urban and rural locations throughout the UK and his work is in the permanent collections of the Tate Gallery and the British Museum. In 2007 he created a large 'Seed' sculpture for the Eden Project in Cornwall.
Randall-Page's work has always been informed and inspired by the study of natural phenomena, exploring its subjective impact on our emotions, and his interest in mathematics and geometry stem from a desire to understand the underlying principles of growth and Metamorphosis that determine form.
Related Links