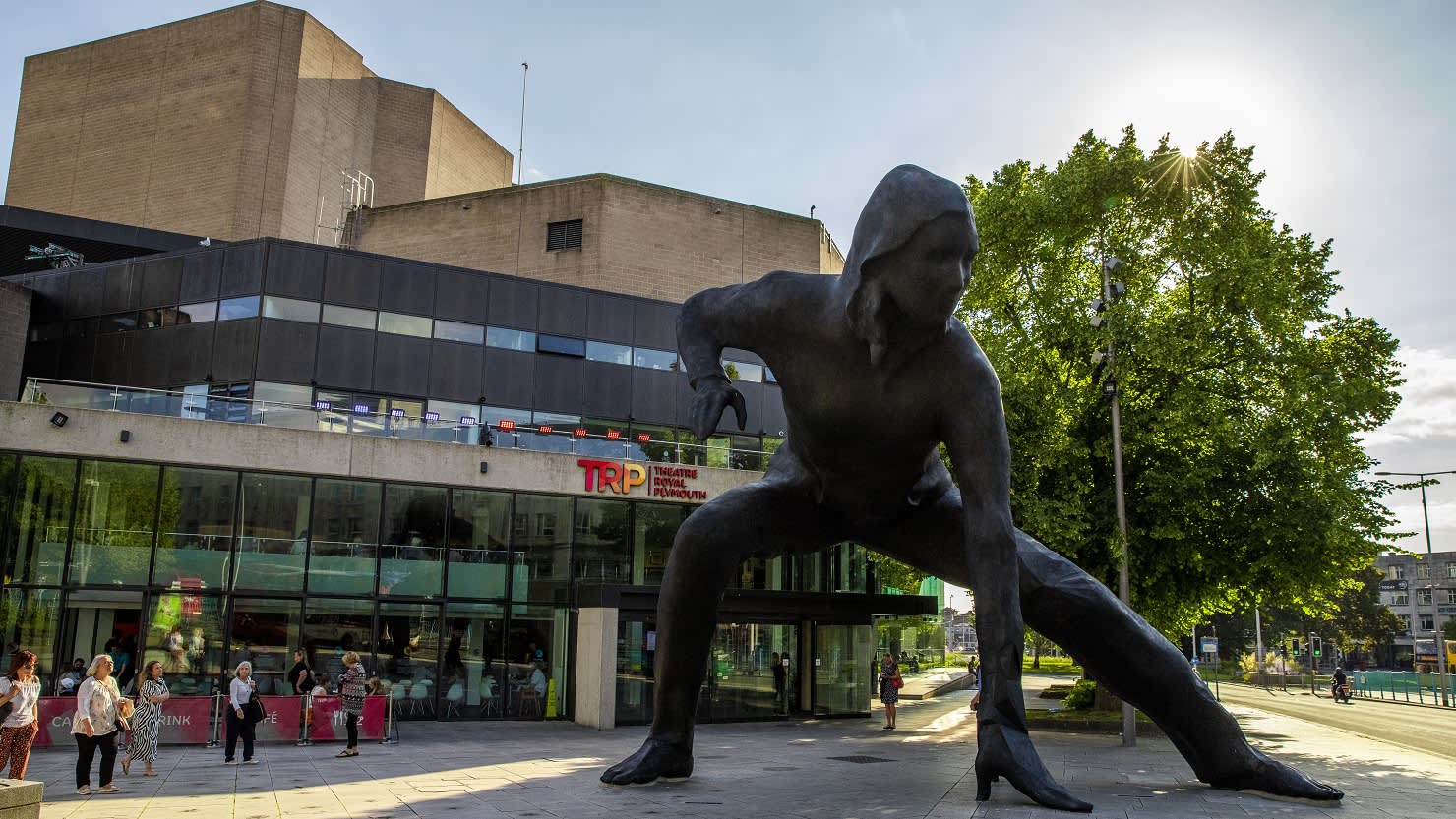 'Messenger' is located outside the Theatre Royal in Plymouth's city centre. Created by Cornish-born sculptor Joseph Hillier to mark the completion of the Theatre's Regeneration Project in 2013, she was unveiled in March 2019 and measures seven metres (23 feet) high.
Artist: Joseph Hillier
Category: Permanent
Date: 2019 to present
Location: View on our Public Art Map (desktop and tablet; requires Google sign-in) Find the location on a mobile
Commissioner: Theatre Royal Plymouth
Image: Jay Stone
Project Description
'Messenger' was announced in autumn 2016 and revealed to the public on 22 March 2019 by actress Nicola Kavanagh.
The monumental sculpture was cast in bronze by a skilled team from North Wales' Castle Fine Arts Foundry. She was then transported to Plymouth in sections and assembled at the city's Devonport Naval Base. She arrived in the city centre in a blaze of publicity; travelling across Plymouth Sound on a barge before being driven slowly through the streets and craned into position in front of a watching crowd.
Hillier's inspiration came when he captured 3D images of actors from Frantic Assembly as they rehearsed for a production of William Shakespeare's 'Othello'. He'd already been commissioned by the Theatre Royal to create a series of small sculptural figures and subsequently came up with the idea to turn one of them into a large-scale public artwork.
About the Artist
Joseph Hillier is a Cornish-born sculptor and a Fellow of the Royal Society of Sculptors. He studied at Falmouth College of Art and then attended university in Newcastle where he's now based. He received the 'Year of the Artist Award' in 2000 from Arts Council England and held his first solo show in London in 2005. As well as exhibiting and teaching, he's known for his public artworks, many of which re-interpret the human form and which are created from materials such as steel, stainless steel, stone, siver and bronze.
Related Links