Vision for the Pillars: Andrew the Fisherman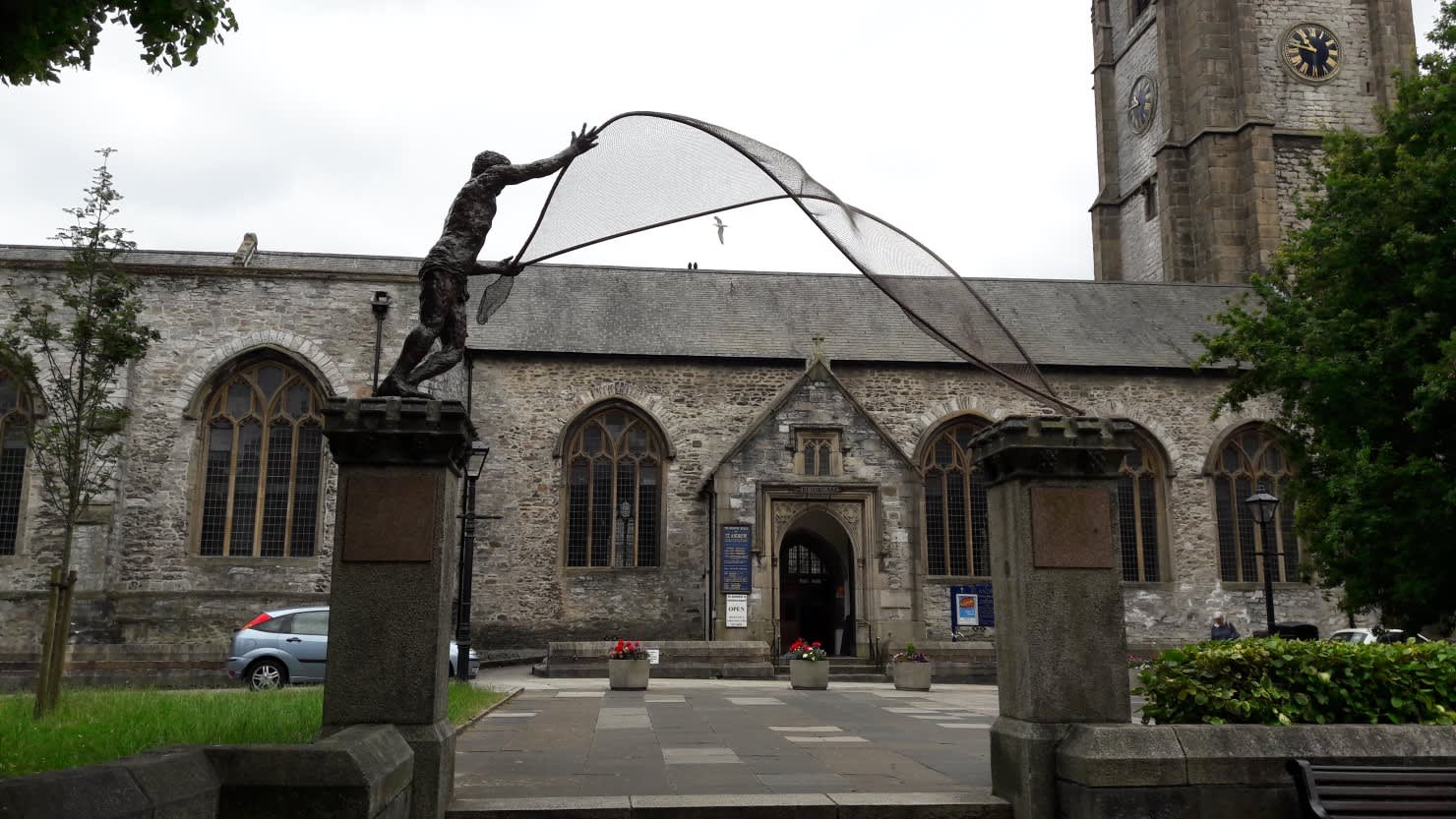 The life-size figure of Andrew the Fisherman is portrayed casting a net across the two pillars in front of the Church. The artwork creates an arch for people to pass beneath, connecting the city centre and the minster church. The design recognises Andrew's role as a 'fisher of people' and that the minster is dedicated to one of Jesus' disciples. The sculpture also highlights Plymouth's long history as a busy fishing port.
Artist: Rodney Munday
Category: Permanent
Date: July 2017 to present
Location: View on our Public Art Map (desktop and tablet; requires Google sign-in) Find the location on a mobile
Commissioner: Parochial Church Council of the Minster Church of St Andrew, Plymouth
Produced by: St Andrew's Art Commissioning Group and Rodney Munday
Supporters: Plymouth City Council, Plymouth Culture, Plymouth Arts Centre, Plymouth College of Art (PCA), Flameworks creative art facility, CAN - Culture and Arts Network, Plymouth City Youth Council, The Jerusalem Trust, Church Care
Project Description
In 2011, the Church of England invited parishes to apply for an award (funded by The Jerusalem Trust) for the best proposal for a new work of art in their church. The Minster Church of St Andrew shared first place and was awarded £5000. Using this initial funding the Church set about commissioning a celebratory work of art, to commemorate the long-lasting association between the minster and the city.
Following a three-stage selection process working with national and local visual arts partners, the design of Andrew the Fisherman by the sculptor Rodney Munday was selected.
The life size bronze resin figure was installed with a net created from stainless steel woven mesh framed with a tubular stainless steel "rope", patinated and finished, to match the figure.
In July 2017 a special service and ceremony of dedication of the sculpture of Andrew the Fisherman was conducted by the Bishop of Plymouth, the Right Revd Nicholas McKinnel, in the presence of the Lord Mayor.
The initiative for the project came from 'Commissioning New Art for Churches', a guide by Church Care with clear guidelines of stage by stage development encouraging artists and churches to work together.
A plaque which recognises the members of the parish community and the general public who contributed to the success of a Crowfunding campaign is attached to one of the pillars and the Roll of Benefactors is displayed by the north door of the minster.
Rodney Munday is a distinguished, award-winning sculptor with a considerable reputation for his work on the human form. His previous major commissions have included
'Alfred Russell Wallace', a large high relief for Hertford.
'The Gift', in Chichester and Worthing hospitals, in celebration of organ donation.
'Europa and the Bull', for the multi-national company Wyeth.
'St Edmund of Abingdon', in both St Edmund Hall, Oxford and St Edmund's College, Cambridge.
The artist has said:
'In recent years, where I have had the good fortune to gain an increasing number of public commissions, my respect for the commissioning process has increased. I have had to relate to and interact with not just individual but community involvement, and I have become convinced that the most valuable art is a joint creation of the artist and the society in which and for which he works.'
Related Links