'Imogen' by Elizabeth Adela Forbes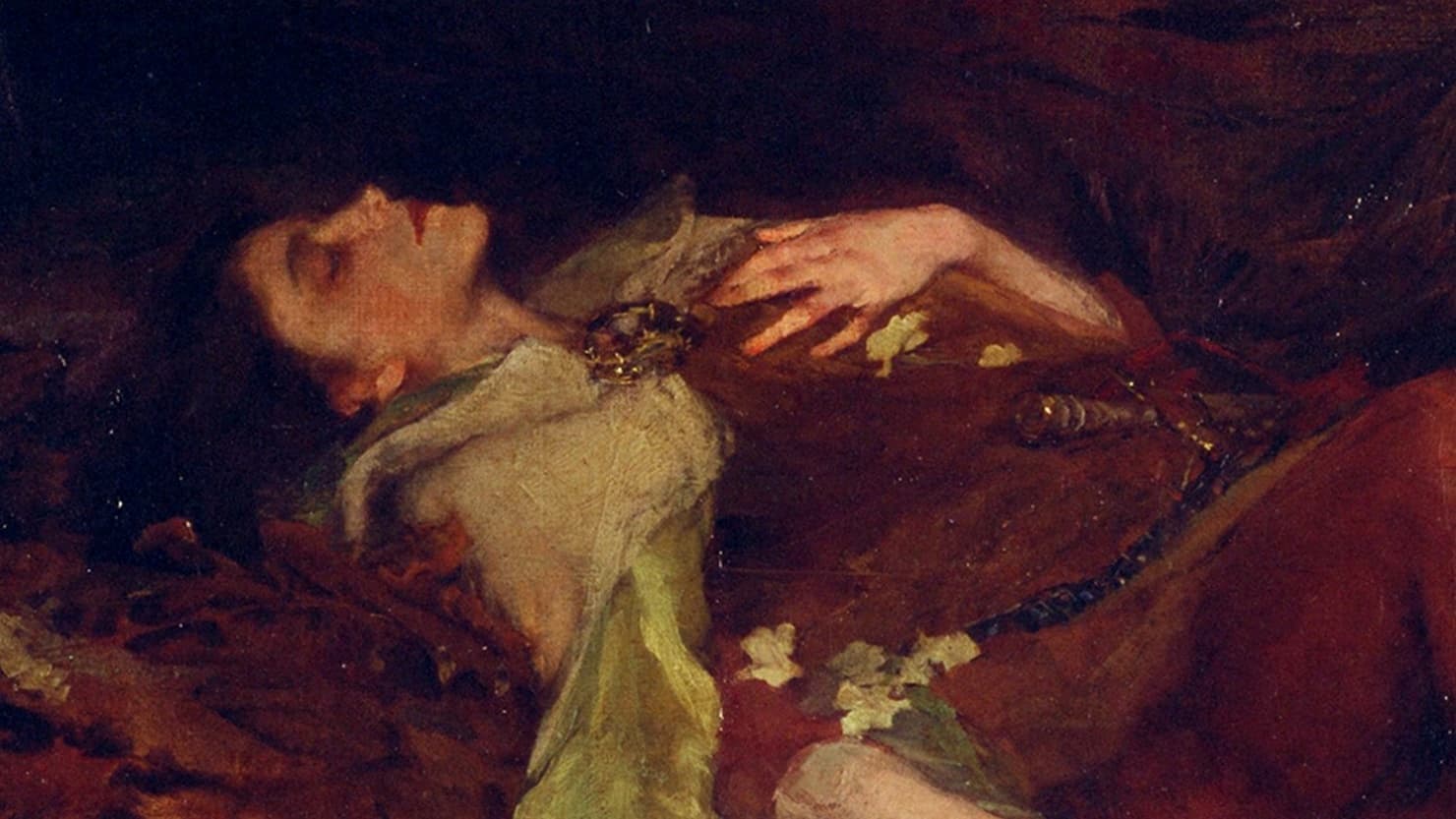 This 1898 oil on canvas by Elizabeth Adela Stanhope Forbes (nee Armstrong) ARWS RE (1859-1912) was purchased for the city's permanent art collections in 1904.
Born in Canada, Forbes came to England as a child after the untimely death of her father. She stayed with an uncle in Chelsea and studied art at the South Kensington Schools before returning home.
In 1877, she travelled to New York where she joined the Art Students League and was taught by artists who had studied in Europe. In 1882, she returned to Europe herself, travelling to Munich, Germany then Pont Aven in Brittany, France. It was there that she first heard of the artist Stanhope Forbes – the man who would eventually become her husband and who painted our much-loved 'A Fish Sale on a Cornish Beach'. Over the next couple of years she continued her journeys around Europe.
In 1885, she moved to Newlyn in Cornwall where she was introduced to Stanhope. They married in 1889. She also spent time in St. Ives and London.
In 1891 she returned to Brittany, painting open-air scenes and developing the 'square brush' technique she favoured. Back in Cornwall she painted scenes of children playing in the local woods, sometimes dressed in medieval costumes.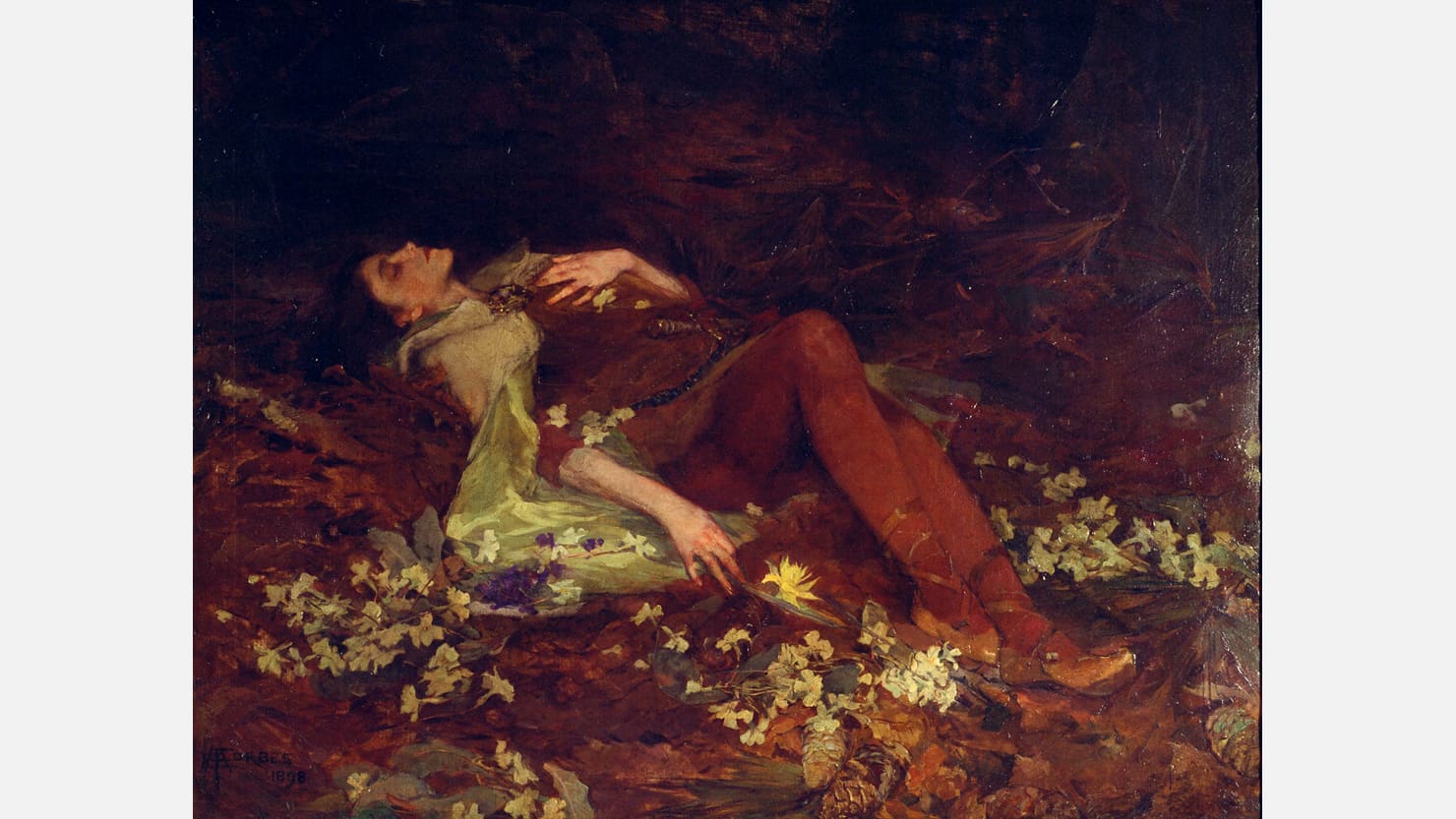 This work features one of Shakespeare's loveliest heroines, Imogen (or Innogen) from 'Cymbeline', his romantic play set in Roman Britain. 'Cymbeline' is believed to be one of Shakespeare's final plays and is all about deceit, pursuit and seduction.
King Cymbeline of Britain banishes his daughter Innogen's husband, who then makes a bet about her fidelity. She is accused of being unfaithful, runs away and becomes a page for the Roman army as it invades Britain. Ultimately, she is able to clear her name and reunite with her husband, while Cymbeline makes peace with Rome.
The play was popular in Victorian times and the character of Imogen greatly admired. Although lesser-known than the likes of Juliet and Lady Macbeth today, she has been described as 'perhaps the most tender and the most artless' of all Shakespeare's heroines. In the late 1890s, actress Ellen Terry played the role of Imogen on stage. Forbes visited the theatre while she was in London, so it's possible Terry was her inspiration.
The painting depicts a scene from Act IV of 'Cymbeline' during which Imogen is found sleeping after taking some 'medicine' believed to be a deadly poison. It turns out that the doctor who made it has secretly substituted it for a sleeping potion after suspecting the Queen's motives.
You can visit our 'People and Place: Art Collection Showcase' exhibition between 10am-5pm Tuesday to Sunday and selected bank holidays throughout 2023. Admission to the exhibition is free and there's no need to book in advance.