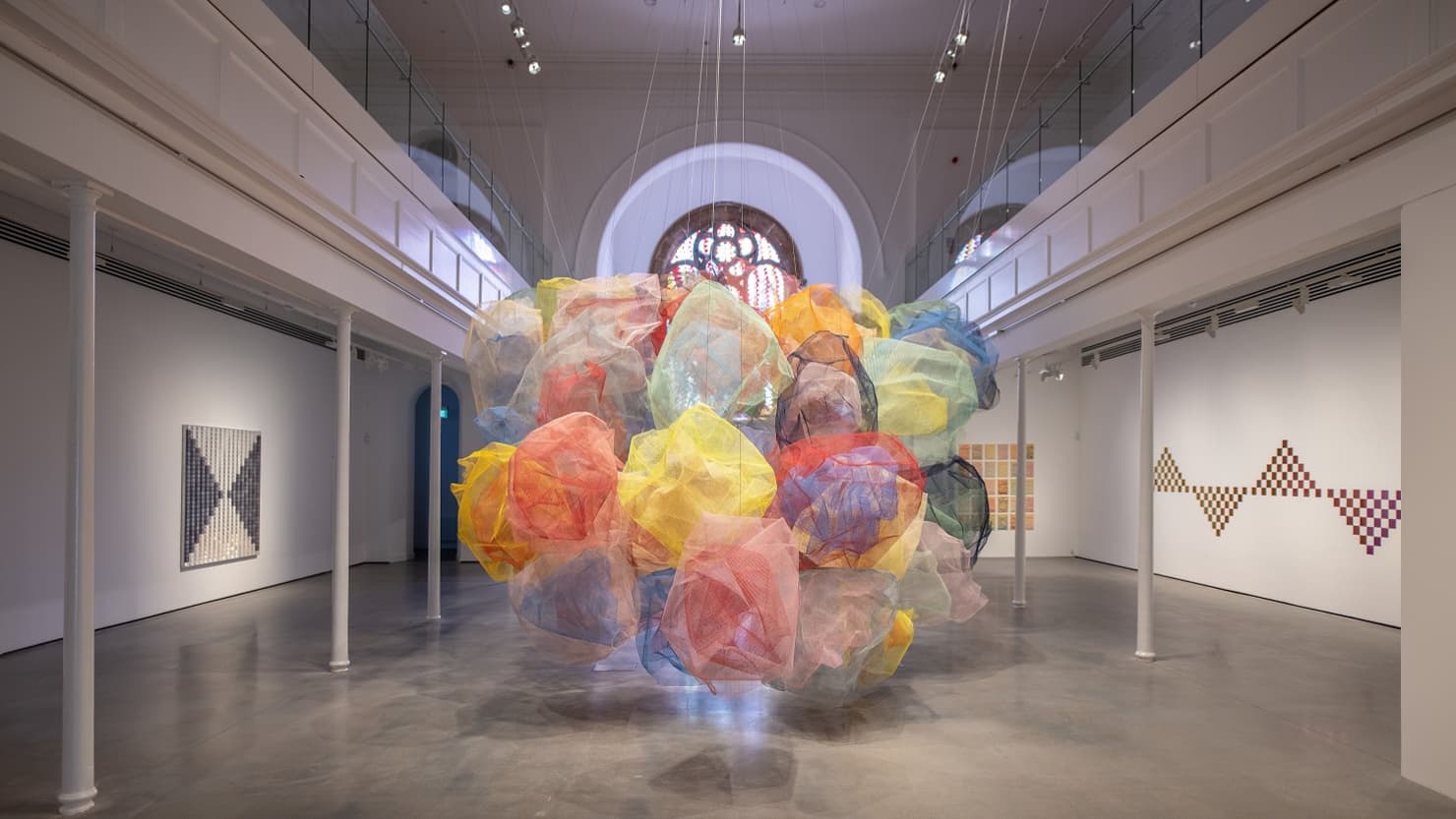 Artist Rana Begum works with a wide range of colours and materials, and the eight different pieces on display in St Luke's demonstrate this brilliantly. Although you can't touch them there's plenty of space for you to move around them, to appreciate them from different viewpoints and angles and see how they interact with light.
Here's a tour of what you can see, working in a clockwise format around the gallery.
No. 1271 Painting (2023)
Acrylic and spray paint on canvas
This large-scale canvas of coloured dots was made especially for the 'Dappled Light' exhibition at The Box, with colours that move from warmer pinks to cooler blue tones with metallic flashes to give a feeling of movement. Begum likes to stay true to the materials she works with so the canvas hasn't been stretched or framed and hangs naturally with its raw edges, folds and ripples from where it's been hung or folded visible.
No. 969 L Reflector (2019)
Reflectors on aluminium
This work is from a series of wall-based works made from automobile reflectors – a great example of Begum's use of every day and readily available materials. Using two or three colours the reflectors are arranged in geometric shapes. As viewers move around the work, the light bouncing off each reflector creates a dappled, mesmeric effect.
No. 1213 Folded Grid (2022)
Spray paint on jesmonite
This grouping of 30 tiles has been cast from a material called jesmonite (a cross between plaster and concrete). Begum used moulds to create their texture made from sheets of A4 paper repeatedly folded opened and scrunched! Each tile is spray painted a sand colour from one direction and then in colour from the opposite direction to create a landscape effect.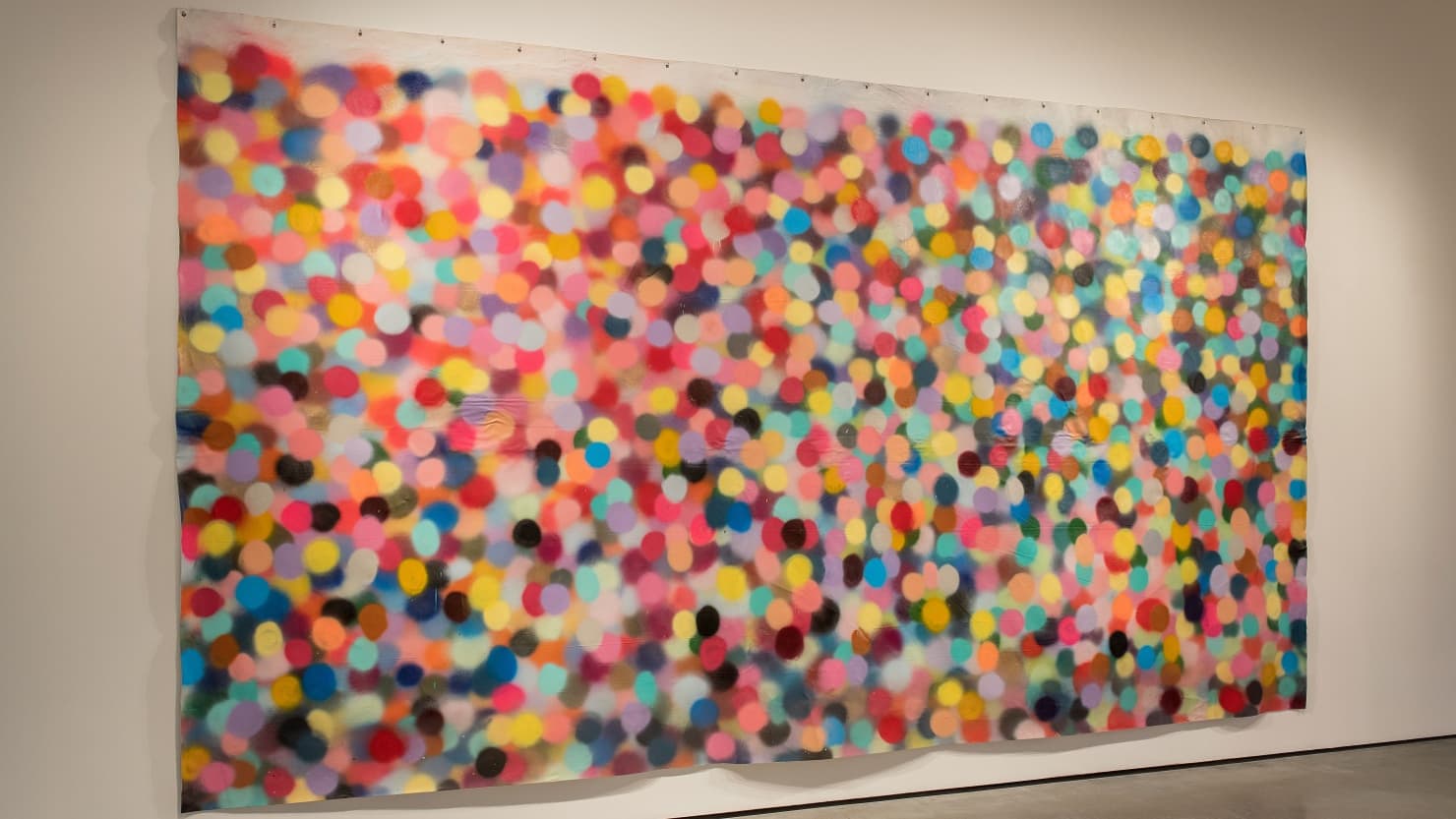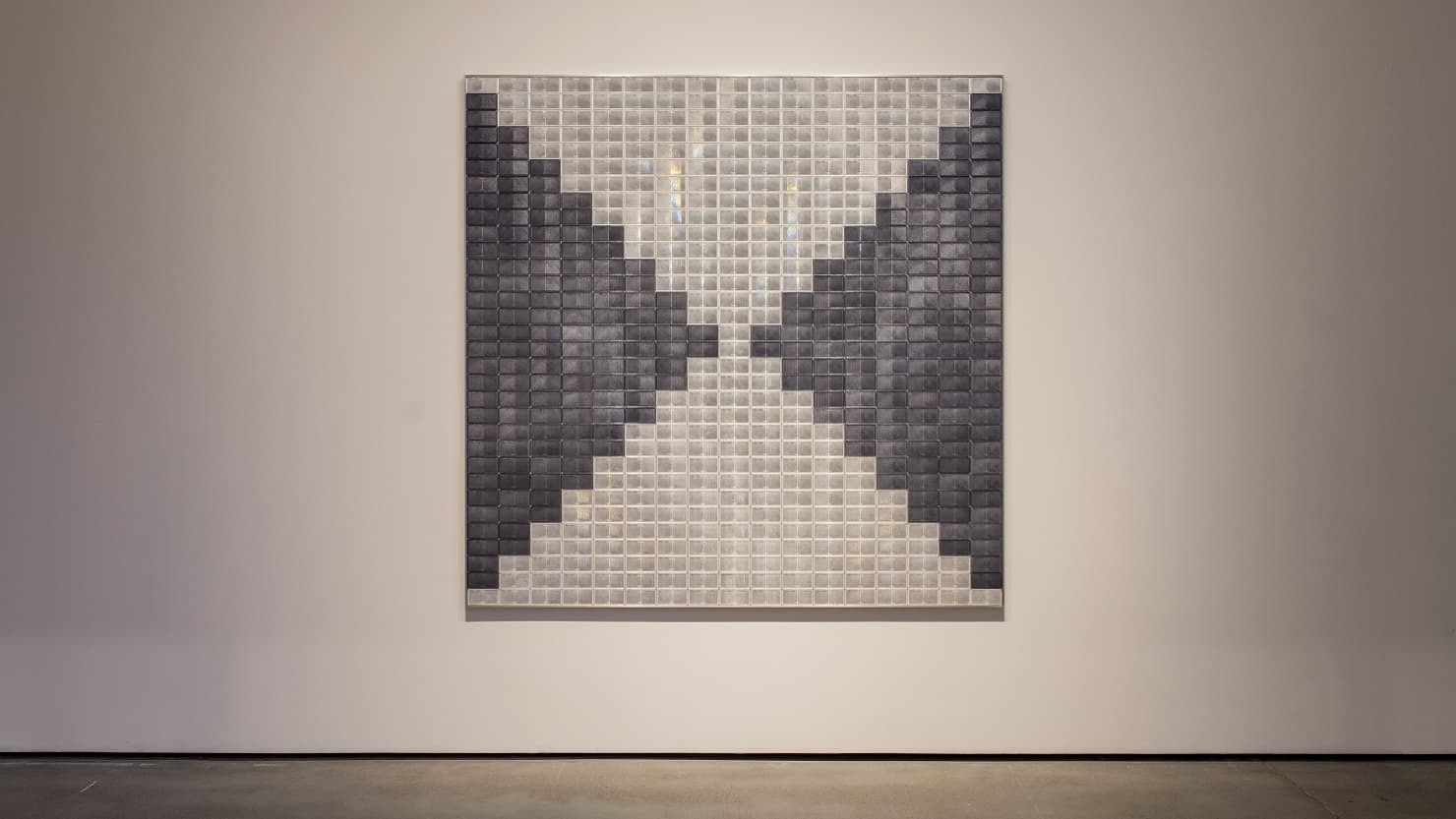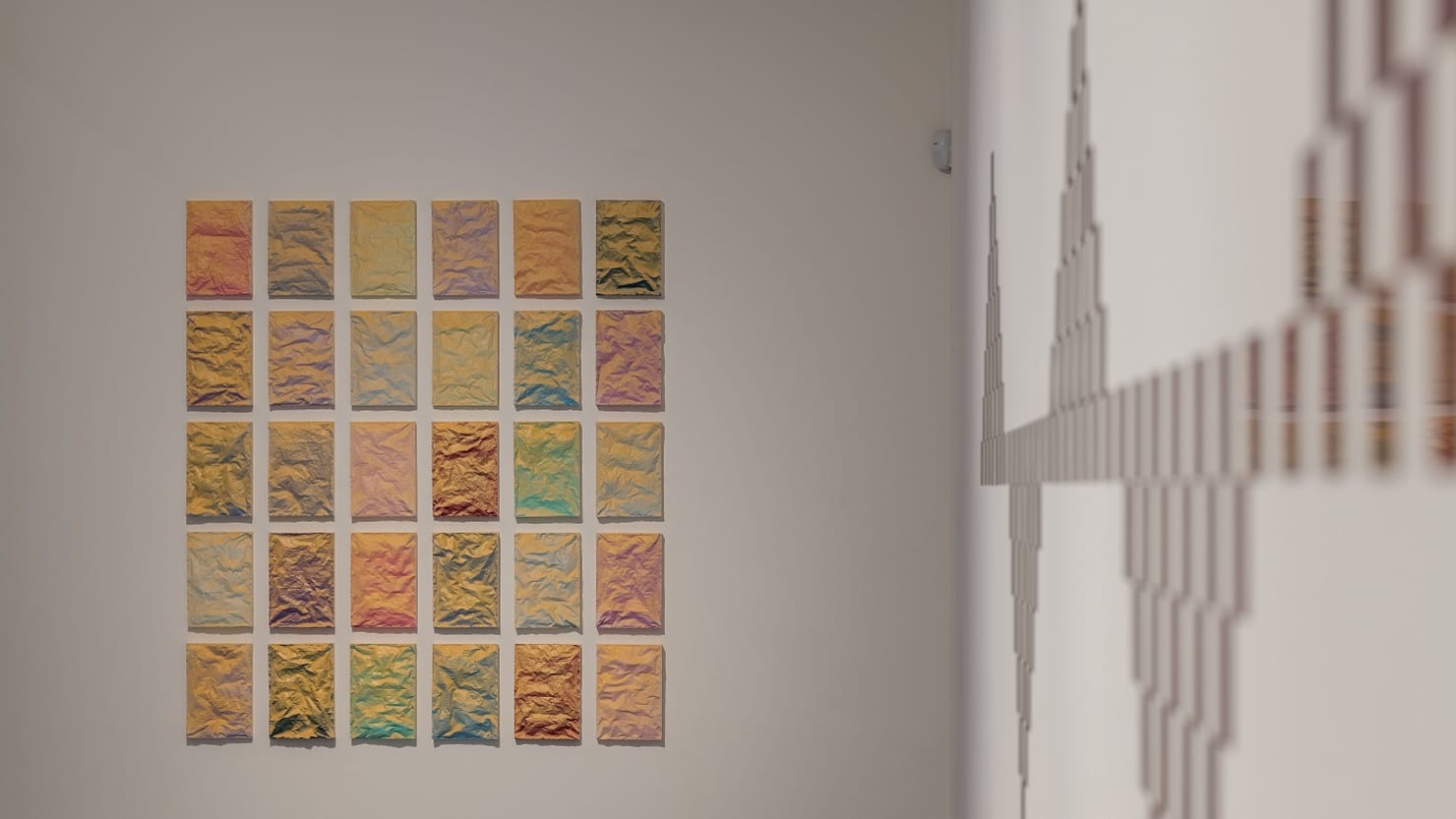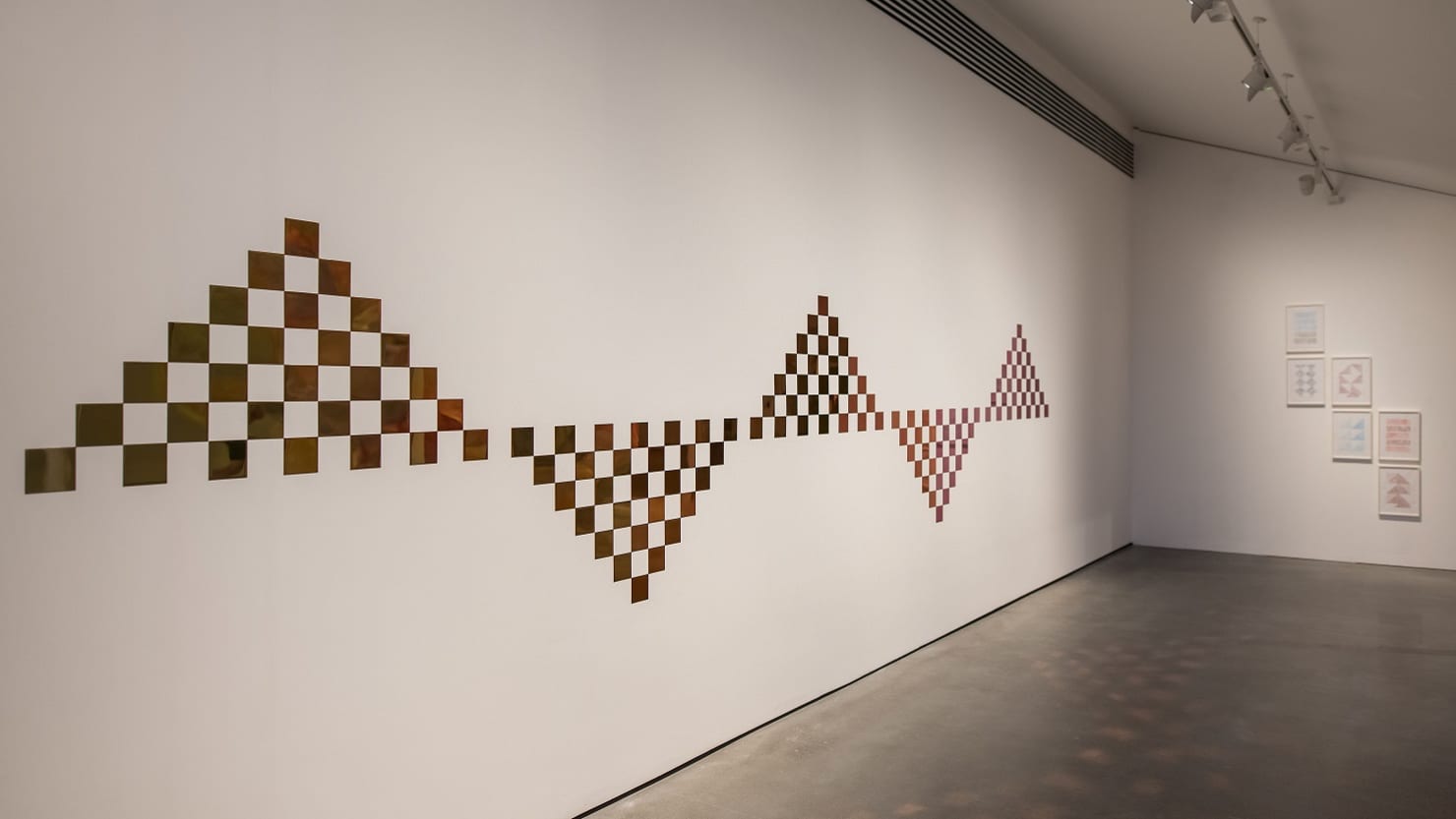 No. 1086 Tiles L (2021)
Paint on mirror finish stainless steel
Metallic surfaces are widely used in Begum's work for their reflective qualities. This piece gently runs from gold to pink and catches the reflections of the large mesh cloud and the fused glass window in St Luke's creating lovely 'dappled' reflections on the floor.
WP391 (2020)
Watercolours
Like many artists Begum spent the lockdowns during the Covid-19 pandemic working in a more modest way. She produced a series of works on grid paper with small daubs of watercolour paint. The idea for them developed from series of watercolours Begum created during a residency in St Ives, Cornwall in 2018 and were later continued when she was working away from the studio or travelling.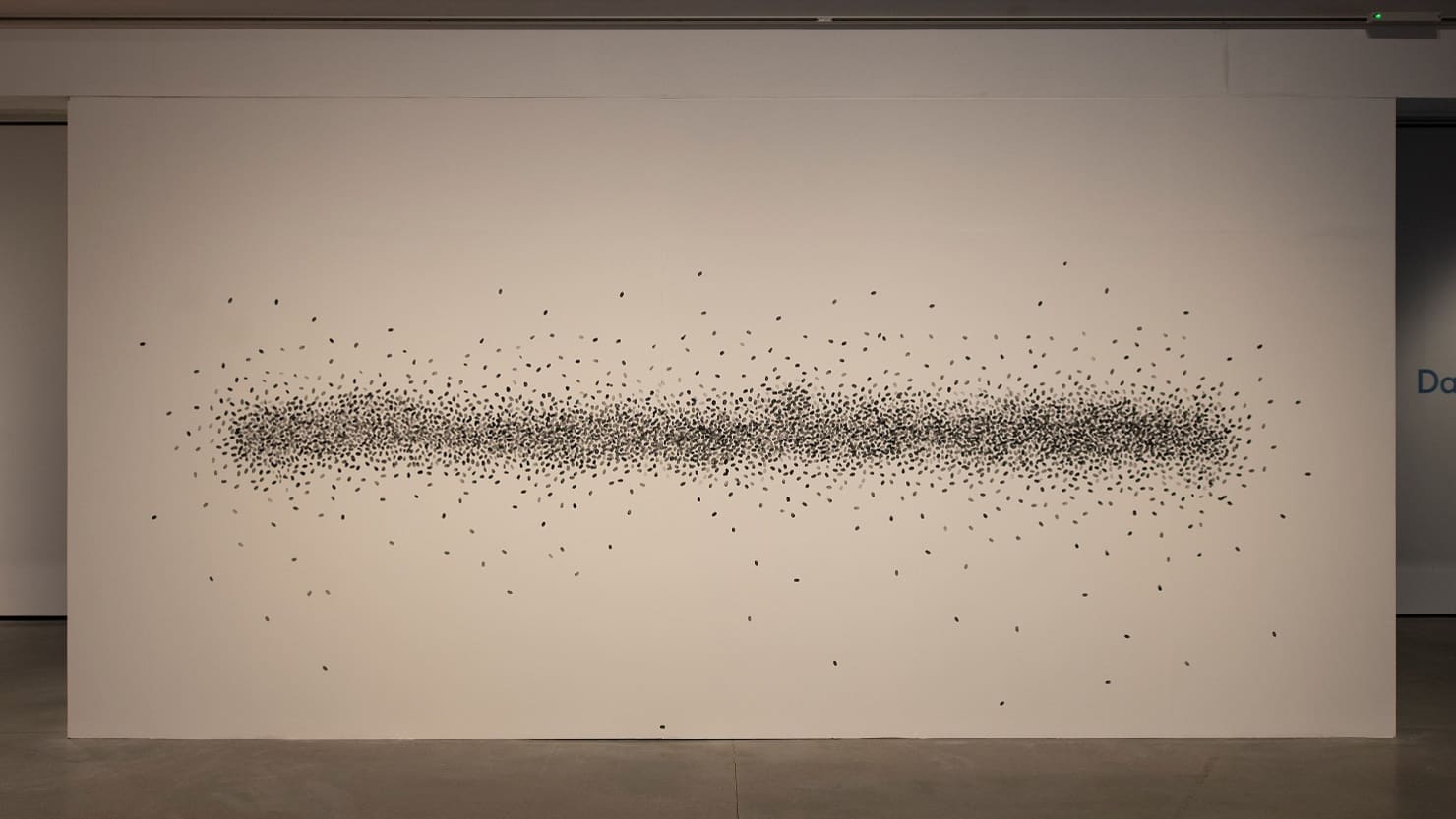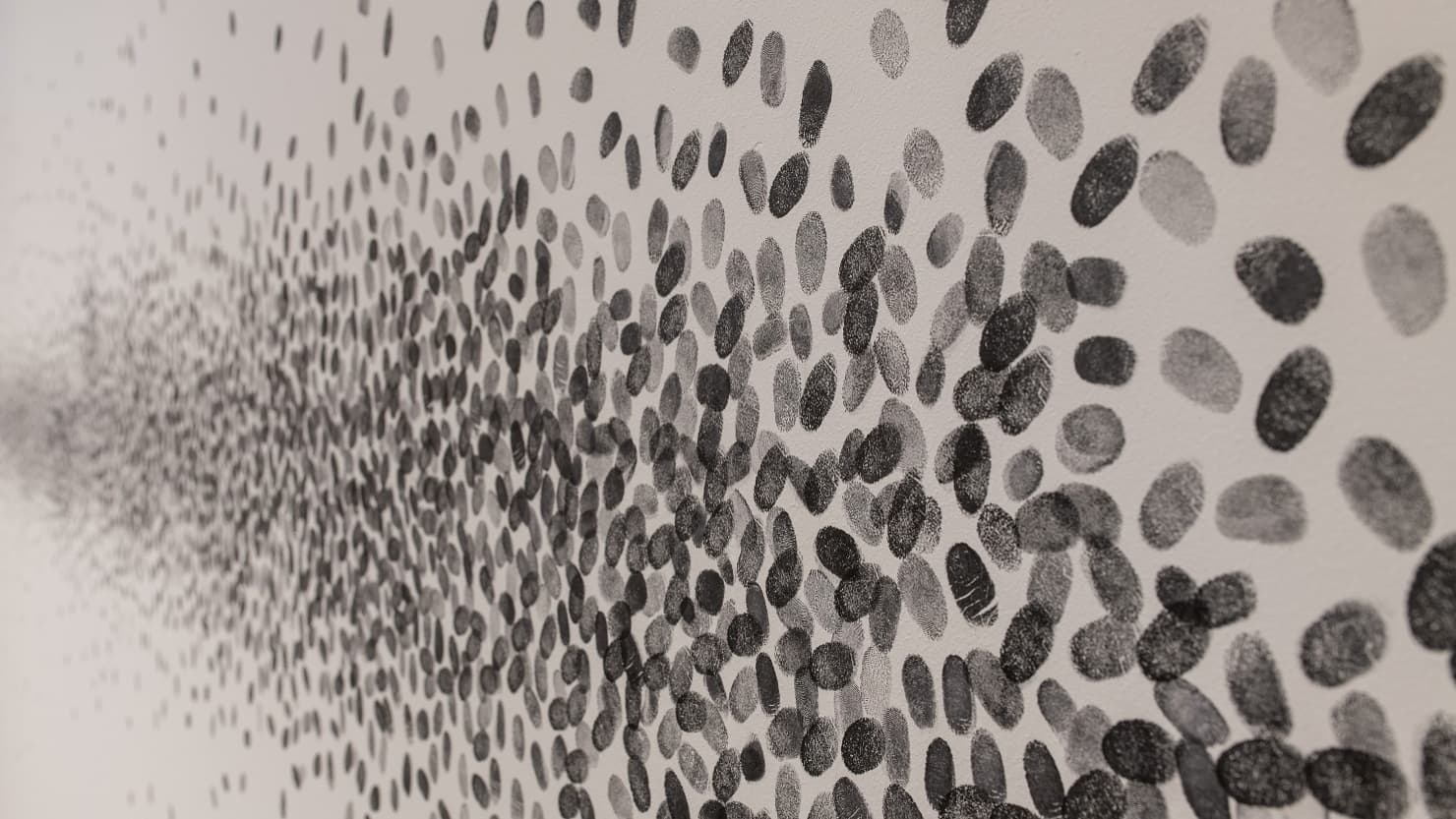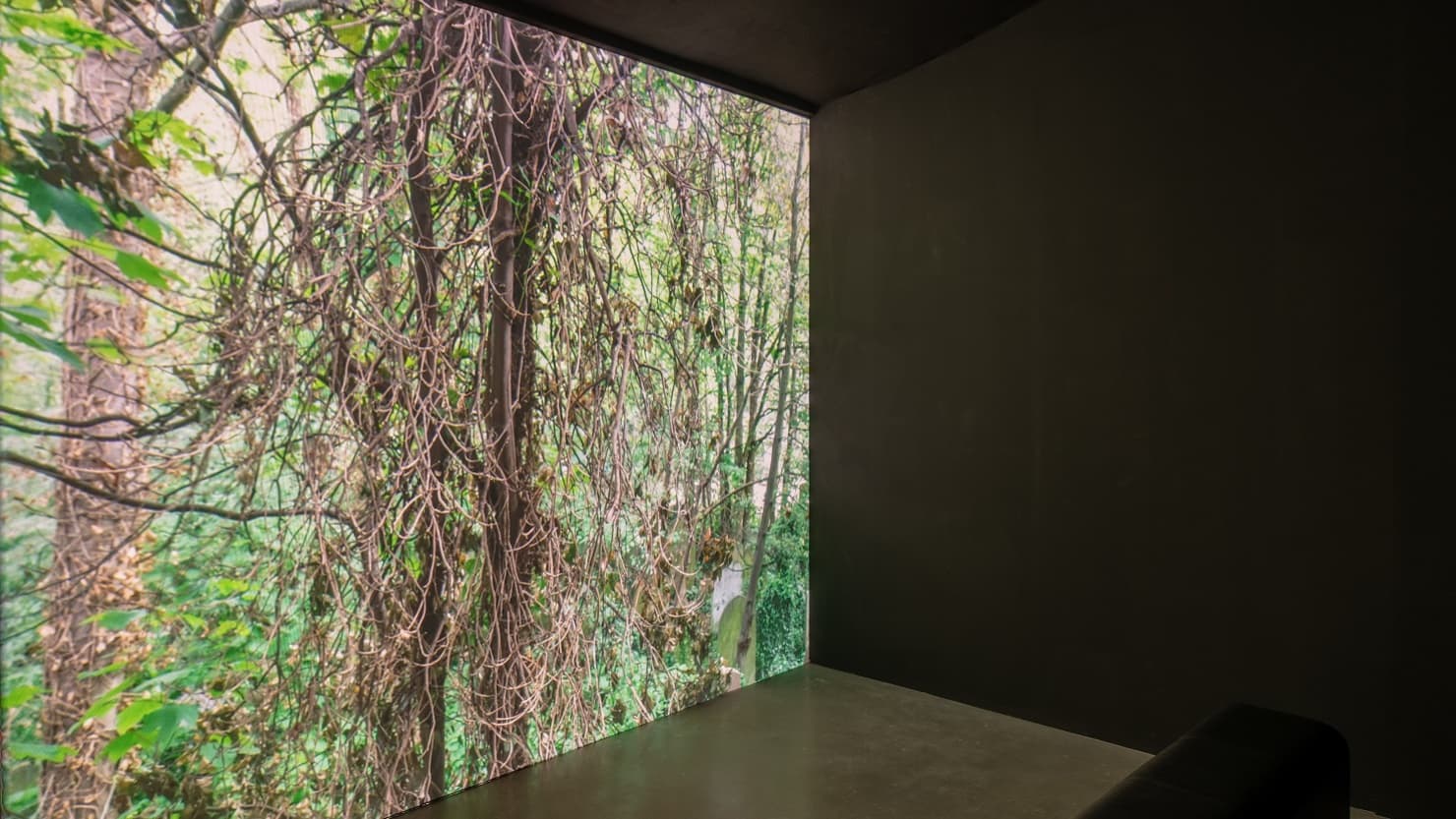 No. 1270 Wall Drawing (2023)
Ink Thumb Prints
This work was made in St Luke's in collaboration with 14 members of Plymouth's deaf community and features a dense pattern of thumbprints. It's inspired by Begum's time in Bangladesh after her father passed away and she had to sign some paperwork. As well as a signature she had to leave an ink thumb print. On her way out of the office, the wall was covered with smudged thumbprints where people had marked the walls.
The work has been repeated at different venues with different groups. At The Box we chose to work with Plymouth's deaf community as part of our aim to improving accessibility and be a welcoming space for everyone.
No. 1080 Forest (2021)
Film
This is Begum's first moving image work and was also created during the pandemic. It's a time-lapse; a format she previously experimented with to observe coastal light during her St Ives residency. The film runs for 37 minutes and was created over the course of a year. It shows the Victorian woodland cemetery next to Begum's home and captures the dappled sunlight as it cascades through the trees and onto the gravestones and foliage below.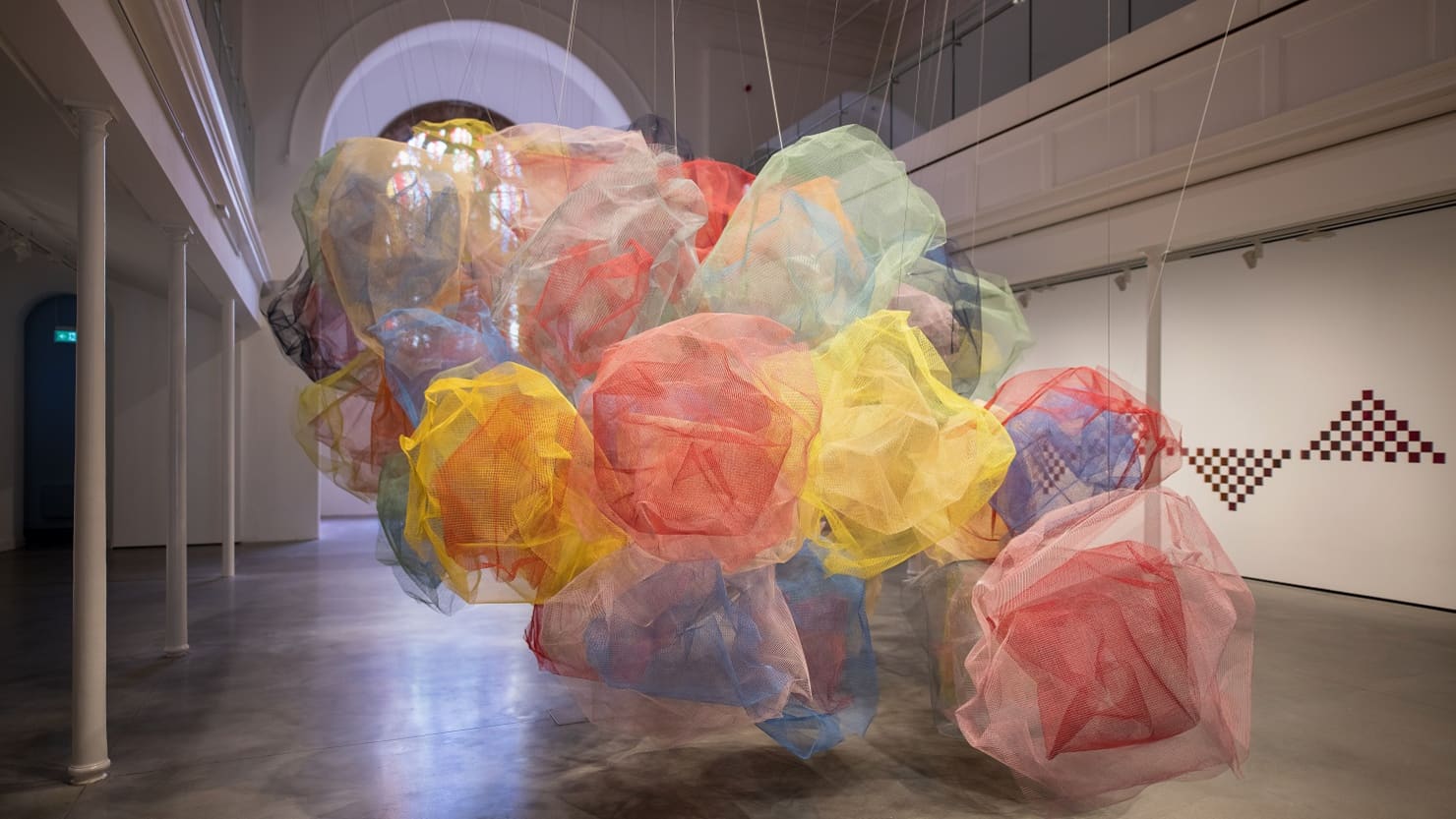 No. 1081 Mesh (2021)
Powder coated galvanised mild steel
This stunning work is made from 66 'cubes' of spray painted mesh. Grouped together they create a multi-coloured form that seems to float like an indoor cloud. The work has been specifically adapted for St Luke's and positioned in front of our fused glass window so the coloured light scatters through the installation.
Rana Begum: Dappled Light is on display in St Luke's and the main building at The Box until the end of Sunday 24 September. Opening hours are 10am-5pm Tuesday-Sunday. Admission is free and there's no need to book.