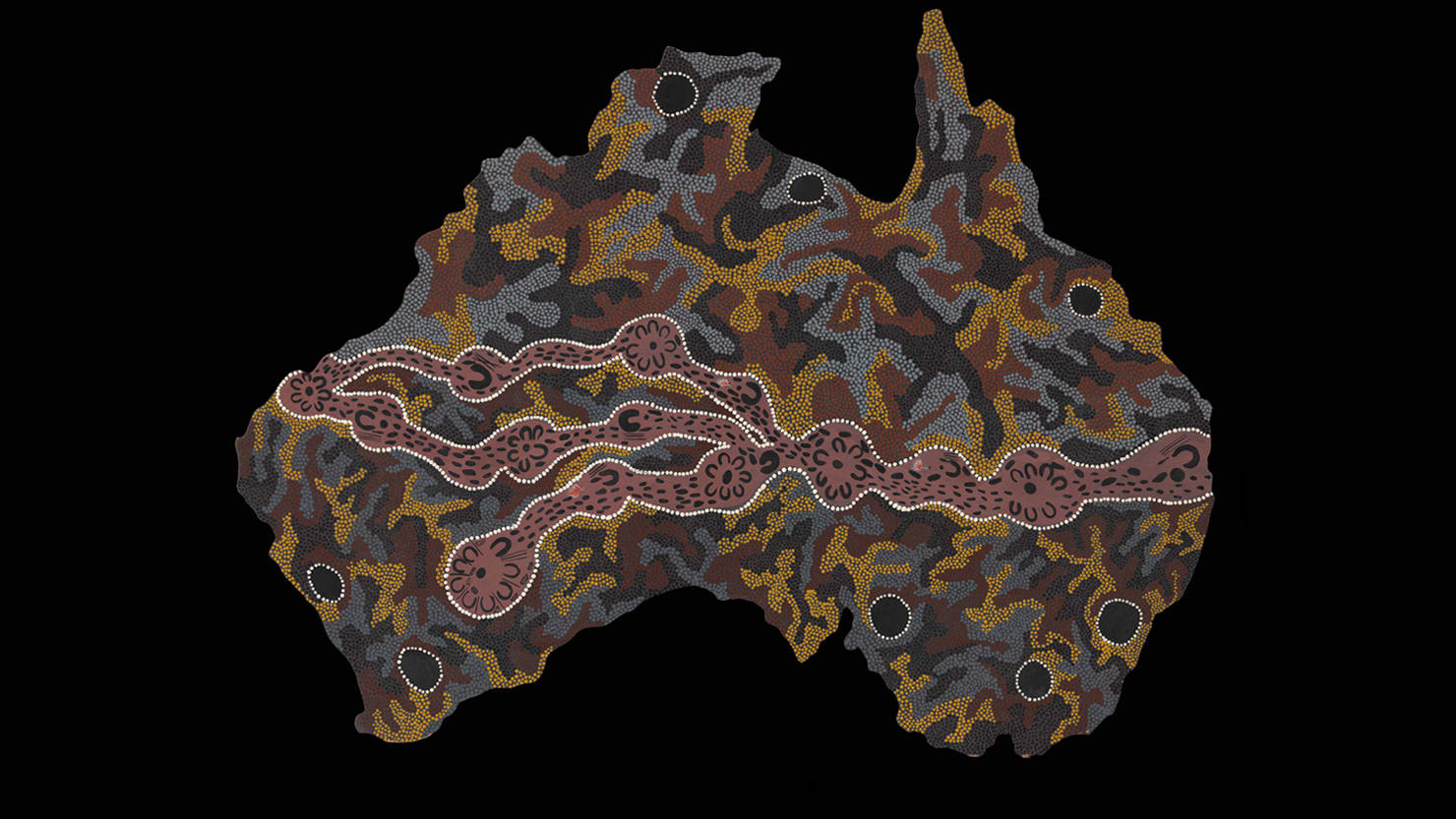 'Songlines: Tracking the Seven Sisters' has opened to lots of great feedback. This major exhibition offers us a unique opportunity to learn more about Indigenous Australian cultures and the important part that songlines play in them. But what are they?
Songlines are epic Indigenous tales, foundational to the creation of the Australian continent.
Songlines, also referred to as Dreaming tracks, are pathways of knowledge that are as old as the land itself. They map the routes and activities of Ancestral beings as they travelled across Australia.
Songlines act as pathways of knowledge carrying complex spiritual, ecological, economic, cultural and historical knowledge.
Songlines are a means of naming and remembering sites, their resources and their significance.
The show is named after the paths across Australia that feature in Indigenous creation myths. Songlines provide guides through the land as well as advice on how to live in it.

Nicholas Wroe, The Guardian Weekend
Songlines crisscross the land creating a network of stories that 'map' the Australian continent by linking stories to geographical features. They also serve as vehicles for naming and locating significant sites, like the location of water holes and food - sites that are critical for survival.
Using songlines, Indigenous communities identify significant sites and pass on laws, ways of living and moral codes to the next generation.
Songlines hold the key to sustainable living on a global scale. Ancient methods of living in harmony with nature have sustained Indigenous peoples for millions of years. Examples include land management through the use of fire as a tool, protocols about behaviour, rights, responsibilities, gender, kinship and relationship to 'Country'.
Some alternative words for the term 'songlines' that you may hear mentioned when you visit the exhibitition are Tjukurpa, Tjukurrpa and Jukurrpa (pronounced chur-ka-pah).
'Songlines: Tracking the Seven Sisters' is on display at The Box and The Levinsky Gallery at the University of Plymouth until 27 February 2022. Find out even more about the exhibition, enjoy a wide range of events at the University over the next few weeks, or call into our 'Weaving Journeys' workshops during half term.
Header Image:
Seven Sisters Songline 1994 by Josephine Mick, Ninuku Arts © the artist/Copyright Agency 2020 Image: National Museum of Australia
Article Image:
Kungkarrangkalpa Tjukurrpa 2015 by Anawari Inpiti Mitchell, Angilyiya Tjapiti, Mitchell, Lalla West, Jennifer Nginyaka Mitchell, Eileen Tjayanka Woods, Lesley Laidlaw and Robert Muntantji Woods, Papulankutja Artists © the artists/Copyright Agency 2020 Image: National Museum of Australia