'Card Table' by Wilhelmina Barns-Graham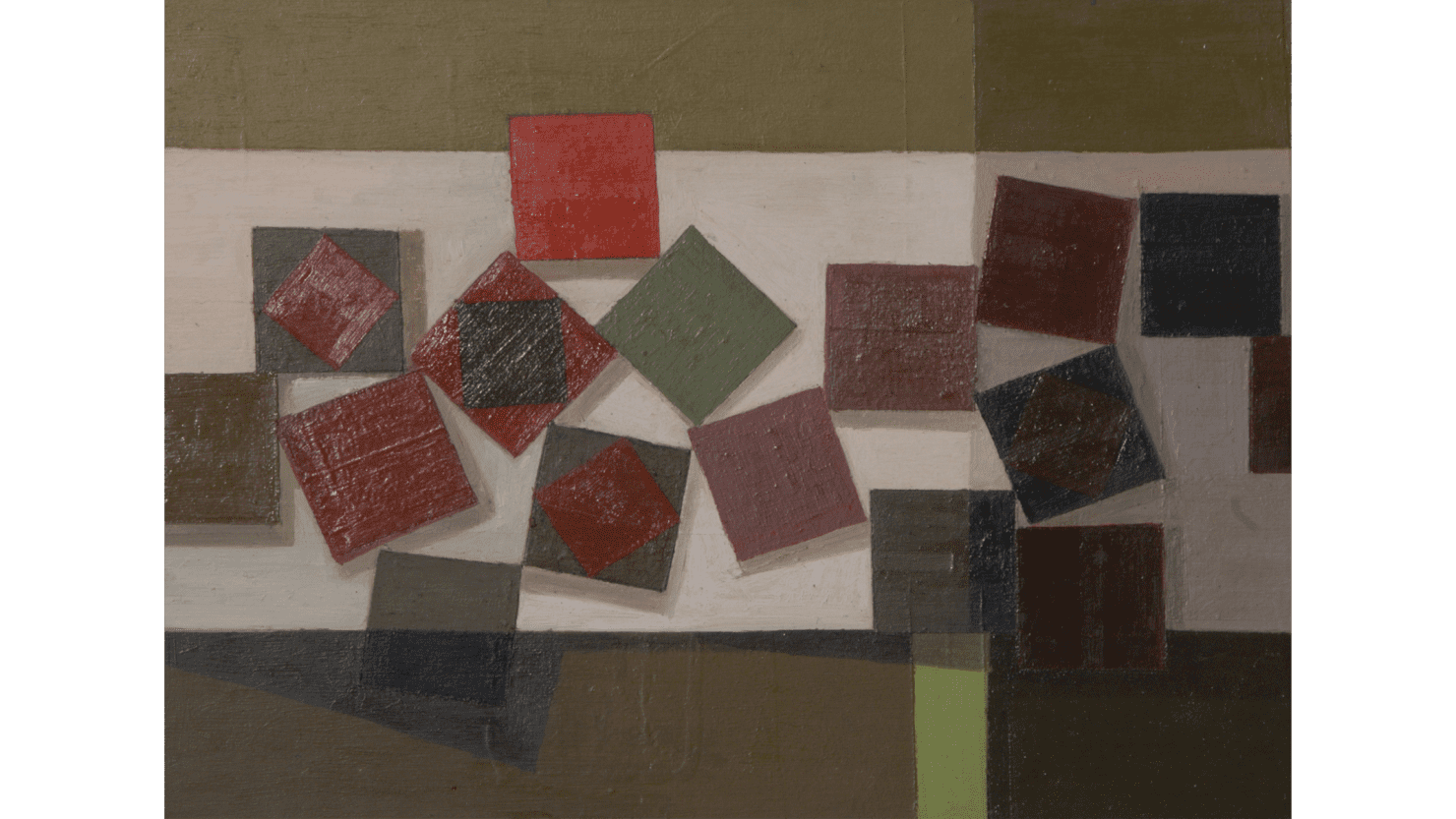 Wilhelmina Barns-Graham (1912-2004) was one of the most significant British female artists of the twentieth century. She was born in St Andrews, Scotland but after relocating to St Ives she became one of the central figures there. This work is an oil on hardboard dating from the late 1960s and was gifted to our collections in 1976 by the Contemporary Art Society.
Whilst studying at Edinburgh College of Art, Barns-Graham became ill and the Principal suggested a spell in St Ives. As well as a favourable climate, it had a thriving art community and a number of other well-known artists such as Barbara Hepworth had established homes and studios in the post-war era.
She moved there and became a founding member of the Penwith Society of Artists. Although she inherited a house in her beloved Scotland in 1960 she continued to divide her time between there and Cornwall until her death in 2004.
Her main outputs were paintings and drawings. She was a gifted draftswoman and in her later years she also became involved in printmaking.
Wilhelmina Barns-Graham was a painter and printmaker of the first rank in post-war British art.

Mel Gooding, writer and critic
Initially her works were mainly figurative. By the 1940s her style had become more abstract. Her geometrical forms often had their origins in nature however, and although she used a variety of imagery in her paintings, movement, form and colour were consistent elements throughout them all.
This work dated 1967-1969 reflects a time when she was exploring the meditative potential of painting, translating the everyday world around her using abstract, geometric shapes such as the square motifs that feature in this work.
We hosted a touring exhibition of her drawings at the Museum in 2010 in which she was described as having 'an enquiring and analytical mind', and producing work that revealed 'a consistent exploration of the structure of landscape.' This work was previously on display in our 2012-2014 'Women in Art' exhibition and is currently on display in our 'People and Place' exhibition.
Today she's still one of the most highly regarded artists of her generation. Works by her are included in the collections of many major institutions, including Tate, the V&A and the National Gallery of Modern Art, Edinburgh.
With thanks to Jo Clarke, Marketing and Communications Officer and Terah Walkup, curator of the 'People and Place' exhibition.