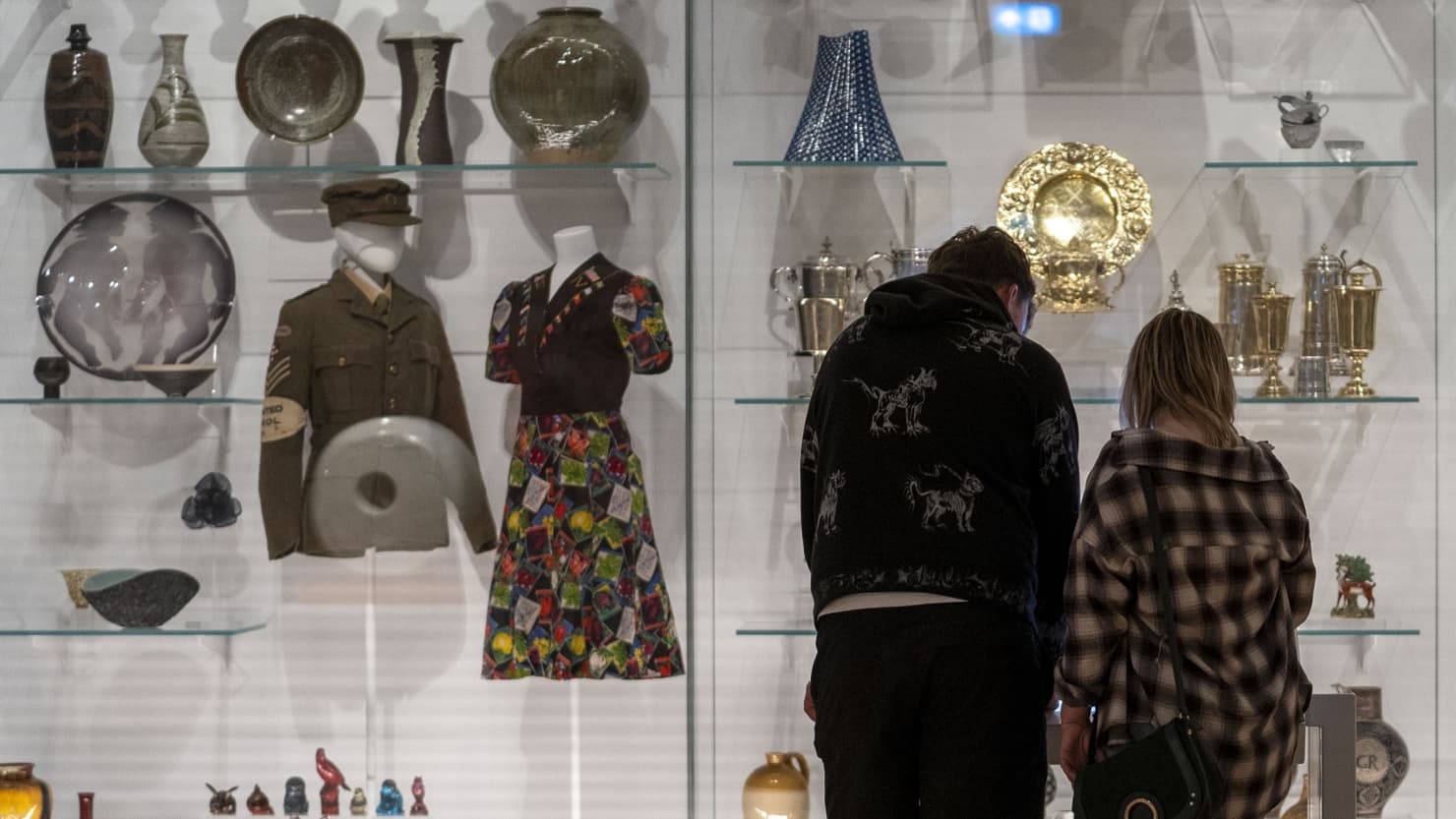 The dress was gifted to our collections in 1996 and dates from 1939-1945. It's an example of mid-20th century fashion as well as a piece of propaganda, and you can see it in a huge case featuring hundreds of objects from our decorative art collection in our 'People and Place' exhibition.
From a fashion perspective, it's been made in what is known as a 'shirtwaist' style – a highly popular and versatile 1940s style that was comfortable, flattering and easy to wear.
The dree is knee-length with an A line skirt and short sleeves. The black bodice is collarless and extends down in a V shape to six small buttons at the waist. It has buttons up the back too, but actually fastens using poppers on one side of the skirt.
During the Second World War many women's roles changed. Hemlines became shorter to save on fabric and ensure that dresses were more practical and easier for women to work in.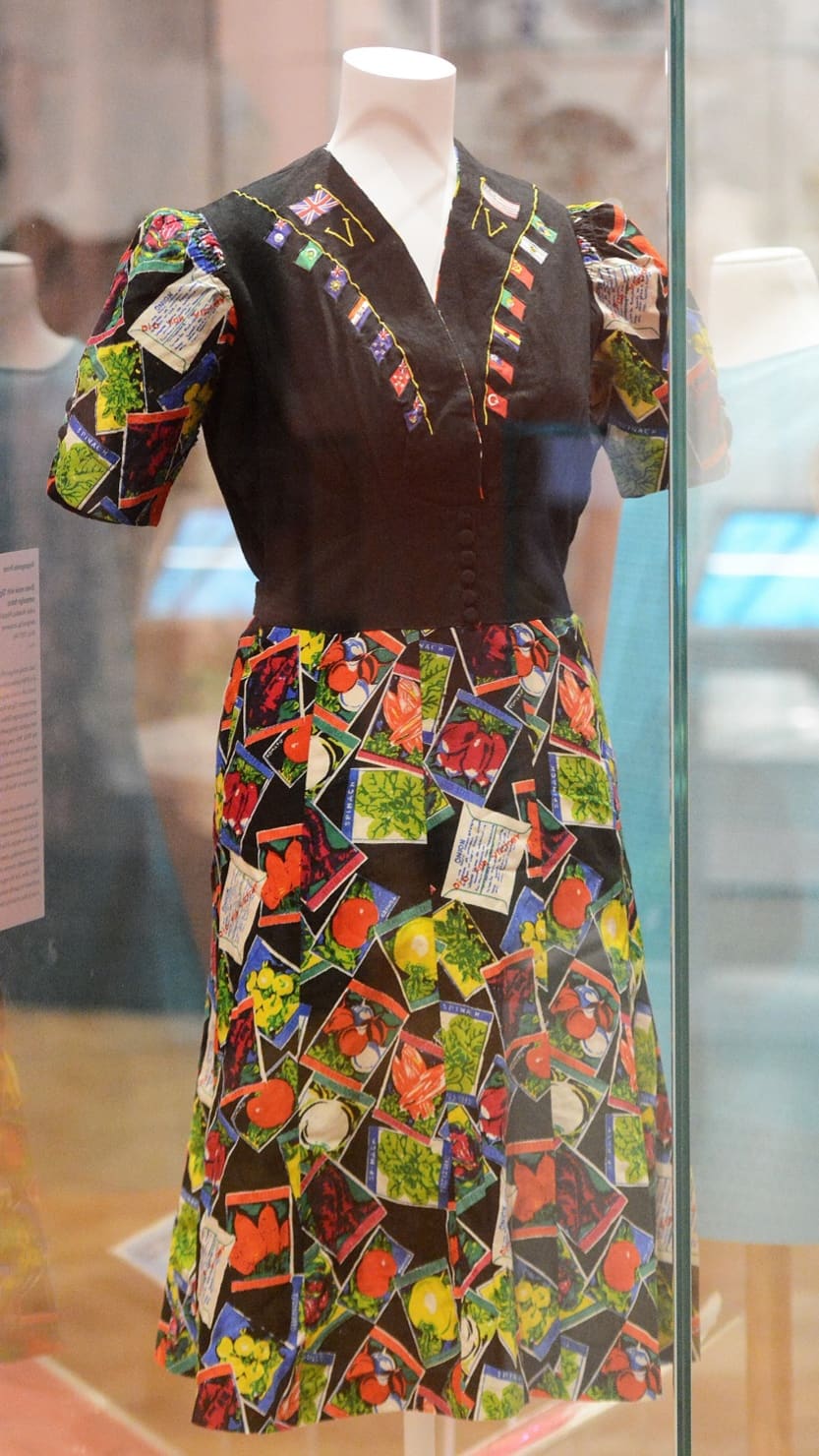 In terms of propaganda; look closely at the dress and you'll see the full offerings of a British garden allotment – from spinach, radishes and tomatoes, to onions and beets. That's because it's been made with a fabric designed to promote the government's 'Dig for Victory' campaign.
The campaign was launched in October 1939 by the British Ministry of Agriculture and encouraged people across the country to grow their own food in their gardens and allotments. It was a huge initiative. Making sure people had enough to eat during a time of food shortages and rationing and maintaining national morale were the main objectives. By 1943, a staggering 3.5 million allotments had been created in Britain.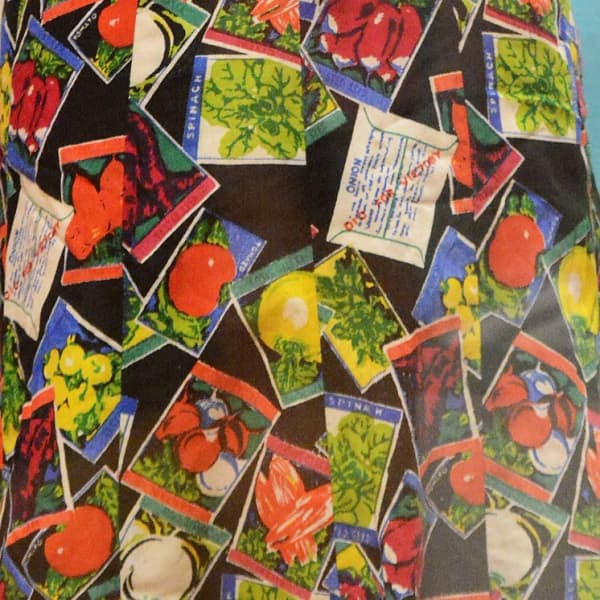 With many clothing factories seconded to the war effort, clothing and fabric were also in short supply at the time this dress was made. The purchase of clothing was rationed and people were encouraged to 'Make Do and Mend'.
If you take a closer look at the black bodice you'll also see that it features a series of embroidered flags. They show Britain's Commonwealth countries and the United States' allies. This suggests the dress may have been purchased for specific occasions, making it a rare fashion choice in a time of austerity.