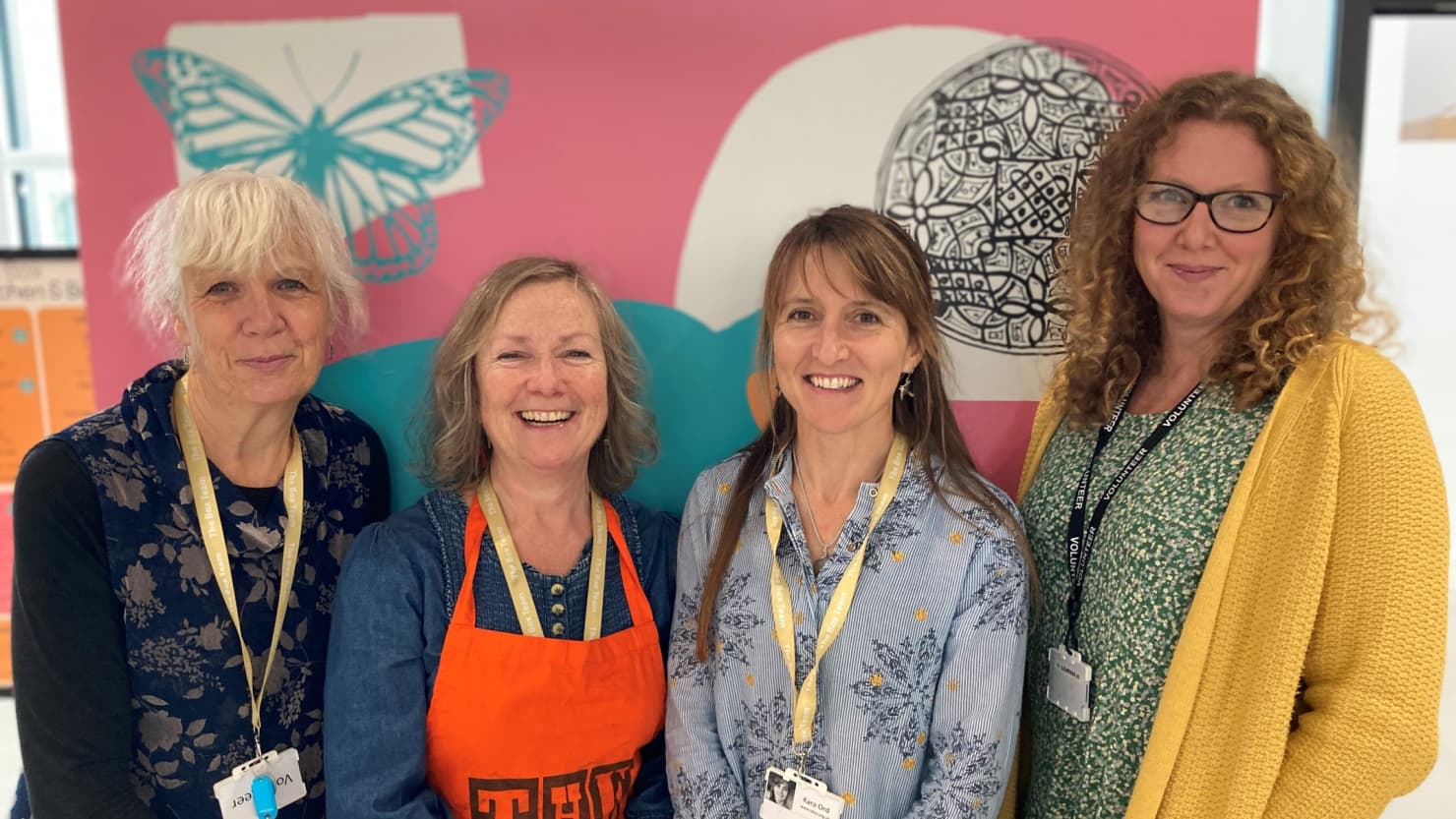 Meet Kay, Jane, Kara and Dom. Together, these four ladies run 'I Wonder', our sessions for pre-schoolers. Each week they make sure our youngest visitors and their adult - whether it's their parent, carer or grandparent - get a warm welcome and have the chance to make some really happy memories together.
We get so many lovely comments about the team so we thought we'd find out a little more about what makes the team tick. Here are some of their responses!
Hello! Tell us who you are and how you got into working or volunteering with I Wonder for?
Hello, I'm Jane. I started at I Wonder because I loved coming to take part in the family workshops at the old museum with my daughter when she was young. I thought the facilitator was amazing, so I wanted to be part of it.
Hi, I'm Kara, the Learning Facilitator for I Wonder. I have been running the sessions since we started back in June 2021. Prior to that I have been working in education for over ten years, as both a secondary school teacher and running my own business providing sensory development and creative art classes, across Plymouth and the South Hams, for babies and children under five.
I'm Kay. My background is primary teaching, Foundation Stage and Year One. I've been volunteering at The Box for about two years both in the galleries, in the 'I Wonder' and school sessions.
I'm Dom, I've been volunteering at The Box for over year now, mainly with the 'I Wonder' team but occasionally I help out in other areas too. I'm a qualified teacher who taught Philosophy, Ethics and RE for ten years in secondary schools before stopping when I had my third child to stay home with my family. Originally with my background in teaching I thought I would volunteer with the school visits or perhaps in the archives. Becka (our Volunteer Officer) suggested the 'I Wonder' sessions and I'm so glad she did as it's been brilliant.
What's the favourite craft that you've made at the classes?
Kara: That's a difficult one for me to answer as we have made many lovely creative artworks and keepsakes. Some of my highlights have been the Mammoth headdress, the ModRoc Egyptian pots and the Songlines clay landscapes. It is really nice to see children playing with materials that they have not used before or often, and for them to create things that help them to learn about and understand the collections and artworks.
Can you remember a great memory of something that happened at I Wonder?
Kara: During one session, we were looking at the marbled glass window (by Leonor Antunes) in St Luke's and we all laid on the floor to look at how the sunlight streamed into the room through the coloured glass. All the children really enjoyed seeing the streams of coloured light and the freedom to use the gallery floor space to look at the art from a different perspective. It was so lovely to see little ones totally engaged in the art and using their senses to enjoy all aspects of the work.
What's your favourite thing in The Box?
Kay: My favourite thing changes as the galleries in The Box change and this is really where The Box is so good at what it does. I really like Port and Mammoth galleries and am finding BAS9 more interesting as I spend more time in the galleries. Whether I personally like it or not, it is always interesting to discuss aspects of it with visitors.
Dom: Ooooo, too many to choose from! I love the display on Gertrude Benham. She was an incredible woman, explorer and mountaineer and I'm amazed more is not widely known about her. As a child, Drake's Drum thrilled and fascinated me so I have a soft spot for that artefact. I also love the Egyptian display as that is my children's current obsession and we seem to find something new in there every time we come. So really anything in the 100 Journeys gallery.
And last but not least, what do you enjoy most about the classes?
Jane: It is joyous! I also love the children singing. Kara is amazing and I also really enjoy the incredible information that she finds each week related to the workshop.
Kara: Well, if I am honest, I absolutely love all of it! From planning the sessions, to delivering them and taking the children around the galleries to discover new things and explore. I really love to see how the children react to and enjoy all of the creative elements of the sessions, and how to see how comfortable and confident they become walking around the galleries. I also love seeing elements of their personalities coming out in the art they create.
Dom: I enjoy very much the company and camaraderie of the I Wonder team; they are, without exception, warm, creative people and an absolute force of positivity in what is at times a bit of a grey world. I also love the relationships we have with the children and their families that come to I Wonder regularly. It's fab to see them change, grow and take such delight in their time at The Box.