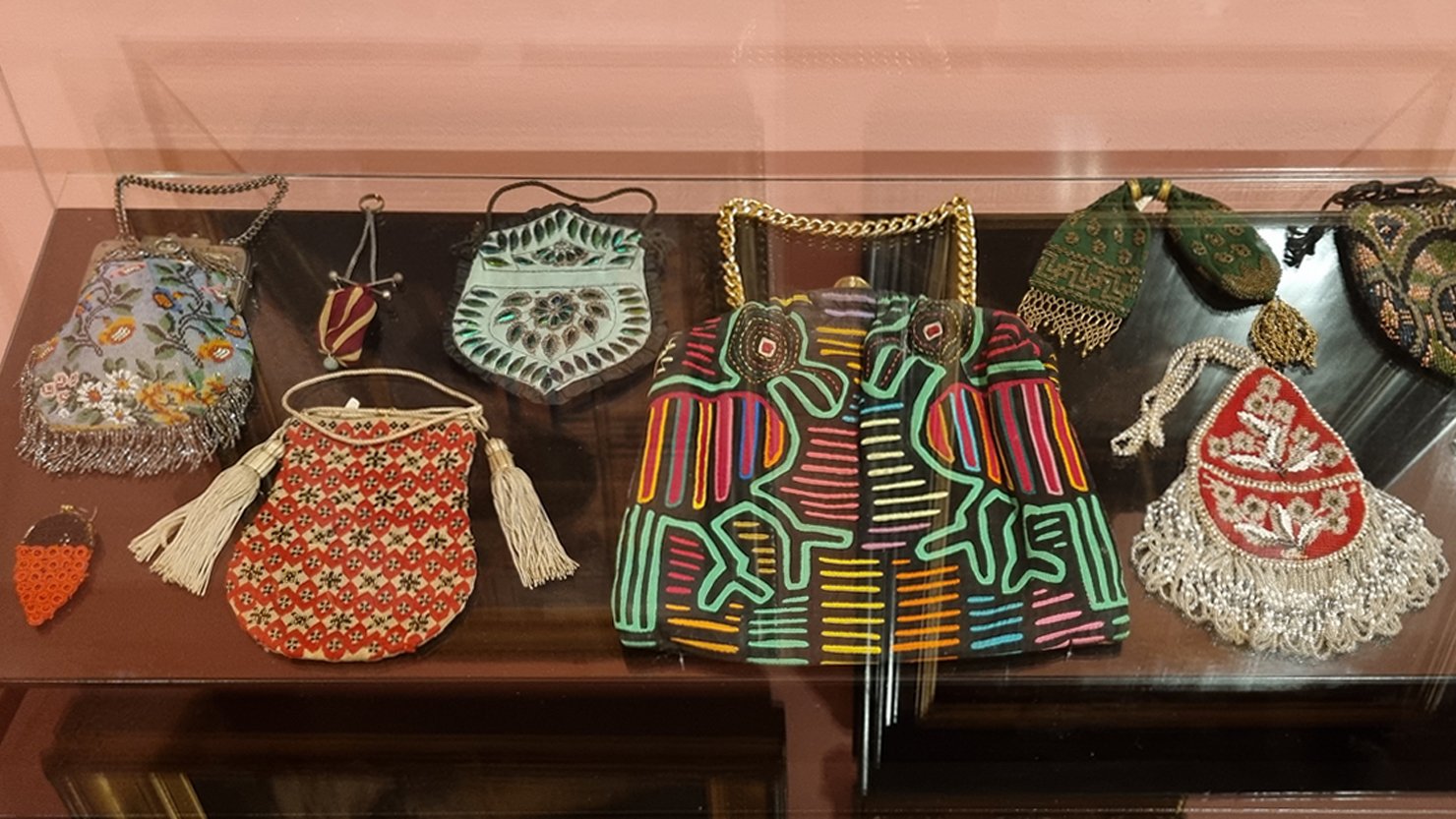 The 'Dress Code – Fashion Stories from The Box' exhibition includes a number of items from our costume accessories collection, and features a section which looks at how jewellery, shoes, bags and more have been used throughout the centuries to enhance an outfit as well as communicate someone's identity and status. These three bags can be seen on display in the exhibition and each have a story to tell.
Beaded Evening Bag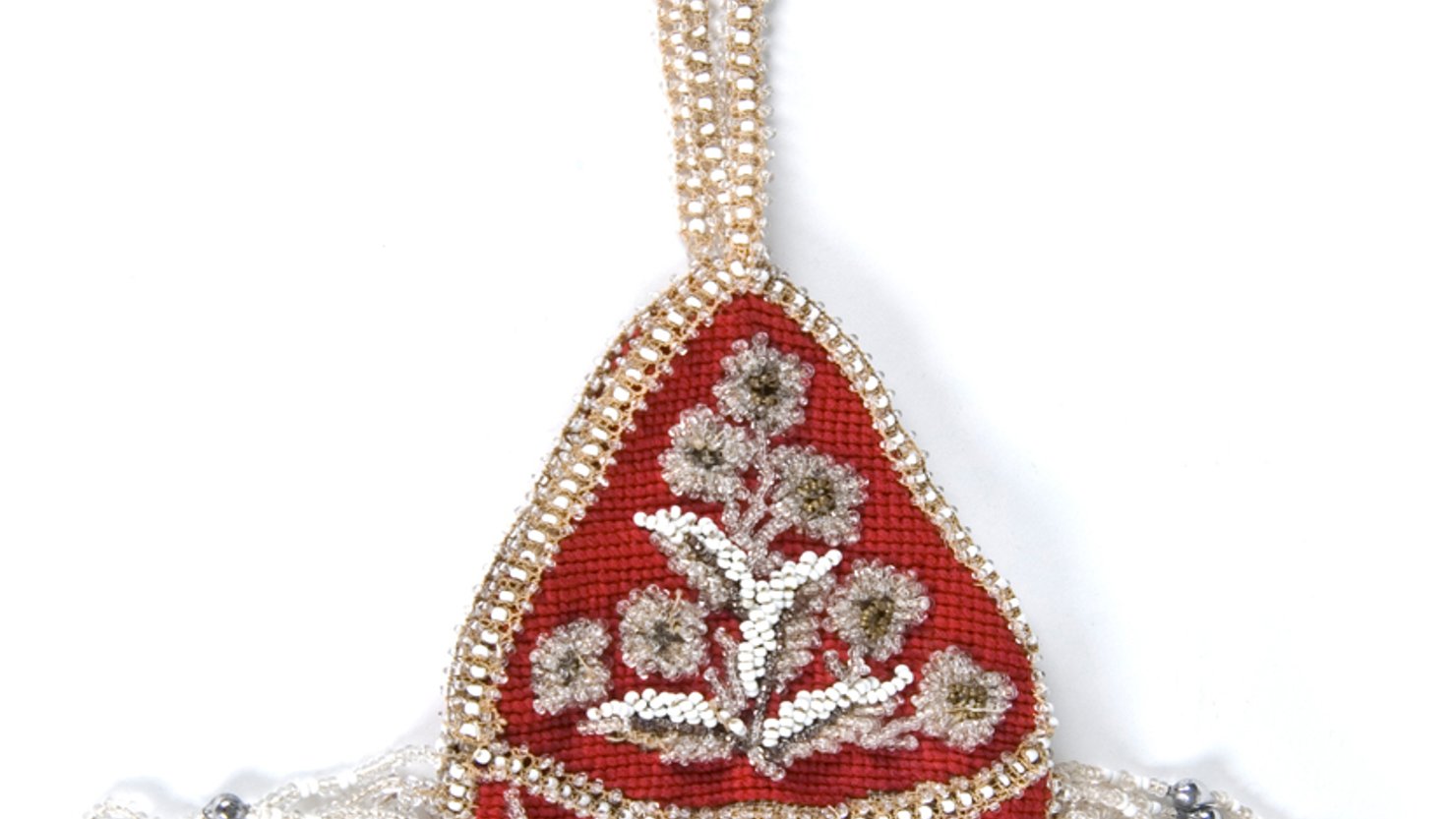 This heavily decorated evening bag came into our collections in the early 1970s but was actually made around a hundred years before, at some point between 1860 and 1890.
A number of items within The Box's costume accessories collection were made in the Victorian era (1837-1901). It was a time when women's fashions changed rapidly for those who could afford them.
The bag is made from wool and embellished with silver and white glass beads in a floral pattern. It also has a beaded handle and beaded fringing around the edges.
Heavy beading on evening bags became very fashionable in Victorian times. Decorative trimmings such as beading, appliqué and embroidery were common and often seen as a way of helping women to fashion their identities. Bags, gloves, parasols, fans and other items all acted as clues to their age, class and aspirations.
The craftsmanship of this bag is evident. It shows how inexpensive materials such as the red woolwork and glass beads could be put together to create a beautiful accessory.
Decorated Purse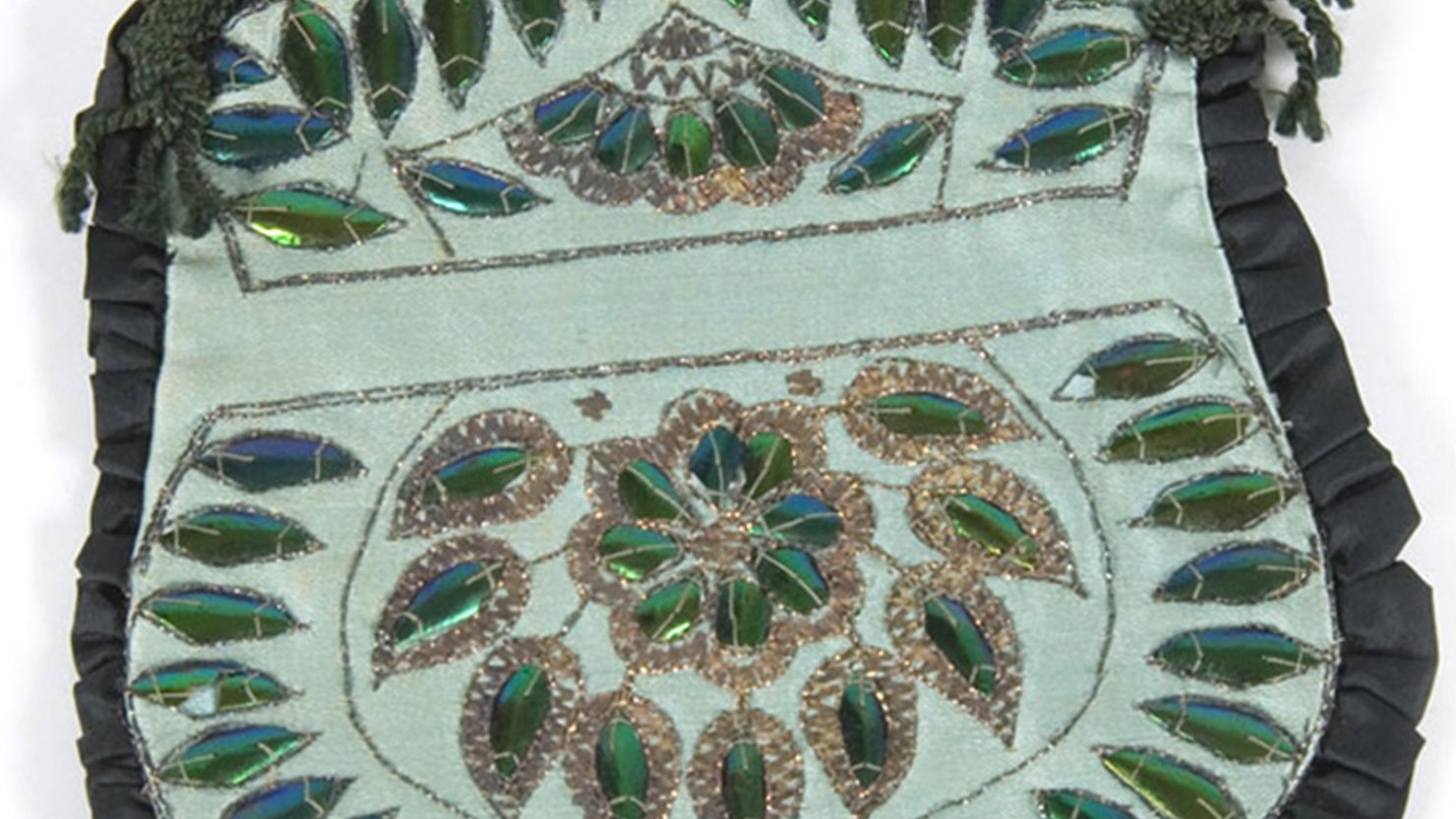 This purse was donated to our costume accessories collection in 1977. It had a Christmas note inside it which said: 'Dear Horza from Auntie - Christmas 1954.' It appears to have been re-made in the 1900s; probably taking the front panel and attaching it to a newer backing.
The decoration features beetle wings arranged with gold embroidery – a style that was popular in England in the 1800s but originated in India and China.
The distinctive green wings of the metallic wood-boring beetle, sometimes called the jewel beetle, were highly prized for their shiny and durable surfaces. They are also very light so were a good alternative to sequins.
This style came to England from India when it was part of the British Empire. Madras and Calcutta were the centres for this art. The beautiful embroidery using beetle wings soon became popular as decoration on shoes, bags, shawls and even entire dresses.
Black Cotton Bag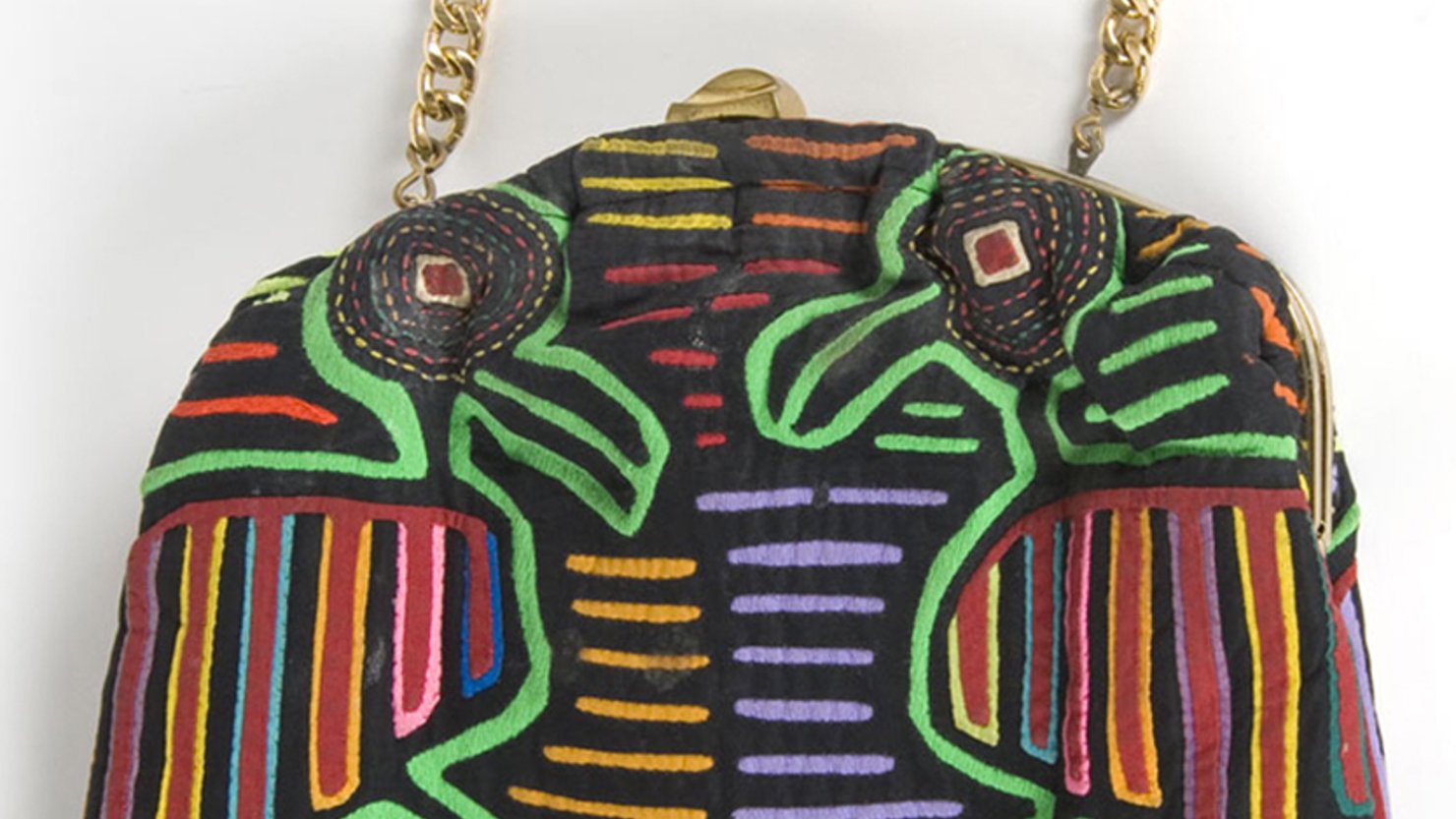 This black cotton bag was bequeathed to our costume accessories collection in 2000 along with a number of other items of clothing. Inside it has a black lining and small pocket. On the outside it features a gold effect frame, clasp and chain and a bright multi-coloured design which includes two large birds.
The previous owner was Baroness Joan Vickers OBE (1907-1994). Known for being as formidable as she was fashionable, she was MP for Devonport from 1955-1974.
During her time in politics she supported a wide range of issues and spoke on matters relating to defence, the deaf, the homeless, women and slavery. She visited many Commonwealth countries, and had previously worked in Indonesia and Malaysia. Most significantly, she was a founder member of the Royal Commonwealth Society for the Blind, known today as Sight Savers. The charity works in some of the poorest countries in the world to eradicate blindness.
In her 1994 obituary in The Independent she is described as 'stylish, incisive, formidable and kind.'
She once told a colleague that she'd never married because she'd never met a man who was strong enough – a far cry from the young woman who was told by Winston Churchill that he disapproved of women in politics, and she'd be better off joining the County Council and wearing a pretty hat!
See all three bags on display in 'Dress Code - Fashion Stories from The Box' - on display until 4 September. The exhibition is open 10am-5pm Tuesday-Sunday and Bank Holidays. Admission is free and there's no need to book.