Tiger puppet from Myanmar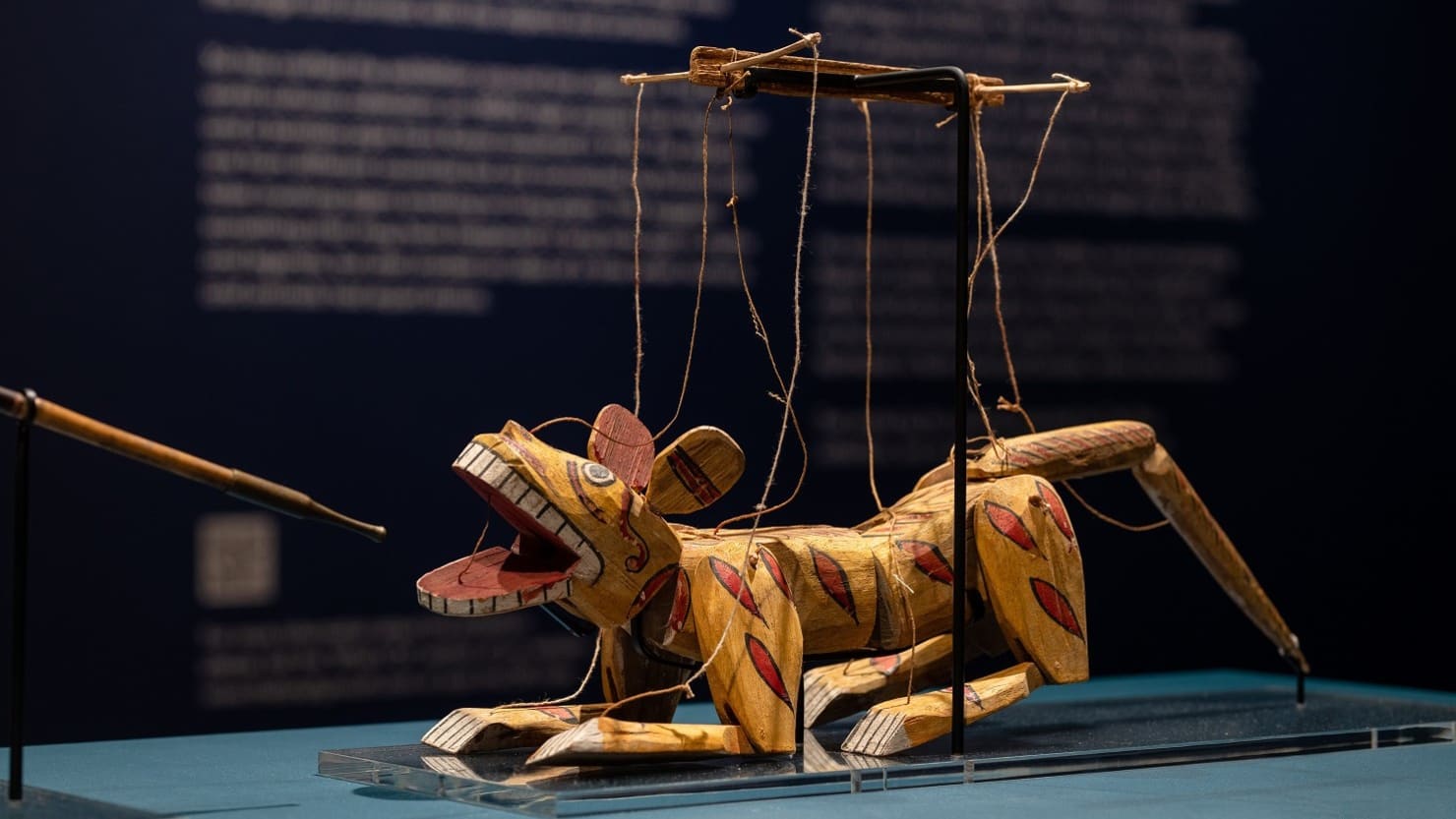 This object dates from the 1800s and is one of two items from The Box's world cultures collection that has inspired Zadie Xa's 'Long ago when tigers smoked' exhibition (until 5 June).
It's a painted wooden string puppet or marionette. It comes from Mandalay in Myanmar, the country previously known as Burma.
Burma's puppet theatre or yoke thé had its heyday in the late 1700s and 1800s when the art of puppetry was patronised by the royal court. A 'Ministry of the Royal Stage' was created which had as many as four puppet stages.
Members of the 'Great Royal Stage' were selected by the king while those of the 'Lesser Royal Stage' were chosen by the queen or crown prince. The puppeteers for the 'Crown Princess' Stage' were, as the name suggests, selected by the crown princess and a 'Royal Court Stage' played for the courtiers.
Until the conquest of Upper Burma by the British in late 1885 yoke thé troupes thrived. Support for them dried up after colonisation took place although today marionettes are more popular again with both residents and tourists.
A new genre of yoke thé is also emerging where a character and a real life actor perform the same moves with the puppets copying and often out-performing the humans!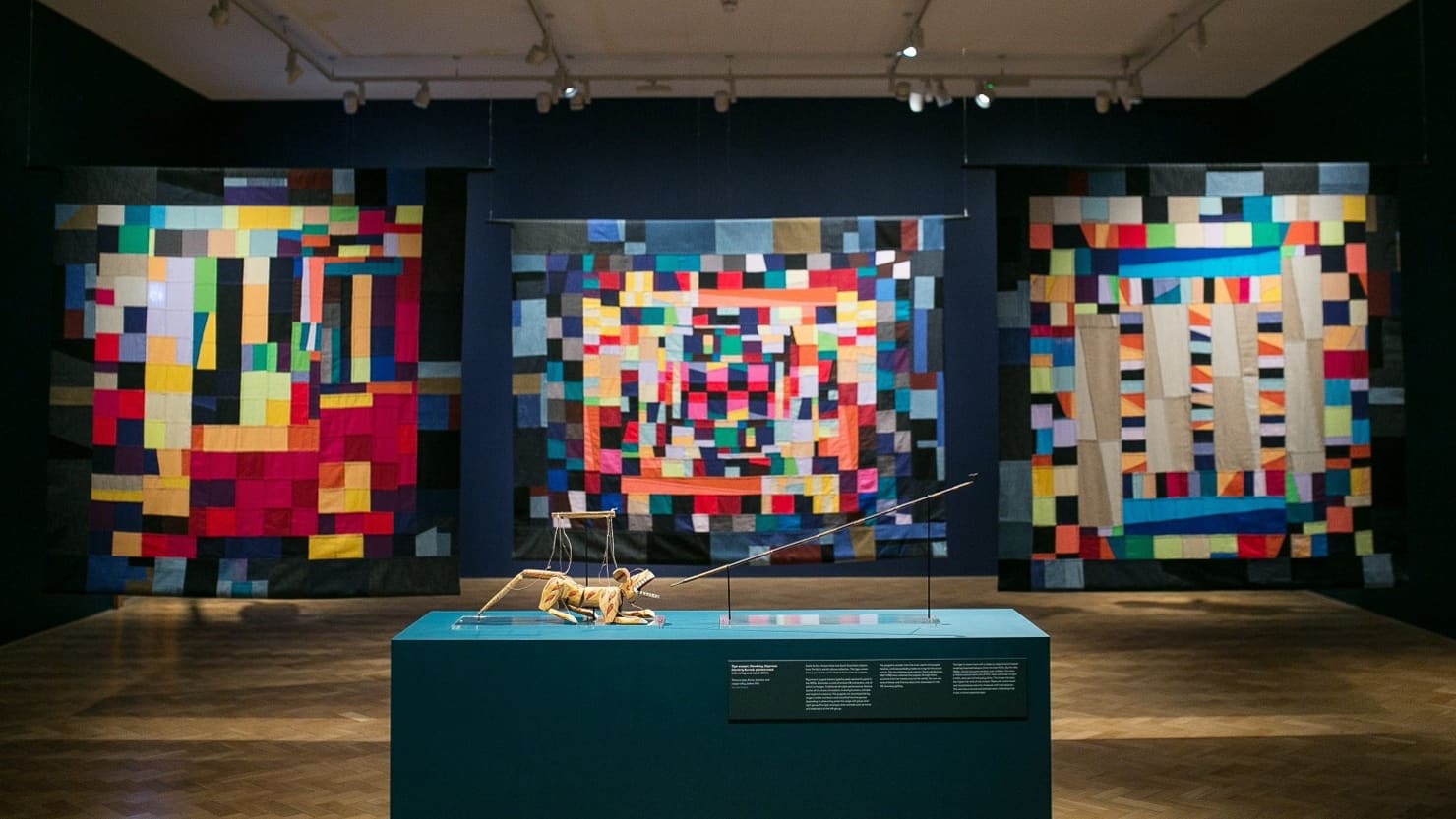 A Burmese marionette troupe traditionally has 28 figures: a horse, a monkey, an elephant, a bird, a serpent, a king, three princes, a princess, a handmaiden, a page boy, four ministers, two jesters, a hermit/monk, an alchemist/magician, a medium, an astrologer, a celestial king, a good celestial being, an evil celestial being, two ogres and, of course, a tiger. Sometimes an old man and old woman are added as two extra characters.
Traditional plays start with a mythological story about the beginning of the world including the creation of animals. As a 'baddie' the tiger enters from the left. As a 'goodie' the elephant enters stage right.
Once the elephant is on stage it dances - although because of its size it can only sway to and fro. Its arch rival, the tiger, is next on the scene. After spotting the elephant, it starts a fight, cheered on by the audience. The elephant, however, usually wins - the triumph of good over evil.
Although each puppet is controlled by only one puppeteer, Burmese marionettes are very intricate and employ 18 or 19 wires for male and female characters respectively.
Our puppet is probably about half the size of a marionette used in performances. As such, we believe it was made as a toy or a souvenir. It was donated to Plymouth's collections in 1934 by the mountaineer and explorer, Gertrude Benham (1867-1937). Unfortunately, no records exist of when she visited Burma, but we know she trekked around the world a number of times between 1904-1914 and again from 1919-1937, and visited neighbouring India on 10 separate occasions.
You can see the tiger puppet on display in the 'Zadie Xa: Long ago when tigers smoked' exhibition until 5 June and find out more about Gertrude Benham in the 100 Journeys gallery. Opening hours are 10am-5pm Tuesday to Sunday and Bank Holidays. Admission is free and there's no need to book.