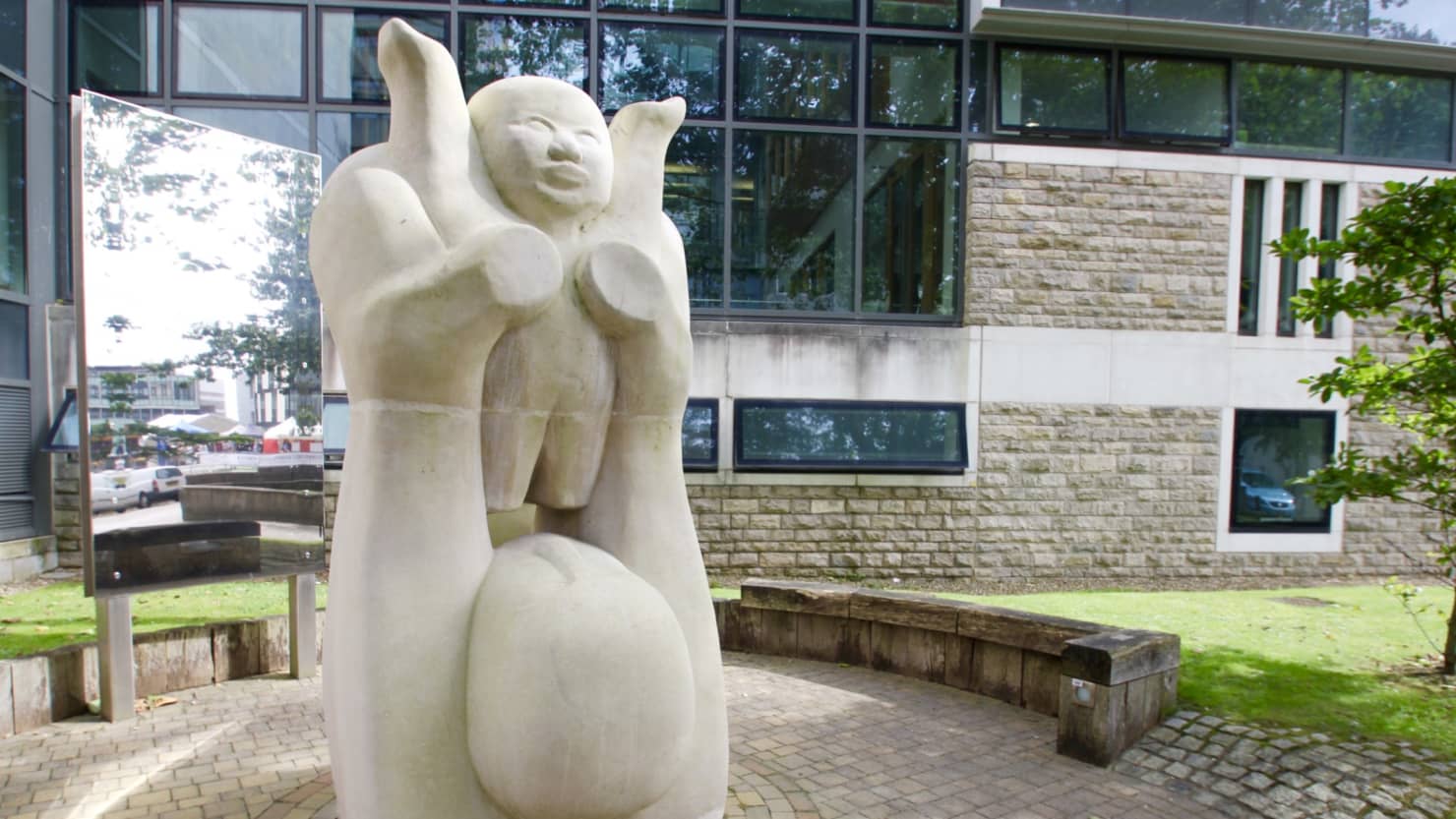 Frances May Favata's large stone sculpture 'Hope' depicts a child being raised to the sky, a symbol of hope for the future. A mirrored panel behind the figure reflects a warped vision of the work to represent the impact and distortion that war has on all ordinary life but particularly civilians and children.
Project Description
Commissioned by the University of Plymouth, the sculpture is located behind the University's Portland Square Building as a memorial to those who lost their life at the site during the Second World War.
The night of 22–23 April 1941 saw Plymouth's heaviest loss of civilian life in a single incident in which 76 people are known to have died. The 'Hope' memorial sculpture is a lasting testament to those who tragically lost their lives that night in the underground bomb shelter, sited on what is now the University campus.
The sculpture design itself was inspired by the harrowing account Favata was told by Portland Square Historian Tony Rees. He recounted the tale of a young couple who, on the night of the terrible bombing, sent their child to Plympton to be cared for. Sadly they died in the blast.
As well as a symbol of hope; the sculpture stands as a tribute to the enduring spirit of the community. Favata said:
"I wanted to make a statement about the tenacity of the people of Plymouth... When I learned about the disaster I started to think about all the wars Plymouth has gone through–the Armada, the civil war, the Napoleonic war, the First and Second World Wars–and I was struck by how much upheaval the people of Plymouth have survived."
About the Artist
Plymstock-based sculptor Frances May Favata has over 30 years of experience carving stone. Working both large and small scale all her works are based on the human form.
Favata's widely recognised commissions include 'Trinity' (1994) for the Bishop of Exeter in the Palace Gardens, representing the Holy Trinity.
Her more recent works explore the complexity of human relationships and the use of emotion as the main element binding shape and form in stone.
Related Links