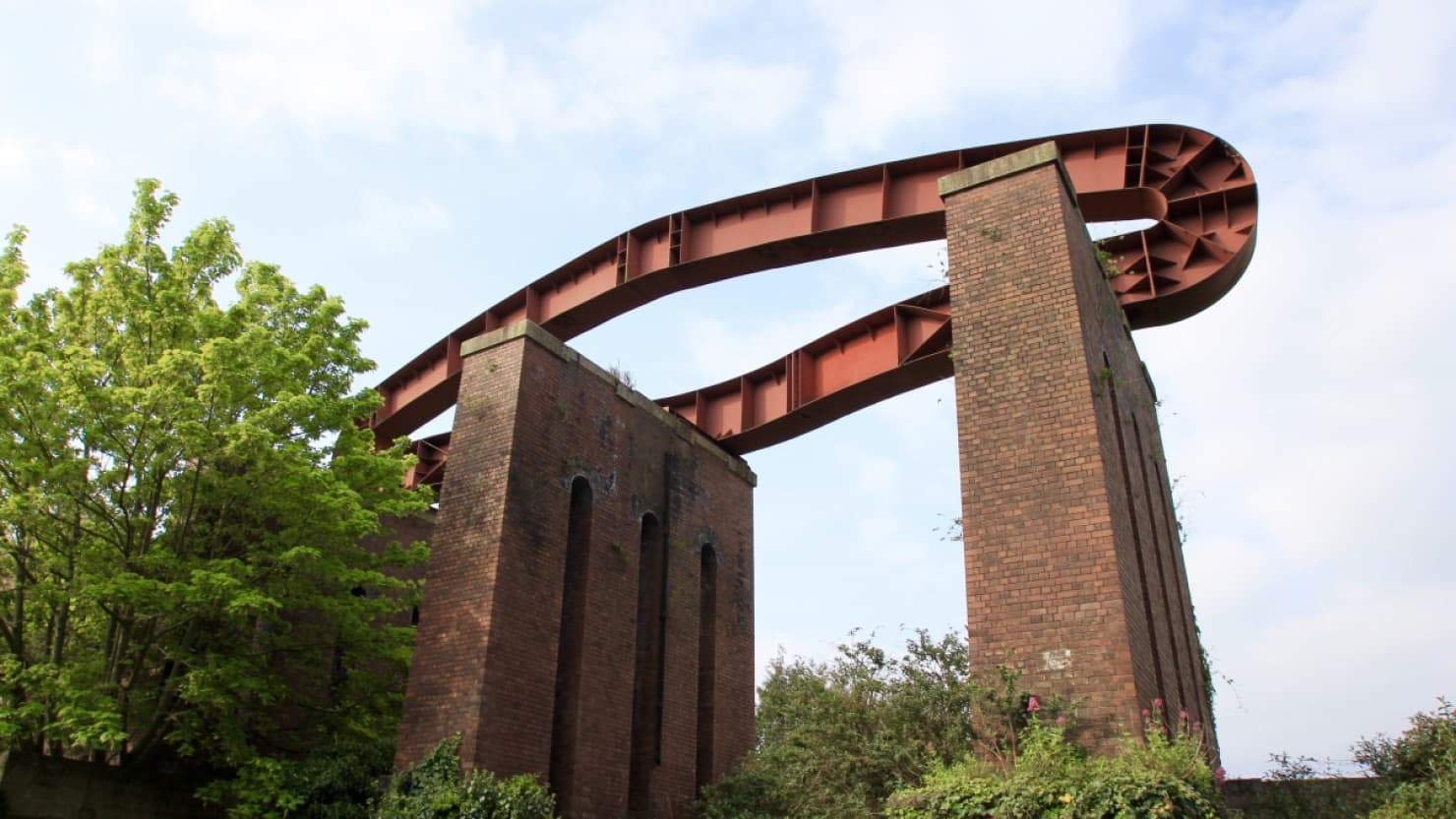 An 80-foot long, painted, mild steel loop sculpture which is sited on the top of three brick railway pillars in Victoria Park. 'Moor' is the work of one Britain's foremost sculptors, Richard Deacon. The work was fabricated by Blight and White in Plymouth under the supervision of the artist.
Artist: Richard Deacon
Category: Permanent
Date: 1990 to present
Location: View on our Public Art Map (desktop and tablet; requires Google sign-in) Find the location on a mobile
Commissioner: Television South West Art
Produced by: Blight & White Limited
Partners: British Railways Board, Corporate Community Fund
Supporters: Plymouth City Council, Arts Council England
Project Description
The title of the work has a double meaning; it signals Plymouth's close relationship to Dartmoor, and plays on the name of Henry Moore, to whom Deacon pays homage. Moor also refers to the bridge-building genius of Isambard Kingdom Brunel, whose Tamar Railway Bridge is nearby.
'Moor' was commissioned by TSWA Ltd in 1990 as part of its 'Four Cities' project, which included commissions in Derry, Glasgow, Newcastle and Plymouth. The Four Cities commission aimed to present the possibilities of what art outside of the gallery space could be. Many of the works challenged conventional expectations of public art. With the exception of some of the works, the concept behind Four Cities was to create temporary pieces that left traces and a memory of their presence in the public realm.
As well as its location in Victoria Park, another great place to view 'Moor' is from a train leaving Plymouth Station.
About the Artist
Richard Deacon often refers to himself as a fabricator rather than sculptor; the focus of his work is to emphasise the construction behind a finished piece and turning everyday forms into something extraordinary.
His work ranges from smaller scale gallery pieces to large scale works situated in sculpture gardens and commissions for public sites around the world.
He was awarded the Turner prize for his work in 1987 and has recently been awarded an Honorary Fellowship from Plymouth College of Art; to recognise his exceptional achievement in the creative arts.
In his acceptance speech he highlighted his personal connection with Plymouth:
'It may seem arbitrary for me to be receiving this honorary fellowship, but actually I owe Plymouth and the surrounding area a great deal – really it should be the other way around, I should be honoring the city and the county.'
Related Links