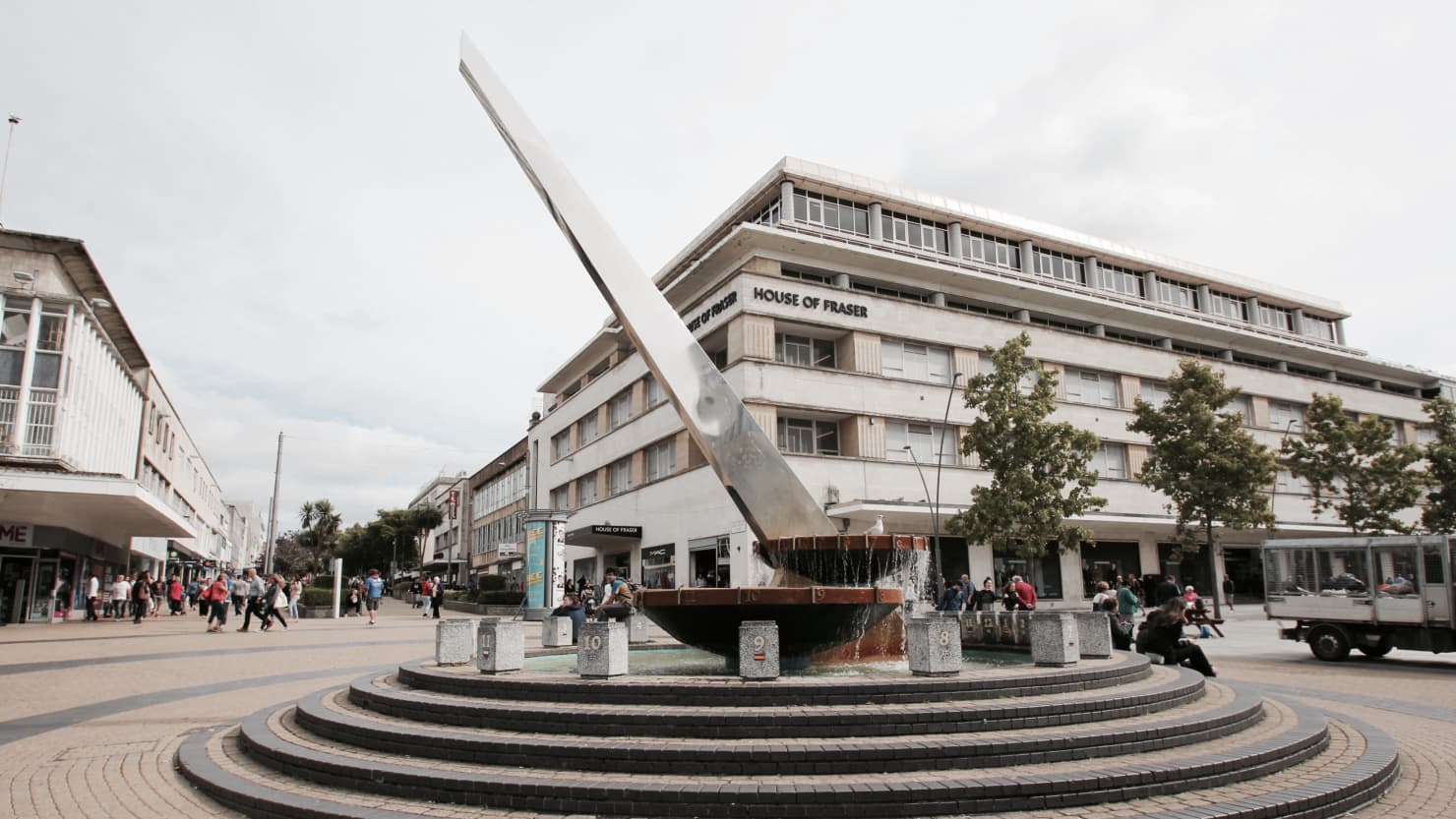 'The Armada Dial' sits at the junction of Armada Way and New George Street in Plymouth City Centre. Created by artist and sculptor Carole Vincent the artwork features a large sundial design and fountain. The artwork was commissioned by Plymouth City Council as part of the pedestrianisation of the City Centre in 1987.
Project Description
The work was officially launched on 22 July 1988 by Queen Elizabeth II and commemorates the 'Armada 400' celebrations in the city. (Image courtesy of Plymouth Herald image archive)
Cast in concrete with Terrazzo and stainless steel, the sundial also features 12 plinths around the outside. Information panels on top of the stone plinths offer in detail ways to 'read' the sundial in a range of different languages.
Photograph of a close up of the sundial fountainThe information plinths were made a particular feature of in 2010 when they were covered with decorative textiles as part of 'Mrs Smith's hit on Plymouth sundial' – a secret commission by Plymouth College of Art. Guerrilla textiles installed overnight to the surprise of the public!
The sundial is set to G.M.T which differs in the summer (B.S.T) by one hour in advance. The sun is also due south in Plymouth 17 minutes later than it is at Greenwich; therefore at some points of the year the dial runs 1 hour 17 minutes behind G.M.T.
About the Artist
Carole Vincent is an artist working in concrete. She lives and works in Boscastle, Cornwall. Painter as well as sculptor, she has explored the use of natural colour and texture in concrete for sculpture. Her work with pigments has achieved remarkable success, opening new doors to architects, engineers and planners. Her passion is to work on commissions for specific environments, ranging from public spaces to individual buildings and gardens.
Related Links