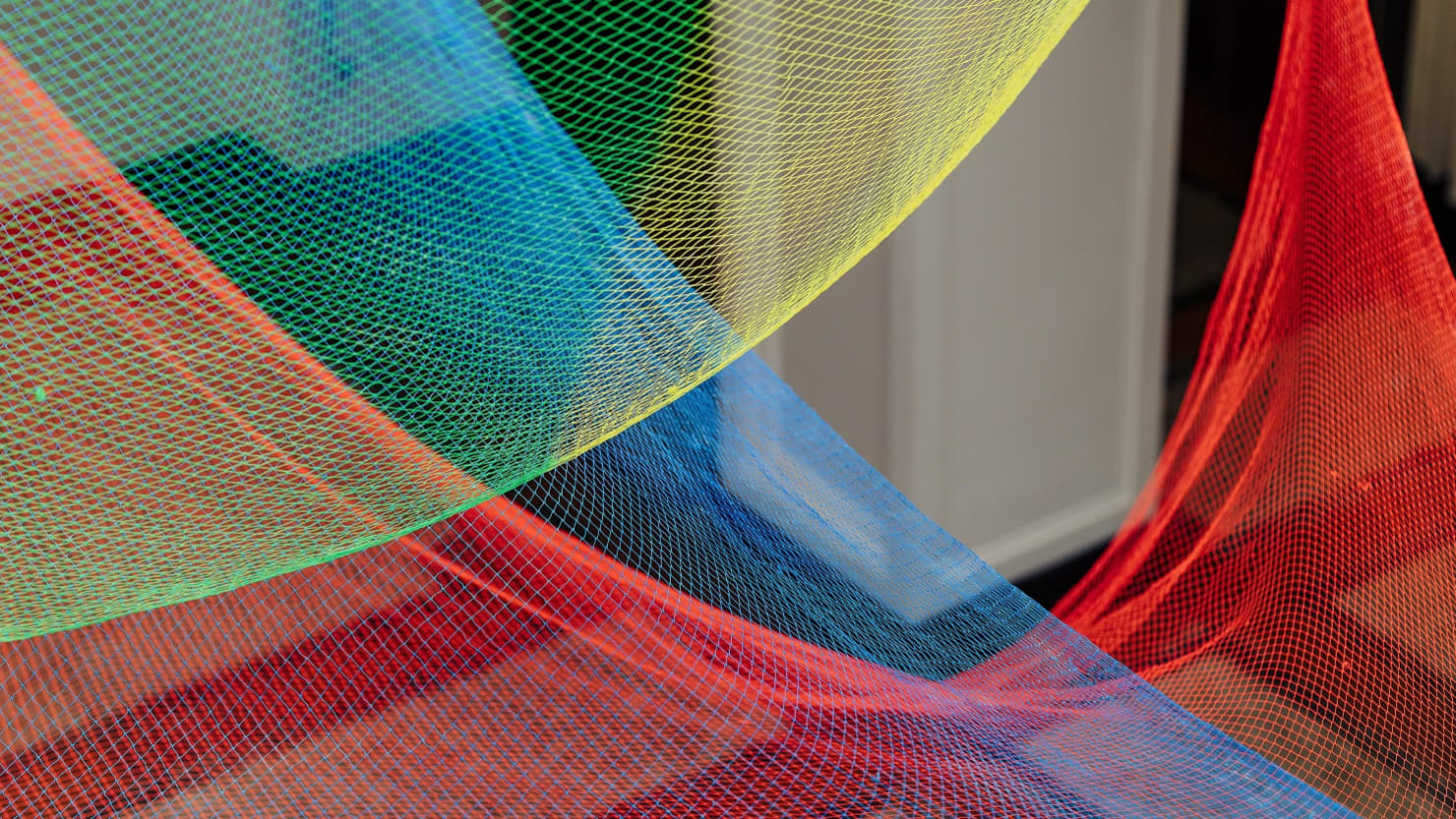 There are 11 different works in the 'Rana Begum: Dappled Light' exhibition (until 24 September), three of which can be seen in The Box's main building. As we head into the final fortnight for this visually stunning show, make sure you check them out when you visit!
No. 975 (2019-2020)
Paint on mild steel
You'll notice this work as soon as you arrive at The Box. No. 975 was created by Begum during a residency in Istanbul, Turkey where she worked with resident craftspeople shaping materials such as copper, brass and aluminium.
Begum has used moulds of different sizes, shapes and colours to suggest Istanbul's skyline. The work has been located across a full wall in our South Hall (the main entrance area in between our shop and restaurant) under the skylight. On bright days the shadows change and stretch throughout the day as the sun passes over the building.
You can also view the work from the Active Archives gallery on our first floor. This gives you a chance to see it from a different angle and fully appreciate the detail of all the forms.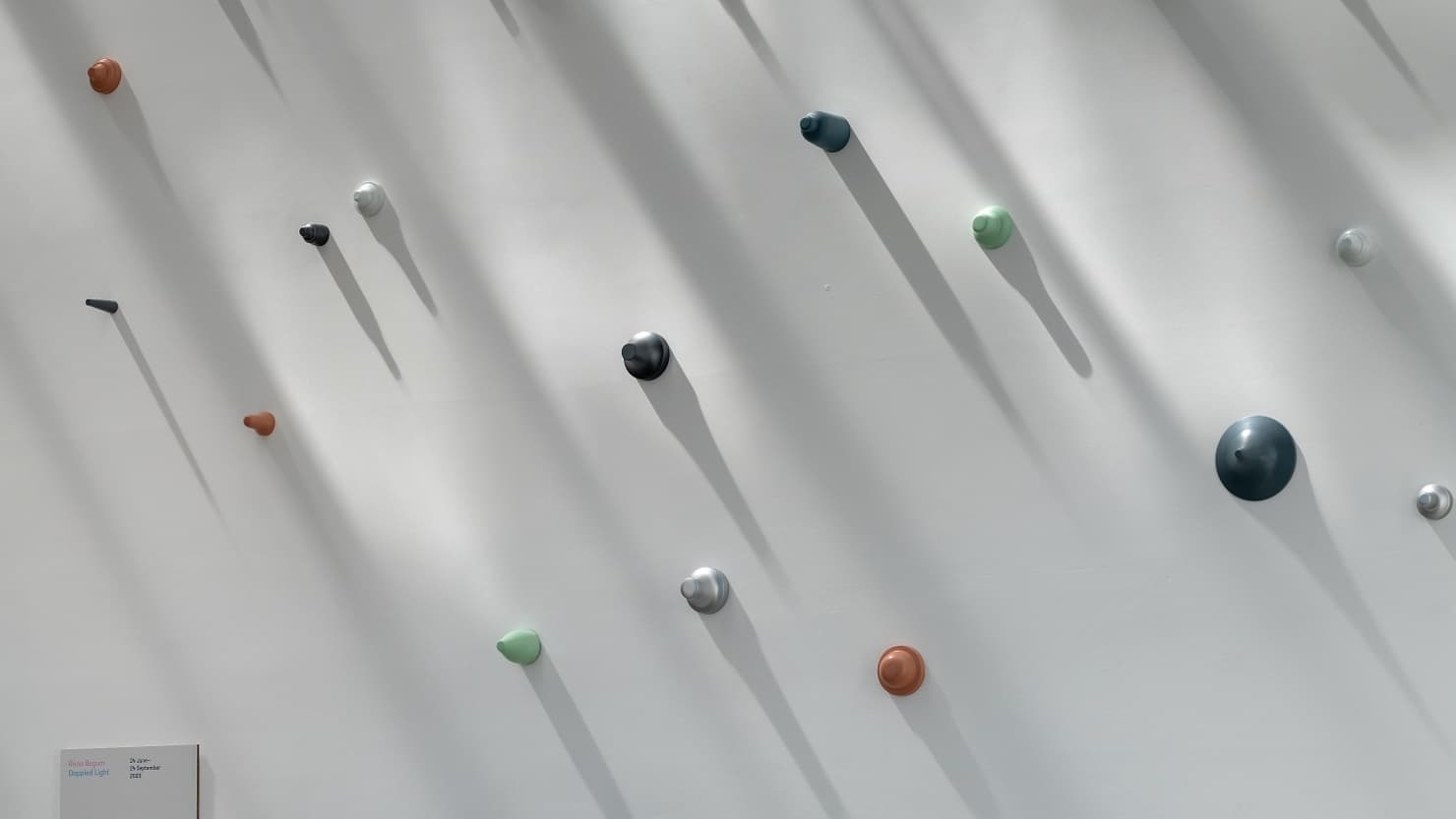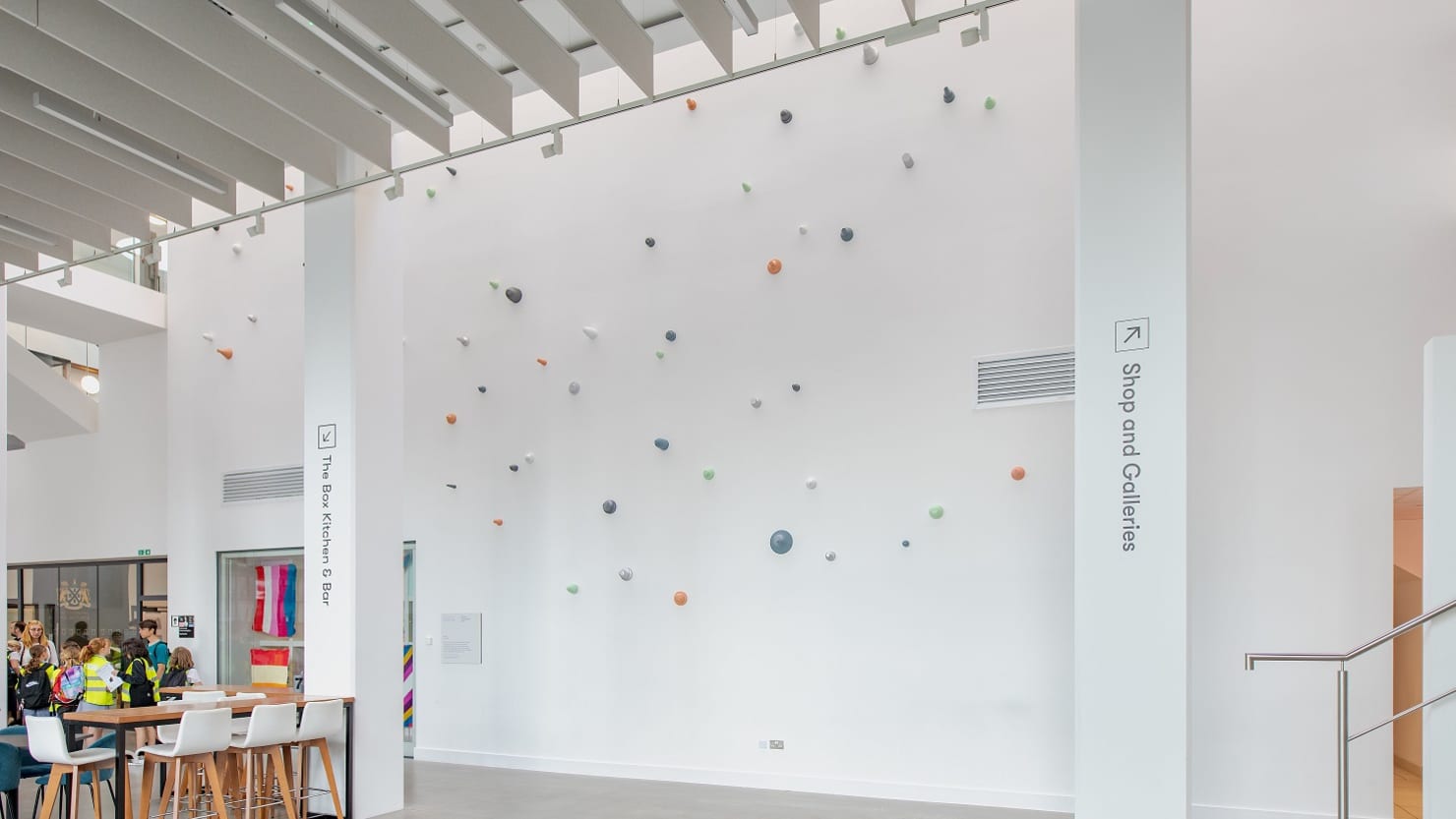 No. 1269 Net (2023)
Spray painted fishing net
Suspended in our North Hall, Begum's spray-painted fishing net was inspired by a residency in St Ives, Cornwall as well as her childhood memories of being close to the sea in Bangladesh.
During her time in St Ives, Begum's studio was next to a fishing yard. She became friends with the local fisherman and was able to experiment with the net material and the application of spray paint to add colour and vibrancy.
Installed against white walls, the bright neon colours zig-zag under the skylights: Begum describes it as 'drawing across the space'. The final form of the net was decided on site in response to the architecture. Make sure you take time to look at it from both below and above. Due to the different light levels, the colours look completely different in both places.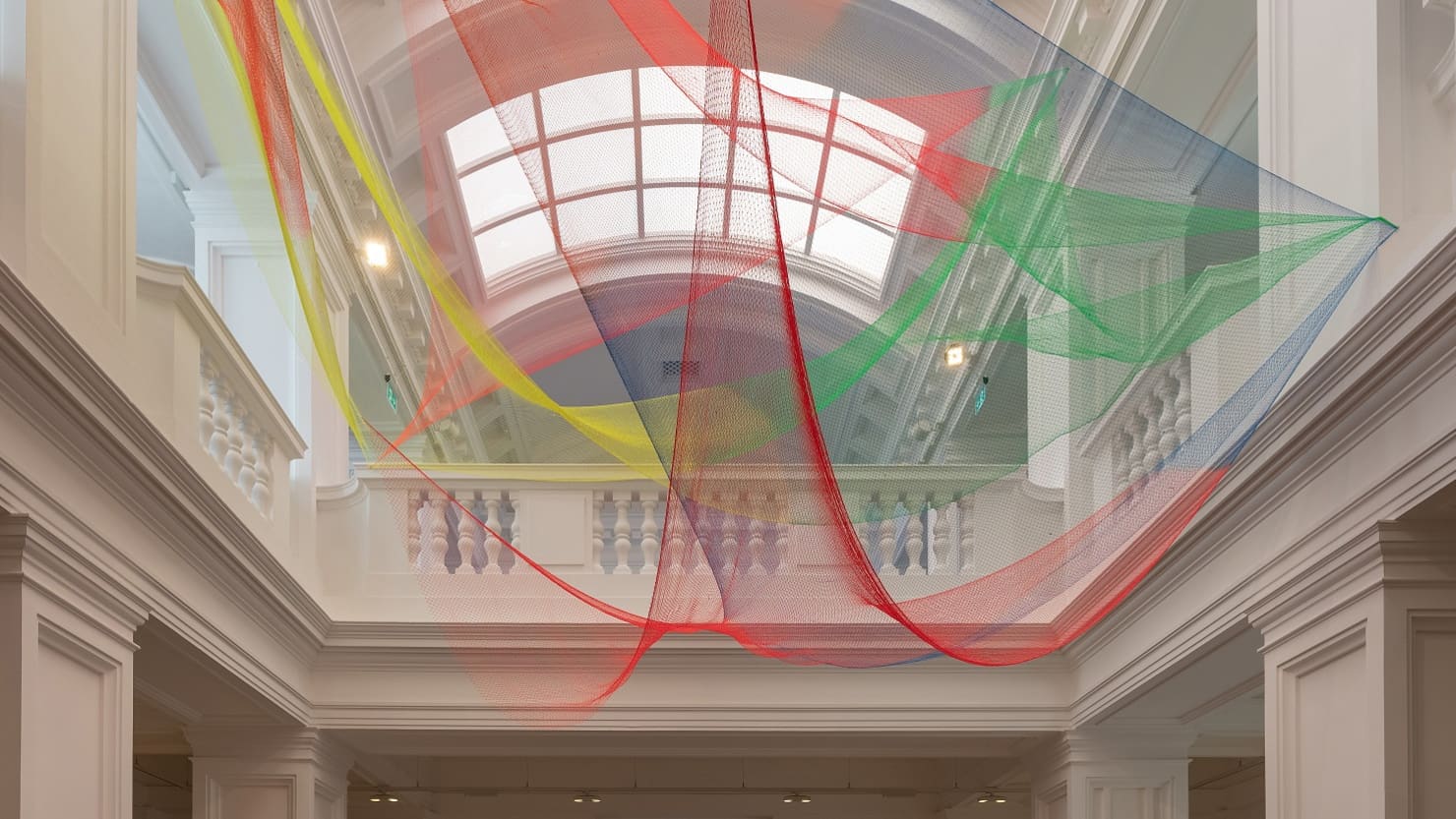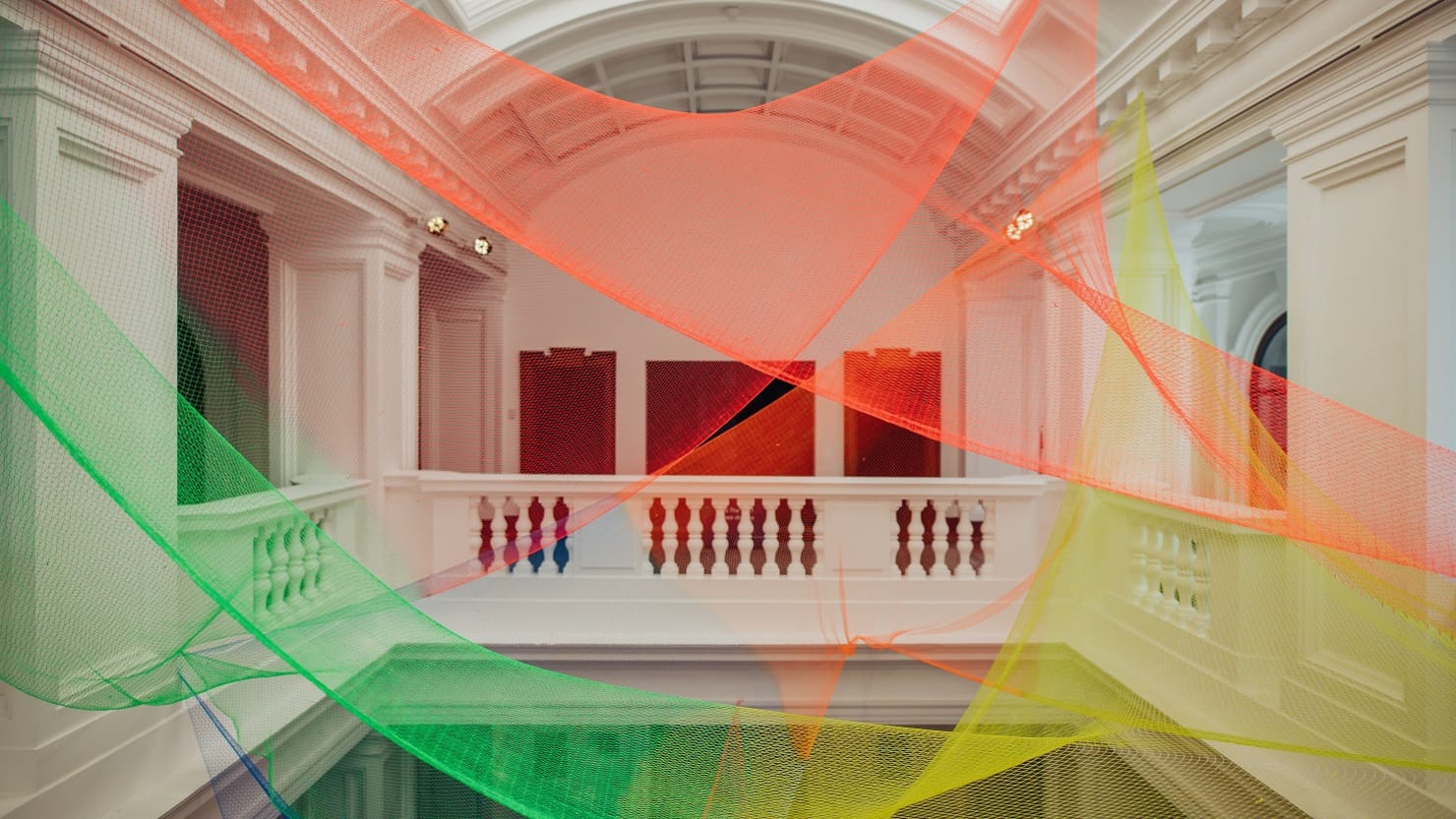 Reflector Bench (2023)
Reflectors on aluminium
Need to take some time to appreciate No. 1269 Net before you move on to another space? You can sit on Begum's Reflector Bench at the top of our main staircase - another example of a work by her that uses plastic automobile reflectors (you can see another wall-based piece in St Luke's church). This example combines red and orange in a 3D form inspired by urban architecture. If you're not going to sit on it, take a look at the light bouncing off it as you move around.
While you're in our main building don't forget to take a look at the three new paintings by Begum in our Reframing Reynolds: A Celebration exhibition (until 29 October).
Find out more about the other Dappled Light artworks in St Luke's church.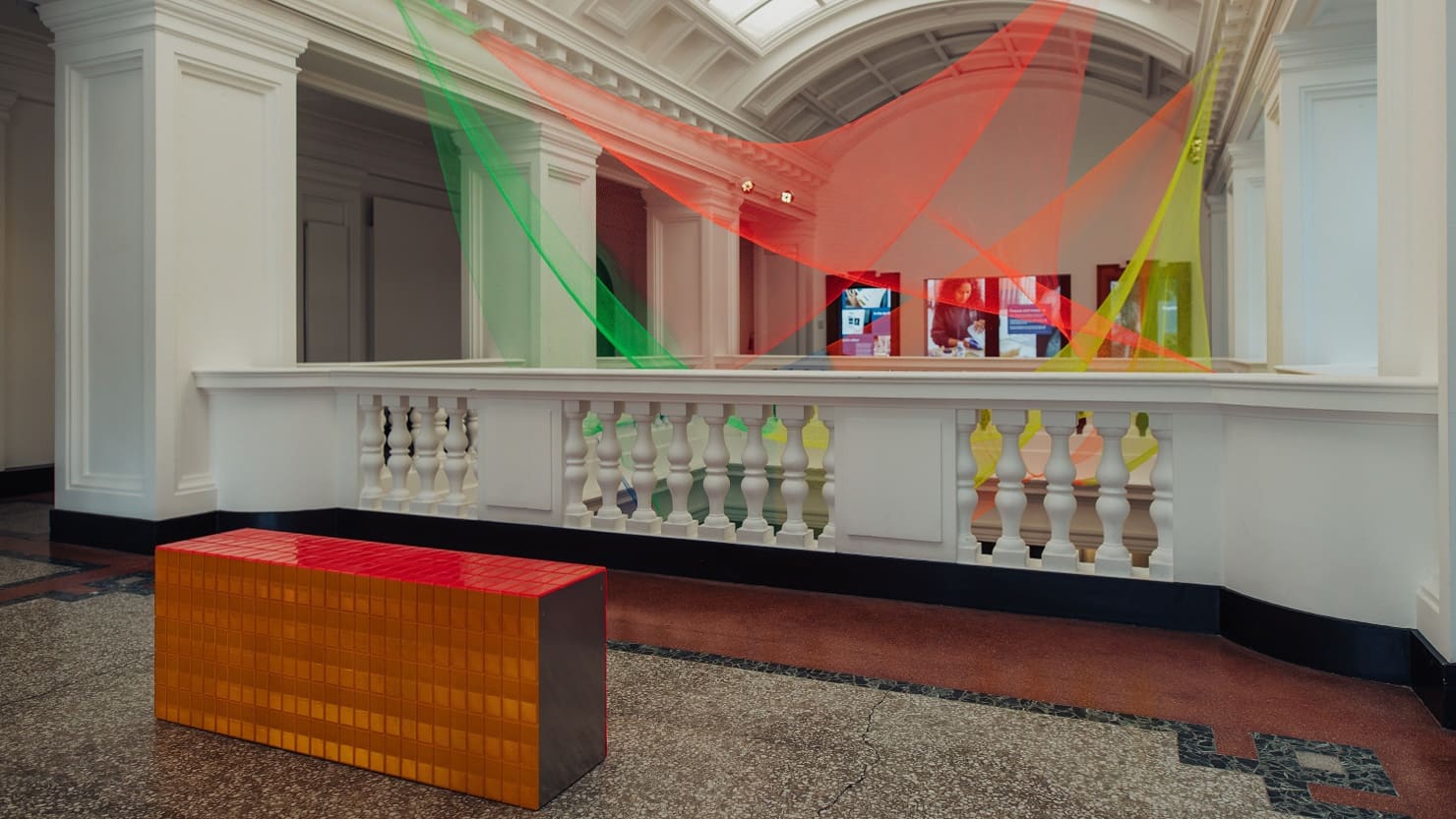 Rana Begum: Dappled Light is on display in St Luke's and the main building at The Box until the end of Sunday 24 September.
Opening hours are 10am-5pm Tuesday-Sunday. Admission is free and there's no need to book.