Solo shows by international artists take inspiration from Plymouth's collections and archives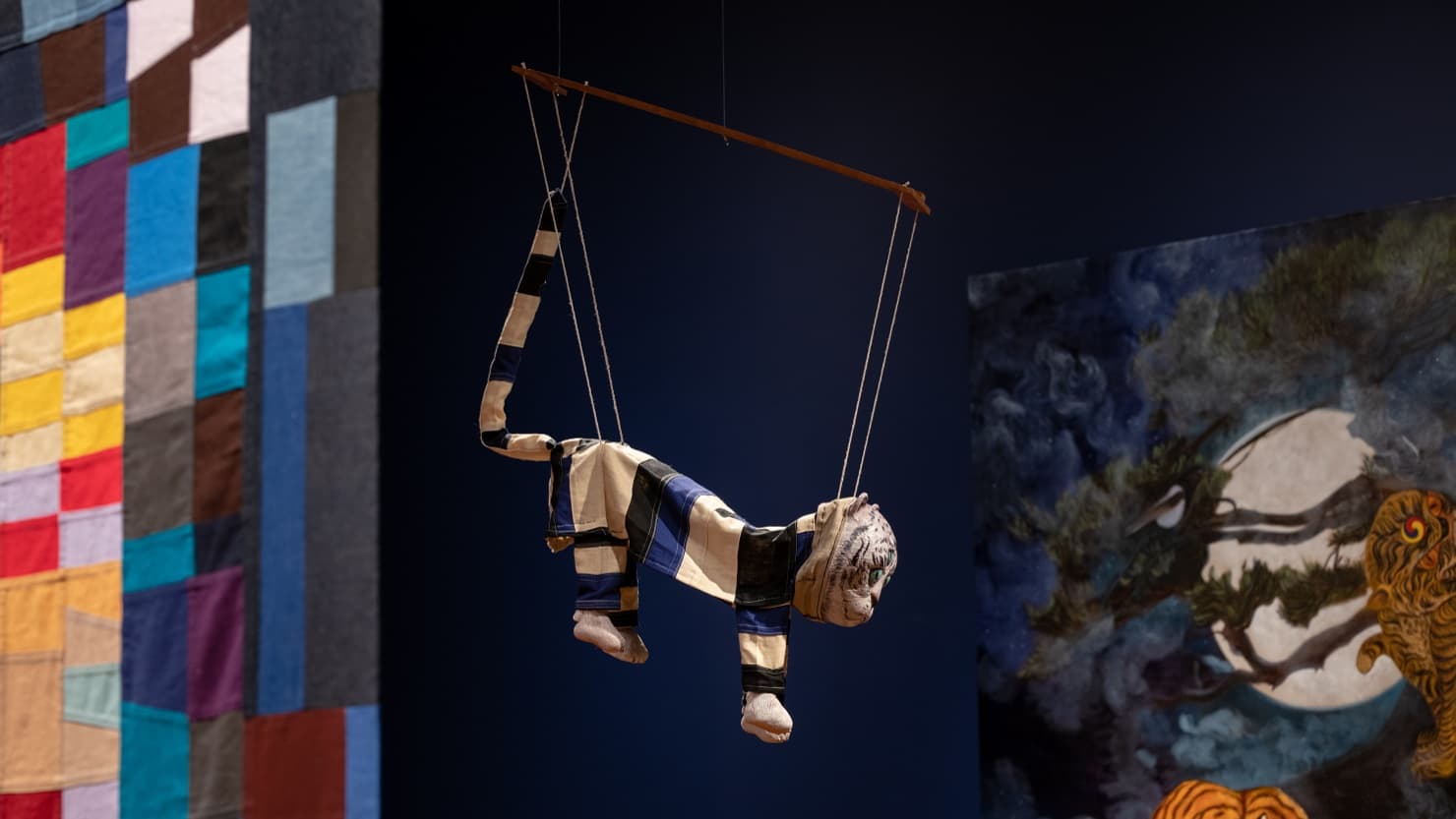 Two exhibitions now on display at The Box feature brand new works by international artists that are inspired by or speak to historic objects from Plymouth's collections and archives.
'Zadie Xa: Long ago when tigers smoked' (until 5 June) features beautiful newly commissioned textiles, paintings and sculptures by the Canadian artist, who will also have a solo exhibition in London's Whitechapel Gallery later this year. The works have been inspired by two objects from The Box's world cultures collections which Xa researched during the development of the exhibition: a 1800s tiger puppet from Myanmar and a bamboo pipe from Korea that was acquired in 1910.
Both objects can also been seen in the exhibition and are connected by Korean folk tales involving tigers smoking on long pipes. It's a concept that speaks to something that may have happened a long time ago, and also hints to an idea of a time when humans and animals were equal. Over the centuries, and depending on the geographical location and culture, tigers have come to represent a range of human emotions, attributes, behaviours and social status. In much of South East Asian culture they are sacred and a symbol of keeping demons at bay. Today, they are endangered animals with the tiger population declining by around 95% since the beginning of the 1900s.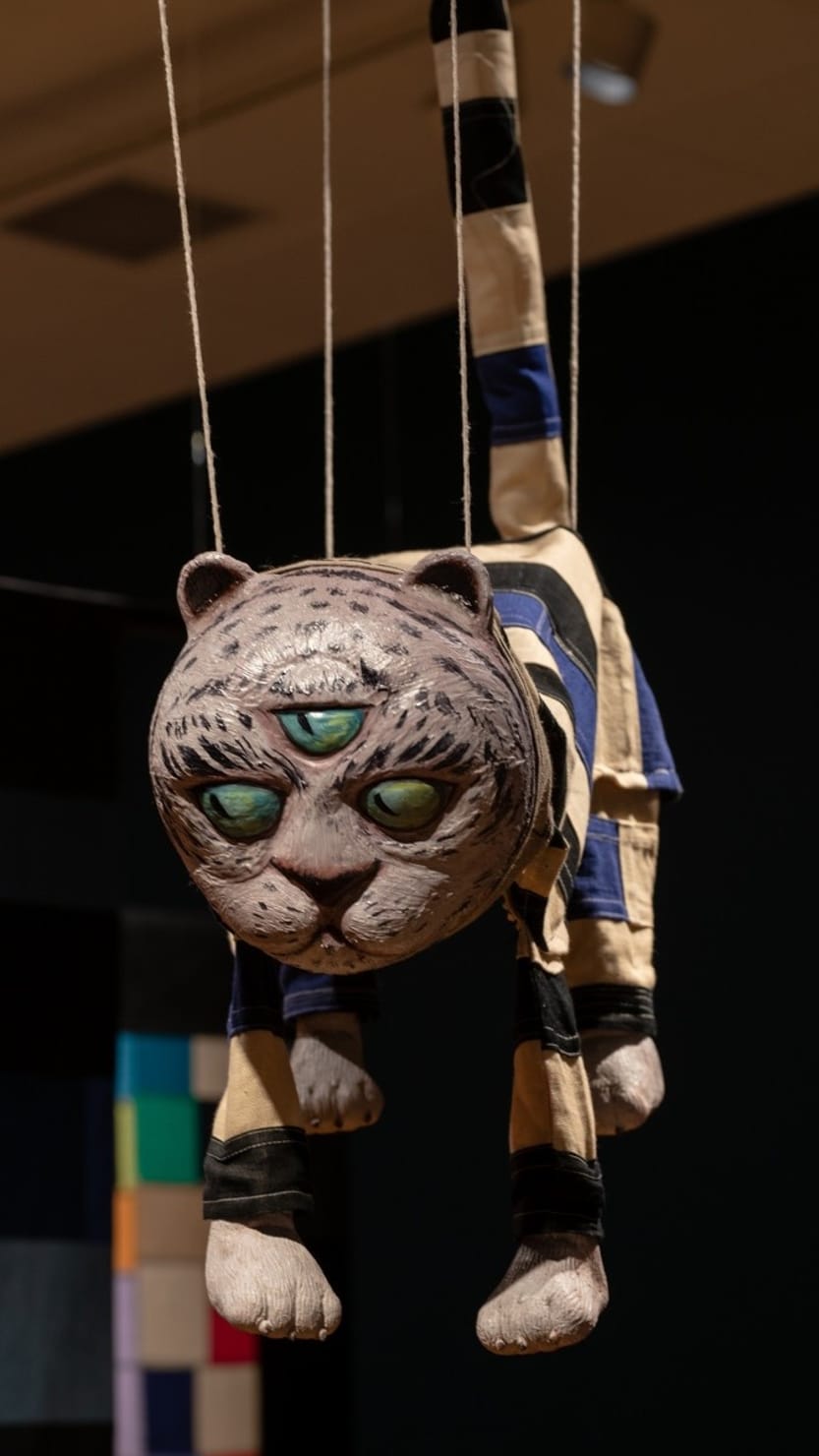 This dialogue with The Box's historical collections expands on Xa's interest and exploration of the 'trickster archetype' and the way its appears within animals in mythology and folklore. The exhibition also continues Xa's approach to collaboration, with many of the works on display being co-created with fellow artist Benito Mayor Vallejo.
The Box has put two additional works by Xa on display in its main building while the exhibition is on show; a distinctive blue mask titled Xixho and an eye catching mixed media cape titled 91 Chyzanthemumz 4 Imsook. Both were created and acquired by The Box in 2018 with the support of the Contemporary Art Society's Collections Fund at Frieze.
Nicoletta Lambertucci, Contemporary Art Curator said:
Long ago when tigers smoked' is a vibrant and significant example of how The Box brings together contemporary artists and historic collections. Our dialogue with Xa began in 2018 with the acquisition of her works and then led to an invitation to research our collections. This long-term conversation has produced a fantastic exhibition with an entirely new body of works that deepen The Box's understanding of its own collections whist enriching the artist's practice.
'Maurizio Anzeri: On The Move' (until 11 September) is an exhibition that stems from The Box's continued exploration of 'making' and how contemporary artists use different media, techniques and materials to reflect our society and shared histories. It unfolds over the course of the next few months and spans several spaces at The Box. Later in the summer it will also include The Levinsky Gallery at the University of Plymouth.
Visitors first encounter Anzeri's work as soon as they arrive at The Box with Plaster People, a series of 13 life size figures started in 2020 and created from plasters in a range of skin colours. Present Traces – Blonde can also be seen in this space. Mysterious but at the same time soft and inviting, this large-scale sculpture has been created from synthetic hair and is suspended from the ceiling, providing an element of drama as visitors walk up the stairs to The Box's galleries.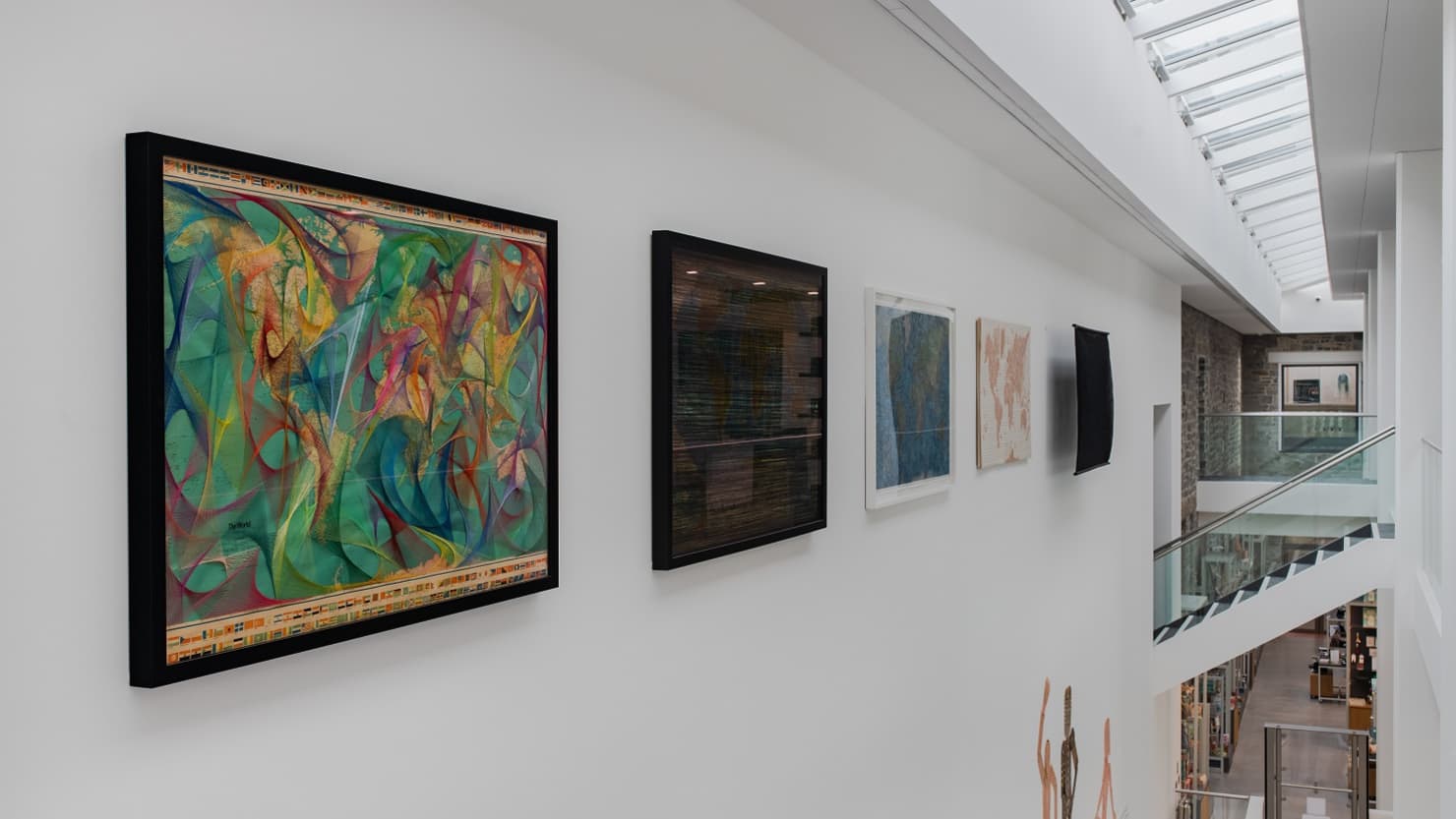 Five mixed-media maps of the world are viewable from The Box's Active Archives on its first floor. The works interact with The Box's archival displays, reflecting on the themes such as migration, displacement and conflict. Often using found objects, Anzeri has altered the maps in a very personal way using plasters, found objects and embroidery to tell a new story about borders and connections.
Artist Maurizio Anzeri said:
I am interested in the relationship between intimacy and the outer world. The intimate human action of embroidery and stitching is a ritual of making and reshaping stories and history of people.
Little Black Dress is like an armour that protects and celebrates the body. Isabella was a visionary and a vision at the same time. She didn't want to look at sculptures, she wanted to wear them.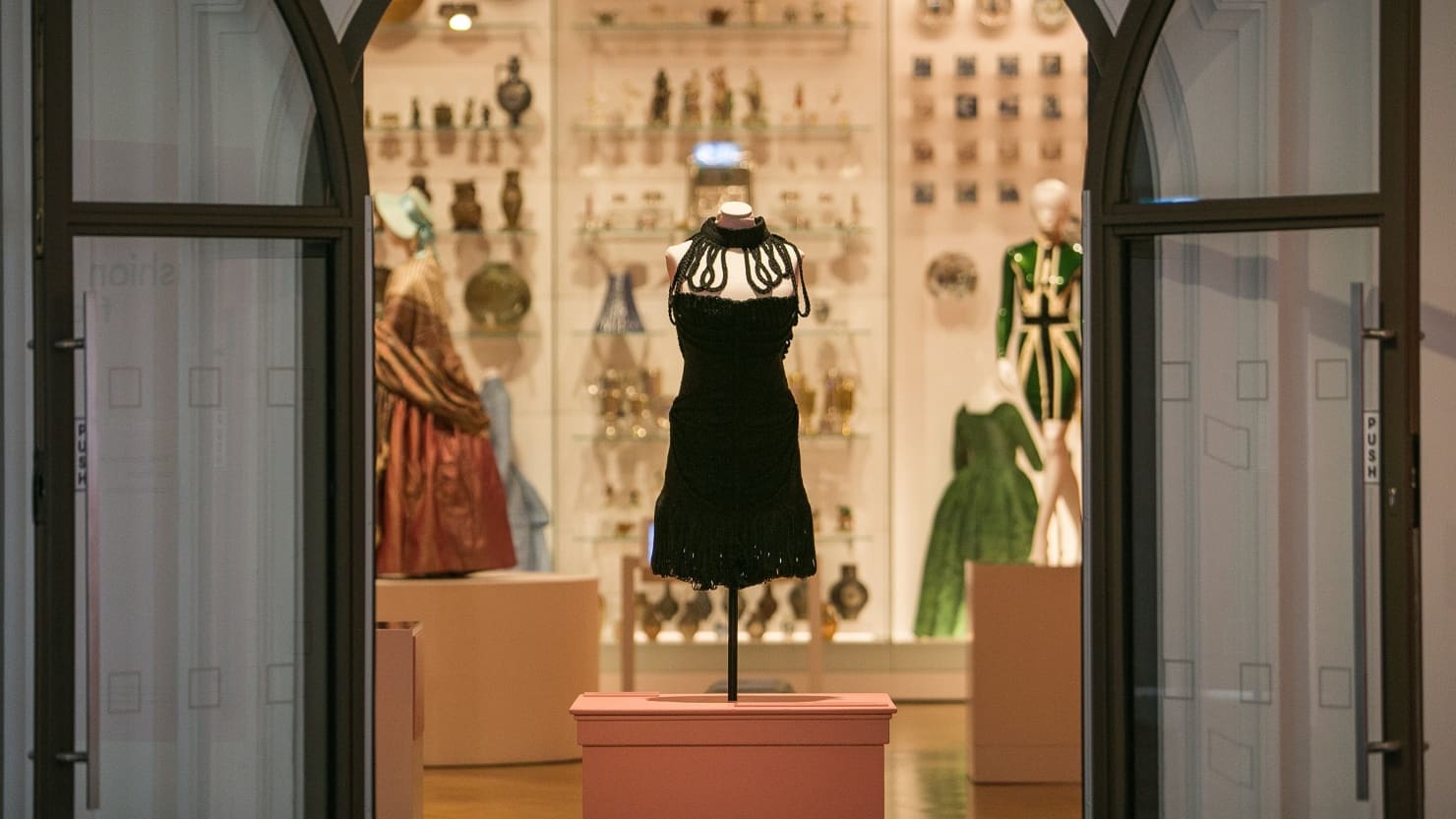 From 6 August-11 September 2022, 'On The Move' is set to become a major presentation in The Levinsky Gallery at The University of Plymouth with Anzeri's rich practice from the last decade displayed alongside newly commissioned works.
Victoria Pomery, CEO at The Box said:
'On The Move' is the outcome of a three-year dialogue with Anzeri and it's been amazing for us and our visitors to see how multi-disciplinary his practice is and how that lends itself so well to our spaces and many different narratives. We're looking forward to being able to showcase even more of his work when 'On The Move' culminates in The Levinsky Gallery' later in the summer.
More about the artists
Zadie Xa Born in Vancouver, Canada in 1983, Zadie Xa works across performance, textiles, sound and painting. Now based in London, her work is informed by her experiences within the Korean population living across the world, as well as the environmental and cultural context of the Pacific Northwest in North America/Canada. Throughout her practice, Xa uses animals, water and marine ecologies as metaphors for exploring the unknown, whilst also alluding to abstract notions of home.
Maurizio Anzeri Born in Loano, Italy in 1969, Maurizio Anzeri works in a variety of media including sculpture, photography, drawing and traditional craft techniques. Now based in London, his practice encompasses fashion, the human body, science and geopolitics.