Sue Williamson: Between Memory and Forgetting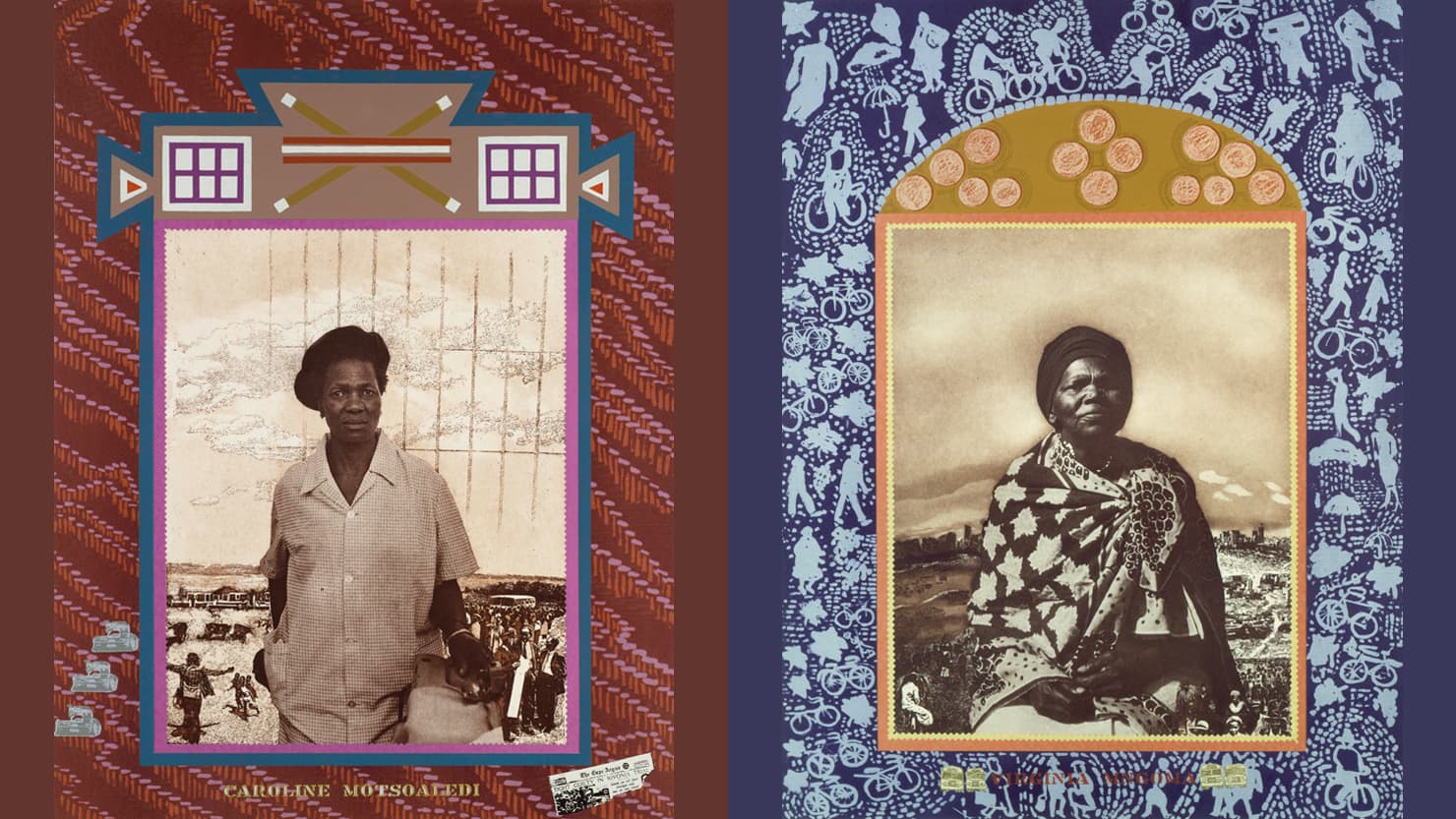 04 Feb 2023 - 04 Jun 2023
Open Tuesdays to Sundays from 10am-5pm
Sue Williamson (b.1941) is a British-born South African artist and activist. 'Between Memory and Forgetting' presents an extended overview of her work, dating from 1981 until today as well as a major new sculptural commission. This is Williamson's first institutional show in the UK.
More info
Free admission. No need to book.
For over 40 years, Williamson's work has celebrated the underrated realisations of women, who played key roles not only in the liberation struggle, but in the years that followed. The artist speaks of her work as a 'generational circle' as it aims to bring these women and their histories to a wider audience, while also connecting the societal changes they allowed with the lives of their granddaughters and the younger generations.
The series A Few South Africans and All Our Mothers shine a light on the empowering stories of these women. A Few South Africans is a series of mixed media portraits, the heroines of the liberation struggle, while All Our Mothers is a parallel series of photographs dating from 1981, both in black and white and colour.
Williamson also focuses on the historical past, considering the events that form a background to the present. Colouring In reproduces every page in a child's colouring in book bought by the artist at the Anglo-Boer War Museum in Bloemfontein, South Africa in the 1980s.
A new sculptural commission, titled Towards Another World is a seven-metre high suspended memorial in the form of an obelisk. Fabricated from steel struts, the obelisk is clad with embroidered panels reflecting participants and incidents that took place during the Anglo Boer War. Emily Hobhouse, a British heroine of the war, receives particular attention. The work takes as a starting point two memorials dedicated to those who lost their lives in the war - the first in Plymouth, UK, and the second in Bloemfontein, South Africa. The title of the work is from the sentence engraved in the Boer War memorial on the Plymouth Hoe.
Towards Another World considers the significance of memorials in the life of the community; those who are honoured, and those who do not receive a mention. The proposed monument is presented as a fragile, ruptured entity, calling into question the way in which history has been memorialised in the past.
Between Memory and Forgetting is an exhibition that speaks about liberation struggles, those who are not memorialised due to power hierarchies and the role and recognition of women who have fought and are still fighting for a more equal society.
Sue Williamson talk in London
Are you based in or visiting London in early February? Sue Williamson will be joined by our Contemporary Art Curator, Nicoletta Lambertucci for a talk at The Photographers Gallery from 6.30pm on 8 February. Find out more and book here.
Image credit: Sue Williamson, Caroline Motsoaledi, 1984 (left) and Virginia Mngoma, 1984 (right) from the A Few South Africans series.